Injuries play role in Pac-10's rocky start
December, 30, 2009
12/30/09
2:30
PM ET
The Pac-10 hadn't beaten a ranked team through November or well into December.
Its record against the rest of the power six conferences was abysmal.
There was just cause to anticipate the league was heading for its worst season in a quarter century, possibly only one or two bids to the NCAA tournament.
The latter isn't still out of the question, but it's now more unlikely with the recent developments as the league begins its conference season Thursday -- the only of the power six leagues that plays a true round-robin schedule.
Cal, the preseason favorite, didn't have one of its best players in Theo Robertson for losses in New York against Syracuse and Ohio State, and at New Mexico.
[+] Enlarge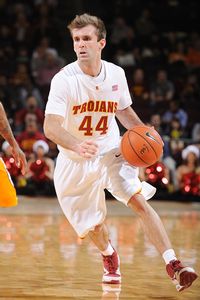 Matt A. Brown/Icon SMIMike Gerrity is one of three players USC was without at one point so far this season.
USC didn't have post player Alex Stepheson for a loss against Loyola Marymount and didn't have point Mike Gerrity or forward Leonard Washington for losses to LMU, Nebraska, at Texas and at Georgia Tech.
No one is saying the Bears would have swept the three mentioned losses or that the Trojans would have erased their four losses if they had those players on the court. But with UCLA, which has had injuries and a defection, down this season at 5-7, the perception of the league goes south with the Bruins. That's the same perception that happened to the ACC when North Carolina had a subpar season in the middle of the previous decade.
"Anybody that knows basketball doesn't think UCLA will be an easy out,'' Arizona State coach Herb Sendek said. "Their personnel is too good, the coaching too outstanding and to think you can go into Pauley like we have to Thursday and get an easy win?''
Coaches in the league are doing what they should, which is, naturally, to pump up the league as the conference season starts. But there is reason to believe the conference will perform better over the next two months.
"I said this early: 'People were quick to judge the Pac-10,''' Washington coach Lorenzo Romar said. "There were several teams that weren't at their full compliment of players.''
Romar cited USC, which is now one of the older teams in the league with upperclassmen Gerrity, Stepheson, Marcus Johnson and Dwight Lewis. He mentioned Cal and even tossed in Oregon, which lost at Portland and to Montana without center Michael Dunigan, fell to Saint Mary's without starting guard Tajuan Porter and is still without senior forward Joevan Catron since Nov. 21.
Are they excuses? Sure. But there are reasons for the frailty of the league when it was going through a transition of losing a glut of players to exhausted eligibility and the NBA draft.
"I feel like we can compete with anybody in the country with all our guys,'' said USC coach Kevin O'Neill, whose Trojans have the conference's only two wins over ranked teams in Tennessee and UNLV. Washington beat Texas A&M at home after the Aggies had dropped out of the Top 25.
"I think our league is a four-bid league for sure,'' O'Neill said. "It's not what we've had the last two years; it's not a six-bid league. But it should be a four-bid league.''
USC may be in the strongest position with the nonconference wins over the Vols and Rebels. The NCAA tournament selection committee will judge the Trojans a bit differently since they didn't have Gerrity, Stepheson and Washington for all or some of the previous losses.
The key for the Trojans will be to keep winning and finish in the top three. Giving a bid to a team that might finish lower in the conference standings than another that doesn't receive a bid is possible if the overall résumé is better. That could be the case with USC.
"There's nothing worse than playing without a true point guard,'' O'Neill said. "The projected favorites should be the projected favorites but there's not a huge separation from the top to the bottom. Everybody is pretty good.''
Romar said the Huskies are close to being a "really good team," especially if they can be better defensively and continue to share the ball. Senior forward Quincy Pondexter is having an all-Pac-10 season so far.
The Huskies didn't win the two big games on the schedule away from Seattle, losing to Georgetown in Anaheim, Calif., and at Texas Tech. But if Washington were to finish first or second, the Huskies will likely be in position for a bid. Cal will likely be judged differently, as long as it finishes in the top two, for playing without Robertson.
USC has the best profile among the rest of the teams. Washington doesn't have the signature win (sorry, but LSU won't be a great get unless the Tigers can go on a run in the SEC West), and Arizona State is lacking one as well. ASU beat LSU in New York, but couldn't win any of its marquee games (save for a win against San Diego State) in losing to Duke in New York, Baylor at home and at BYU. Wazzu missed out on beating Gonzaga and Kansas State in its name games earlier this season. But sleeping on the Cougars, with the league's most proficient scorer in Klay Thompson, and the Sun Devils, which has been much more efficient offensively than expected, would be a mistake.
Even Oregon State is tough to figure once again. The Beavers were the surprise team a year ago with seven Pac-10 wins after rocky nonconference play. The same thing occurred this season. The Beavers couldn't beat Sacramento State or Illinois-Chicago but did win at George Washington and against Fresno State.
Roberto Nelson, a freshman guard from Santa Barbara, has been OSU's best player in practice, according to the staff. But Nelson is only a partial qualifier now and won't be eligible unless he passes the standardized test. And even then, coach Craig Robinson said, he has to decide if it's worth playing Nelson this season or waiting until next season for a full schedule.
The season opens Thursday and Saturday with the Oregon schools in Washington, the Arizona schools in Los Angeles and Stanford at Cal.
"This conference is really, really young, and there were growing pains,'' ASU point guard Derek Glasser said. "Everyone is starting to play better of late. I'm not saying we're going to get six in [the NCAA tournament], but three or four. We'll see how it plays out. But I think we'll be definitely a three- or four-bid-worthy conference.''
The way that occurs could be Cal and Washington finishing first and second, USC third and a fourth team winning the conference tournament. That is all highly plausible.