USC's postseason ban hits Trojans' seniors hard
January, 4, 2010
01/04/10
10:56
AM ET
USC coach Kevin O'Neill assembled his players early Sunday morning to deliver the news that the Trojans' eight-game win streak and their newfound status as a Pac-10 title contender won't matter for an NCAA tournament berth.
The school had decided to self-impose penalties related to former player O.J. Mayo and his relationship with agent/runner/booster Rodney Guillory. But vacated wins from two seasons ago and a scholarship being taken away weren't tangible to this crew. Having their season end March 7 was all the players heard.
[+] Enlarge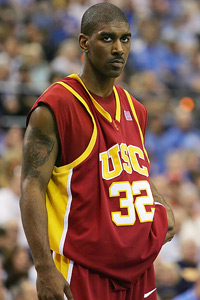 Lisa Blumenfeld/Getty ImagesO.J. Mayo's involvement with Rodney Guillory led to USC's self-imposed sanctions, including a postseason ban.
"My heart sank for a second," said senior point guard Mike Gerrity, a two-time Division I transfer from Pepperdine to Charlotte to USC. "I was frustrated. That's what you play college basketball for -- to play in March."
The Trojans haven't lost since Gerrity became eligible. Since beating Sacramento State and Idaho State before he was cleared to play Dec. 18, they've won six games with him as their lead guard. They beat Tennessee by 22 points, won the Diamond Head Classic with wins over Western Michigan, Saint Mary's and UNLV, then earned a Pac-10 season-opening home sweep of Arizona and Arizona State. The Trojans are on a roll heading into a three-game road swing to Stanford, Cal and UCLA in the next 12 days.
"It was pretty silent," Gerrity said of Sunday's team meeting. "There wasn't any yelling. Basically everybody was caught off guard. Everybody just left after that. There wasn't much talking."
O'Neill said the staff hadn't been given a choice, and the conversations about taking away the postseason had been going on for some time at the upper level of the administration. But he said he respected the decision. USC had been working with the Pac-10, which has its own investigative arm, and the NCAA.
"For our players, it's terrible; I feel terrible for them," O'Neill said. "I'm a 52-year-old professional. These guys did nothing. The people in question are not here."
The three players hurt most by the decision are the seniors: Dwight Lewis, Gerrity and Marcus Johnson. Lewis is the only one who was recruited initially by the school. Gerrity has bounced around, and when he transferred to USC, he initially wasn't on scholarship. The plan under former coach Tim Floyd was to have Gerrity as a backup with stud newcomers such as Lamont Jones coming on board this past fall. But Floyd resigned in the spring amid allegations that he paid Guillory $1,000.
Once Floyd resigned, high-profile recruits such as Jones (who's now at Arizona) bailed, and suddenly Gerrity would be the point guard when he was eligible in December. For months, O'Neill knew Gerrity was the difference between the Trojans being toast in the Pac-10 and a real contender.
Johnson had started his career at Connecticut before transferring to USC. He declared for the NBA draft this past spring, but returned to the Trojans once he knew he wouldn't be selected. There were questions regarding his senior-season eligibility even though he played only in an exhibition game in his final season at UConn, but he ultimately was granted another season. Johnson also was playing hurt much of last season with a shoulder injury, so he is taking six years to play four seasons.
USC lost to Loyola Marymount in November without Gerrity, ineligible forward Leonard Washington and injured former North Carolina forward Alex Stepheson. Stepheson returned for consecutive losses to Nebraska at home and at Texas and Georgia Tech. But Gerrity wasn't cleared to compete until just before the Dec. 19 game against Tennessee. Washington made his debut against Saint Mary's on Dec. 23.
"Life throws you a lot of curves," O'Neill said. "All three seniors were major contributors for the first time in their careers. None of that will change for the next 16 games. Our guys were shocked, disappointed, dismayed and stunned, but there was no anger."

For our players, it's terrible; I feel terrible for them. I'm a 52-year-old professional. These guys did nothing. The people in question are not here.
--USC coach Kevin O'Neill
What O'Neill did in that meeting was prey on the Trojans' competitive fire. He made it clear that USC has never won the Pac-10 title outright. Pac-10 assistant commissioner Dave Hirsch said Sunday night that the Pac-10's regular-season champ is considered the conference champion. The tournament champ is just the automatic qualifier to the NCAA tournament.
"We still have a chance to be a part of something special," Gerrity said. "When I heard that, there was a little motivation. We're still frustrated, but we can still do something that USC has never done before. We've got something to play for. No matter what, we've got our pride, and the teammates and coaches have it. We still can win a championship."
Gerrity said he was watching when the Trojans won the Pac-10 tournament title last season, beat Boston College in the first round of the NCAA tournament and flirted with a second-round upset of Michigan State before falling. He wondered about his chance the following season.
"Even though we were picked down toward the bottom [of the conference], I honestly thought we had a chance to do it," Gerrity said of winning the Pac-10 tournament.
The Pac-10 had a brutal nonconference performance except for USC the past two weeks. The Trojans arguably had the best nonconference résumé among Pac-10 schools and owned the only two wins over ranked teams at the time of the game. (Washington beat Texas A&M, but not when the Aggies were ranked.)
"I said we could compete for the league title, and I still believe we can compete for the league title," O'Neill said. "I know we've got some really good guys with high character and high integrity.
"We've never won the title outright. I'm not saying we're going to win it. But we're trying to play as best as we can."
Gerrity said the difference in the Trojans since the full complement of players were cleared is that they are a confident group that has figured out how to play together.
[+] Enlarge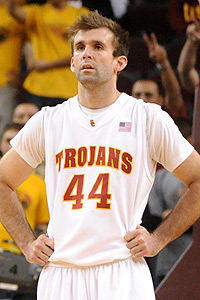 Kirby Lee/Image of Sport/US PresswireMike Gerrity is eligible for his senior season after a transferring whirlwind but now is unable to play in the postseason.
"I thought they were one of the top three teams in the Pac-10," said Saint Mary's coach Randy Bennett, whose Gaels lost to the Trojans 60-49 in the semifinals of the Diamond Head Classic in Honolulu on Dec. 23. "I don't think they have enough shooting, though, and that might make them struggle to score on the road. But they definitely defend it well.
"Gerrity is a special player. He's so smart. He's old-school. He knows his teammates and knows what they can do. I'm really impressed with what he's done."
Bennett said he was stunned that the Trojans won't be able to play in the postseason after viewing them as an NCAA tournament team following his team's game.
"It's unfortunate, but it's one of those things that's not in your control," Gerrity said. "As players, you show up and you work hard, but in a situation like this, you don't have control. I'm not happy about it, but you've got to move forward."
NCAA member schools usually self-impose a postseason ban to ease the potential harsh penalties forthcoming from the committee once the enforcement staff has issued a report on infractions. But handing down a postseason ban once the season already has started is rare.
It occurred twice in 2003 when Fresno State, fresh off winning the WAC regular-season title, was told before the conference tournament on March 3 that it wasn't eligible for the postseason because of violations related to academic fraud. That same week, Georgia was given the same news by its administration. The Bulldogs had just finished the regular season at 19-8, but violations related to academic fraud, unethical conduct and improper benefits led to the postseason ban.
James Holland was an assistant with Georgia at the time of the ban and was named the interim coach for a brief spell in the offseason once Jim Harrick was pushed out.
"We were getting ready to go to New Orleans for the SEC tournament when we got the news," Holland said. "We thought we were an Elite Eight-, Final Four-type of team. We thought we had a chance to make a nice run."
Holland said telling the players that they weren't able to go to the SEC tournament or NCAA tournament was crushing.
"Those kids had worked so hard," Holland said. "It was very, very tough to tell those kids. I thought of Southern Cal and Coach O'Neill having to do the same thing. We didn't have to keep our players motivated because the season was over, but they've got the rest of the season."
O'Neill is adamant that his reaction would have been the same had the news come during the Trojans' losing skid last month. Gerrity said that even then, the Trojans knew that they would have a much better team once they were all healthy and eligible. But, of course, he said the news of no postseason stings more after an eight-game winning streak, including a 2-0 start in the Pac-10 for the first time since 2002.
Hirsch said the league office will discuss the conference tournament Monday, but the decision essentially has been made. There will be only one instead of two opening-round games at the Staples Center in Los Angeles on March 10. Teams that finish No. 8 and No. 9 will play each other. The No. 7 team will be slotted to play the No. 2 team. Every seed will move up a line depending on where USC finishes in the standings. If USC wins the title, No. 2 would become No. 1 and so on. If USC finishes fifth, whoever is sixth will slide up to fifth.
How the NCAA tournament selection committee handles the Pac-10 will be another matter.
Former selection committee chair Tom O'Connor, the athletic director at George Mason, said all the Pac-10 teams will be treated as at-large teams as usual. He said the committee doesn't single out regular-season champions but instead looks at each team separately. So if USC wins the league, and let's say Cal or Washington finishes second and third and UCLA gets the automatic qualifier by winning the conference tournament, then Cal and Washington will be judged on their own merits against the rest of the at-large pool.
As for what happens to wins and losses against USC, Greg Shaheen, the vice president of the NCAA who is in charge of the NCAA tournament, said in an e-mail that an institution's eligibility "for postseason play [self-imposed or not] doesn't impact whether it's games appear in the current season's assessment of other teams which compete against them."
David Worlock, the NCAA tournament's media relations director and liaison to the selection committee, said that although USC will no longer be considered for the tournament, the results against the Trojans will appear on each school's team sheet. If the Trojans maintain a high RPI, any team that owns a victory over USC would benefit because the selection committee would consider it a quality win.
None of that is much solace to a senior like Gerrity, but he and the Trojans have vowed to move on.
"We've seen what we can do," Gerrity said. "We've realized how good we are. I guess right now, we see the potential of our team, the possibility of where we could take this thing. The timing is definitely hard because things are going so well."