Take note: Don't doubt Ryan and Dixon
January, 15, 2010
01/15/10
2:52
PM ET
A memo to the Big Ten and the Big East from this point forward: Do not pick a Bo Ryan or Jamie Dixon-coached team ninth again.
Resist the temptation. Forget about what has occurred on the roster. Finishing in the lower level of a conference for these two coaches from two different generations is not an option.
Heading into the middle of January, Wisconsin's Ryan and Pitt's Dixon are on a short list -- at least on mine -- with BYU's Dave Rose, Kentucky's John Calipari, Texas' Rick Barnes and Syracuse's Jim Boeheim for national coach of the year.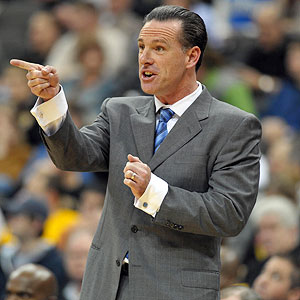 John Rieger/US PresswireJamie Dixon has found success despite obstacles.
What Ryan and Dixon have done so far shouldn't surprise anyone.
Ryan has the Badgers in the thick of the Big Ten race heading into Saturday's game at Ohio State. The Badgers already have a nonconference home win over Duke and handed Purdue its first loss of the season at the Kohl Center. They just won at Northwestern after losing Jon Leuer (wrist) for a few weeks. They already beat Ohio State when Evan Turner was still out and the only Big Ten loss heading into Saturday was at Michigan State.
Meanwhile, Pitt started slowly this season in large part because of the massive turnover with the departures of Levance Fields, Sam Young and DeJuan Blair. Gilbert Brown was academically ineligible for the first semester, and the only returning starter, Jermaine Dixon, was recovering from a broken foot. So, naturally, the Panthers were offensively challenged when they lost to Indiana at the Jimmy V Classic in New York in early December.
But what you can't teach is the toughness that both teams play with throughout the season. Pitt showed no issues in going to Syracuse, Cincinnati and Connecticut to win three straight road games for a 4-0 Big East start heading into a game against Louisville on Saturday.
The Badgers aren't the most talented team in the Big Ten. Pitt doesn't have that honor in the Big East. Yet, by mid-January, they are both virtual locks for the NCAA tournament, barring a collapse, and serious threats to win their respective conferences.
Coincidentally, both coaches were the head coaches last summer for USA Basketball's junior national teams. Ryan coached the World University Games team that won bronze in Serbia. Dixon coached the gold medal-winning U.S. team at the under-19 world championships in New Zealand -- the first time the U.S. won gold in the event since 1991.
Their successes in coaching this summer shouldn't be tossed aside as a coincidence. Players coached by them are also having significant seasons. Ryan coached Clemson's Trevor Booker, Mississippi State's Jarvis Varnado, West Virginia's Da'Sean Butler and Purdue's Robbie Hummel on the older squad, while Dixon coached Pitt point guard Ashton Gibbs, Butler's Matt Howard and Shelvin Mack, Ole Miss' Terrico White and Kansas' Tyshawn Taylor. I'm not handing the successful seasons of these players to the coaching staffs. But I'm simply adding that Ryan and Dixon have been on a good run of late.
Both coaches have shown poise, patience and the ability to tinker with their respective teams to accommodate injuries or attrition. Dixon had to find ways for his team to score without Brown and Jermaine Dixon, and it showed at times in close, agonizing wins over New Hampshire and Duquesne. But the Panthers still won the games as Dixon's controlled intensity rubbed off on his crew.
Ryan went to a three-guard lineup against Northwestern without Leuer and the Badgers won.
"We don't make a big deal out of it,'' Ryan said of Leuer's injury. "I jokingly said we should put a tissue on each chair for Jon.''
What is so true with these two is they make sure there is a team concept that players will plug into throughout the season. I've talked to both throughout the offseason and into the season and never once got a sense of any trepidation about having to make changes or where the offense would come from. They both expected their teams to defend and rebound in due course.
But what's impressive to this point is how much they have bankable wins that won't be dismissed. Dixon didn't complain about a Big East schedule that opened with DePaul at home before the three straight road games. It could have been disastrous for the Panthers. Instead, Pitt was able to navigate rather seamlessly through the three wins. In a season, when there are so many teams lumped together, the Panthers have separated themselves.
Meanwhile, Wisconsin has two wins at home against top-10 teams.
"There's no doubt [that] if we didn't have that buildup, those chips that we do, we might be in a different situation,'' Ryan said. "Two of the eight years [of Ryan's tenure as head coach of the Badgers], we weren't sure going into the final week if we were going to get in -- in 2006 and 2009. Let's face it, last year, we had to go to Penn State and win; if we didn't, Penn State was going. This year, we're in January but we're playing without a piece of our puzzle.''
But the wins have shelf life, and the Badgers can rest knowing that as long as they stay above water -- which the Northwestern win clearly showed -- then they will be in the NCAA field.
Pitt can forget about the Indiana loss. The loss to No. 1 Texas without Jermaine Dixon and Brown has great committee credibility and the three road wins at those three schools in the Big East may not be matched by anyone else in the league.
Pitt can be assured it's not only in the tournament, but a much higher seed come March than was projected when the Panthers were picked ninth in the Big East. The same is true of Wisconsin, which was slotted in the same spot in Big Ten polling in the preseason.
• The NCAA's new proposed legislation about essentially canceling out package deals in recruiting will be an interesting watch. But the legislation does allow for a coach to be hired for a coaching position, even if he has ties to a player within two years of that person matriculating. What this will do is cut out the made-up positions such as "special assistant to the head coach."
The NCAA board of directors should have no issue with one of the assistant coaching positions being filled by a coach, even if he has ties to a player. That's a legitimate hire, even if he is bringing a player. But if the coach is just put on staff in a created position without many responsibilities, it's transparent. Other parts of the university don't always get to create positions on a whim, so trimming the fat on team staffs -- in some cases -- makes sense.
• Good move by the NCAA not to cut down the number of regular-season games from 29 to 28. I think we need a moratorium on changing the schedule for now. Let's see how it works out at this current juncture.
• I couldn't agree more with U.S. Secretary of Education Arne Duncan, who spoke at the NCAA convention in Atlanta this week on the NCAA and NBA getting together to adopt a rule that once a player goes to a four-year college, he has to stay for three years -- similar to baseball and football. But I would like to see it go back to allowing players to go straight from high school to the NBA, as well. If a player really has no interest in being in college, then he shouldn't be in school. College isn't for everyone.
• The atmosphere at Littlejohn Coliseum for the Clemson-North Carolina game might have been one of the best I've seen. But what separates places like Kansas and Kentucky is how consistent the environments are for lower-level teams as well as the high-profile opponents. It is human nature for there to be a drop in attendance when the name on the opposing jersey isn't as recognizable, but Clemson did deliver with a rocking atmosphere in Wednesday's win over North Carolina.
• I'm not sure I've seen Roy Williams be as hard on himself as he was after the loss to Clemson. He's really struggling to find smooth sailing for this team. Last season must seem like a lifetime ago.
• I know BYU is ranked at No. 17, but the Cougars, along with Missouri and Northern Iowa, still don't get the national pub they deserve. Maybe that's the media's fault as well, but I will be shocked if these three teams aren't in the NCAA tournament.
• Villanova's Jay Wright said Scottie Reynolds relishes the big-shot moments. Seriously, put the ball in Reynolds' hands this season and something good will happen in the final possession. The same for Kentucky's John Wall.
Wright, who has coached his share of quick guards, said he couldn't get over just how fleet Wall and Eric Bledsoe were in the Wildcats' win over Florida on Tuesday night. I was there, and you can't appreciate just how fast those two are unless you are watching them in person. They get from end to end as fast as any guards I've seen.