Samford's Tillette gets 'new lease on life'
January, 28, 2010
01/28/10
12:40
PM ET
Jimmy Tillette stood in front of his Samford bench, watching one of his players take a free throw.
He stood there as the player took another. He even called a timeout. He talked to the players in the huddle. They later would tell him he seemed a bit odd.
Tillette doesn't remember a thing after the first free throw. The minutes that he was conscious to the outside world, but not retaining anything going around him, are lost from his memory. He was there for everyone to see and hear but was in the dark to himself, with no knowledge of what was occurring inside his head in the moments before he crumpled to the court.
[+] Enlarge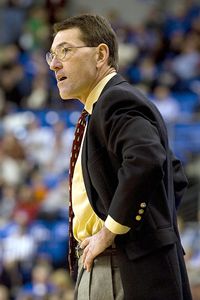 Scott Rovak/US PresswireJimmy Tillette, Samford's all-time winningest coach, is in his 13th season at the school.
All he remembers was waking up in an ambulance outside the UNC Greensboro arena Saturday.
"One of my assistants caught me, they saw that I was having a spasm, foam was coming out of my mouth and they laid me on the side," Tillette said of the seizure he suffered Saturday in the second half of Samford's 70-67 win over UNC Greensboro. "I'm lucky because so many people get hurt even more from how they fall from a seizure. The kids had to be taken from the floor and collect their thoughts. They prayed, came back and found enough to finish the game strong."
Tillette's seizure was caused by bleeding from a blood vessel on top of his right ear.
"I'm lucky it didn't enlarge," Tillette said, speaking by phone from Birmingham, Ala., after he was cleared to return to coaching duties beginning with a practice Sunday. "Now the blood has been absorbed. I've had two CAT scans, tests, and they've determined it is an isolated incident."
Tillette, on the verge of turning 60 in two months, is fit, a pistol of a man at 150 pounds. He said that he bikes an hour a day and lift weights twice a week and that he has no history of vascular problems.
Yet, this could have been fatal had the seizure occurred when he was alone. He said he was struck by how fortunate he was that it didn't occur while he was driving or by himself in his apartment in Birmingham. Tillette is divorced, and while he's engaged to a woman from Ann Arbor, Mich., he is currently living by himself.
"They told my fiancée and my son that had [the blood bubble] gotten bigger, I could have died from [its bursting]," Tillette said. "It stopped growing and just dissipated."
What transpired in the past week since his seizure has been easily the most surreal time in his life.
Tillette compared himself to Jimmy Stewart in the movie "It's a Wonderful Life." He said he has had a moment, a sense that he has crossed over and seen his funeral and come back to life.
"The outpouring of concern and love has been incredible," Tillette said. "I've been blessed, and I'm incredibly humbled by this experience."
One of the first people he saw in the hospital in Greensboro was the opposing coach, Mike Dement of UNC Greensboro. Dement called him repeatedly in the days that followed, checking on his progress.
But the call that has torn him apart came from Marge Griffin. To understand what Samford and Tillette are going through this week, one must recall the tragic night at the beginning of September. Marge's son, Jim Griffin, a senior on the Bulldogs and a beloved figure on the campus, died in his sleep in his dorm room -- the 23-year-old's heart stopped around 2:30 a.m. on Sept. 8.
"I remember the call came late Saturday night," said Tillette, who hours after the seizure could talk with his memory returned. "She was crying. She was so worried about me. I was crying. We're dealing with this in our own way, and to be completely honest, it has been a really hard thing."
Tillette said Marge's phone call was almost too overwhelming for him. He's had e-mails and phone calls and a full voice mail for days with friends and colleagues wishing him well. But it was Marge's phone call that shook him to his core. Marge and her daughter had come through Samford and spent three days with the team earlier in the season. He has maintained a strong relationship with her through their terrible tragedy.
So when he suffered his seizure and the call came from the mother of a player who had suddenly died earlier this season, it was almost too much. Until he realized that he has been given another chance.
"I feel now like I have a new lease on life," Tillette said. "I feel incredibly lucky."
Tillette was ordered to stay away from the team for Thursday night's game against Appalachian State and Saturday's against Western Carolina. He can coach next Thursday at the Citadel and the following Saturday at the College of Charleston. Associate head coach Paul Kelly will continue to coach the Bulldogs in the two home games this weekend after coaching them the past two in Tillette's absence (the rest of the win at Greensboro and a loss at Furman).
Tillette, who is in his 13th year with Samford and has coached the Bulldogs to a 204-171 record and two NCAA tournament appearances, isn't sure what he's going to do with his time over the next few days. He found himself Wednesday wandering around Birmingham Southern's campus looking at the art and dance department for his fiancée's son, who is looking at graduate school.
"It was then that I realized how much life has changed," Tillette said. "But I'm in awe of how my players have handled all of this. They continue to deal with obstacles and move forward.
"They've gone through with what happened to Jim, [and] seeing me on the floor, and regrouped for a win," Tillette said of Samford (9-11 overall, 3-5 in the Southern). "It speaks to their character."
Tillette said that he's on anti-seizure medication but that he was told this was a case of a vascular anomaly.
"Hopefully it will never be repeated," Tillette said. "I don't want to steal Lou Gehrig's line, but I do feel like I'm the luckiest man on earth right now."