O'Neill determined to make most of season
February, 5, 2010
02/05/10
3:19
PM ET
LOS ANGELES -- Just by watching graduate manager Stan Holt sprint from the corner with chairs and a towel during each timeout, you could tell how much of an effect new coach Kevin O'Neill is having on the sanctioned Trojans program.
[+] Enlarge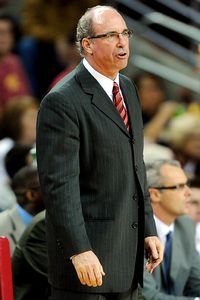 Chris Williams/Icon SMIKevin O'Neill is staying positive as USC plays out the rest of its regular season.
Holt, who was thrown off the team last Saturday after he received a technical foul in a game against Oregon, was given a second chance by O'Neill on Thursday night during the Trojans' 66-63 win over Pac-10 favorite Cal at the Galen Center.
The win put the Trojans just a game out of a four-way tie for first place in the Pac-10, and came courtesy of a 25-0 run that turned a 13-point deficit into a 12-point lead.
But it was how O'Neill handled the situation involving Holt that could be seen as an indication of what is to come for USC.
O'Neill has made it clear to his players that he is the boss and that if they listen to him, play with purpose and handle their responsibilities, he will have their back. He'll be willing to tolerate mistakes, but only if they're corrected through hard work.
Holt's challenge was to prove to O'Neill that he would no longer be a distraction. He caused quite a stir in Eugene, Ore., last Saturday when he received a technical foul at a critical juncture with the Trojans trailing by only one possession. After the T, Oregon ripped off a 10-0 run and the game was over.
"It changed the game," O'Neill said in his office after he reinstated Holt, hours before Thursday's game. Holt had issued an apology to the school, alumni, players and staff. "I've never seen a technical assessed without some sort of warning unless there was cursing. I didn't hear what Stan said. He said he didn't curse. Bottom line is that it was an unfortunate incident."
After the game, O'Neill said Holt was fired. Initially, he said Holt would even have to find his own way home. He softened that stance quickly. But did he really mean to get rid of Holt so suddenly?
"I meant it," O'Neill said. "I changed my mind once I heard more of the situation. But if anyone had done that I would have fired them immediately. There should be no technicals on the bench, even assistants. They should shut their mouth."
O'Neill said he would never dream of getting a technical as a college or NBA assistant and said he has had very few as a head coach.
"It's totally bizarre," O'Neill said. "It's bizarre that it happened. I was the most stunned guy in the whole building. But everybody deserves a second chance. Stan is not some 18-year-old manager. He's 30. He messed up and should have known better. It really affected the game. The bottom line is that I wanted him to finish up the year. I didn't want him to be vilified. We've all had a lot of chances. I know I have."
While he wasn't the first choice for USC, O'Neill is clearly the right person at the right time for this program. He's not taking any chances here. And the players have responded quite well, even knowing they can't play for anything more than cutting down the nets for a regular-season conference championship.
"They've played hard every game," O'Neill said, which was clearly evident Thursday in the win against Cal. "But we're not a great road team. We shoot less than 30 percent from 3 on the road. I knew in league play we would need more scorers. I don't know what is going to happen in the final games. This is who we are."
As it did against Cal, USC will get zoned, and without many deft shooters or dribble penetrators, the Trojans can find themselves in trouble in games. But they fight through mistakes and continue to play, and with seniors Mike Gerrity, Marcus Johnson and Dwight Lewis finishing out their careers, they don't have quit in them.
Neither does O'Neill.
On Feb. 19 and 20, the Trojans' administration will head to Tempe, Ariz., for a hearing before the NCAA committee on infractions. The USC team will be on the trip to the Washington schools that weekend. It will take six to eight weeks for the committee to render its decision -- it may accept the Trojans' self-imposed sanctions or it may decide to pile on even more.
O'Neill has no idea what will occur. But you wouldn't know that he's worried one bit. He and his wife, Roberta, have settled quite well in a penthouse condo a few miles from campus, near the Staples Center.
Recruiting has gone better than expected with the addition of Fordham transfer Jio Fontan (eligible in December 2010) as the centerpiece and a 2010 class led by point guard Maurice Jones and guard Bryce Jones. All three could start next season, giving the Trojans a new-look perimeter.
"We've recruited well," O'Neill said. "I'm moving forward in a positive manner. But I never realized how tough it would be to deal with an investigation. I'm ecstatic about the group coming in, to have Jio Fontan here. We're going to be young next year. But the bottom line is that we can't do anything about it and we can't complain."
O'Neill should have the Trojans in the mix next season. But it's still hard for him to think about what could have been this season. The Trojans had the best nonconference résumé before the Pac-10 season with wins over Saint Mary's, UNLV and Tennessee. He said he knows that to be true and the selection committee would as well. Instead, the Trojans' season will end March 7. O'Neill said he'll be on the road recruiting the rest of the month. He said he won't watch the Pac-10 tournament -- an event that is as wide-open as any power six tournament has ever been.
O'Neill said Cal and Arizona have the talent and the star guards -- Jerome Randle and Nic Wise, respectively -- to win the tournament. They can score and make plays late. But if USC were in the mix, even with its deficiencies, you know he wouldn't count his squad out. It's not in his nature to do so.
Holt found out there is another side to O'Neill, one that has compassion and empathy and opportunity if you are willing to work. The players clearly have bought into that philosophy and are hardly playing out the string. They are going down fighting and making every game a tough out for the rest of the season.