In-demand MVC coaches staying put
March, 26, 2010
03/26/10
1:11
PM ET
Creighton's Dana Altman understood his situation. In 2007, he accepted the Arkansas job but had a change of heart and backed out of the deal, staying in Omaha, Neb., where he was more comfortable.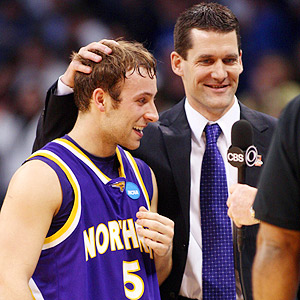 Nelson Chenault/US PresswireBen Jacobson was happy to commit his future to Northern Iowa.
Southern Illinois' Chris Lowery has sniffed at other jobs at times, but has yet to leave and still feels at peace with his place in Carbondale, Ill., despite rumblings about being considered for the DePaul opening.
In years past, the Missouri Valley has churned out coaches to higher-profile positions as soon as they won. Iowa State's Greg McDermott won at Northern Iowa before arriving in Ames, Iowa, but has since had a rocky road dealing with injuries, transfers and attrition at Iowa State. Keno Davis was picked up by Providence after a remarkable season at Drake, but is now out of the honeymoon phase and needs to show improvement in his third season. No one could question Mark Turgeon's move from Wichita State to Texas A&M. That was the ultimate high-major jump that couldn't be turned down -- a program that was already winning, loaded with resources, quality talent and a passionate fan base. This season is no different, as the coaches of the league's top two teams are highly sought after. The difference is that they are not jumping at the chance to leave and have made prudent decisions to stay -- one for the long term, the other for the short term (at the very least before he might receive a can't-miss offer). Northern Iowa's Ben Jacobson and Wichita State's Gregg Marshall decided against being wooed by a higher-profile position. The moves will pay off for the schools and for the coaches simply because they have a tremendous grasp of their careers at this juncture. In the midst of a magical run to the Sweet 16, Jacobson signed a 10-year extension, bumping up his salary from just under $300,000 to $450,000. Jacobson could have been in play for the Iowa vacancy, following McDermott's example of a big state school looking locally in Cedar Falls for its next coach. He could have angled for the DePaul job. If Tubby Smith were ever to leave Minnesota during this season's coaching carousel, he would be a slam-dunk choice for the Gophers. But Jacobson didn't take a turn on that ride. "The fit, that's what it comes down to," Jacobson said as he made his way to St. Louis on Thursday for the Panthers' Sweet 16 game against Michigan State. "It's all about the right fit. This is a great fit for my wife and our two boys." Jacobson, much like Butler's Brad Stevens, didn't want to make a mistake by chasing the cash and the higher-profile position. What has changed for Jacobson is the commitment from the UNI administration. Jacobson credits former athletic director Rick Hartzell for improvements such as ensuring the Panthers charter flights to games as well as altering the scheduling of nonconference games.
"The financial commitment to play in some of these exempt tournaments has helped us," Jacobson said. "There's more of a financial commitment now as compared to when Mac [McDermott] had the job."
That shouldn't come as a surprise. Administrators at schools like these in the Valley realize how much more they have to do to maintain their status as well as keep quality coaches.
[+] Enlarge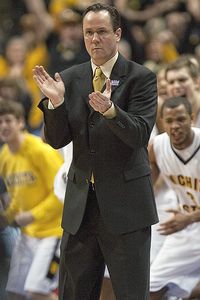 Tim Vizer/Icon SMIGregg Marshall is in no rush to leave Wichita State.
The work-life balance that Stevens has found in Indianapolis is similar to what Mark Few has at Gonzaga and Bob McKillop has at Davidson. Gonzaga has distinguished itself from the aforementioned programs with a major financial commitment to Few, paying him a salary that is similar to Pac-10 coaches' and would make it hard for him to ever leave. But for all of these coaches, not having as many off-court demands allows them to spend more time with their families, a major factor in their decisions to stay put.
"That played a huge role in the decision for me and my wife," Jacobson said. "My boys are 6 and 4, and I want to spend time with them. We're settled in now. We're going to continue to work and continue to commit to a solid basketball team. Kids want to be here. I feel fortunate and feel really great about the new deal." Meanwhile, Marshall was on Iowa's list but declined to interview. Marshall, a regular in the NCAA tournament during his time at Winthrop, has been extremely cautious in his moves. He could have pushed hard to be the South Carolina coach when that job opened up, though perhaps it would have been a stretch to think the Gamecocks would look to Winthrop for their new coach. But Marshall didn't wait for it to be open, and when Dave Odom left, the Gamecocks turned to Darrin Horn, a hot name and easy sell at the news conference after he guided Western Kentucky to a Sweet 16 run. Marshall, who replaced Turgeon at Wichita State, has arguably the best job in the Valley next to Creighton, with its facilities, fan base and financial commitment. To leave Wichita for a lower-level Big Ten job might not be the smartest move. The Shockers, who will likely be picked as the favorite in 2011 after losing to UNI in the Valley tournament title game, should be more of a national story next season. The Shockers lose just one key player in point guard and leading scorer
Clevin Hannah
, whom Marshall is out recruiting to replace. And he's doing it with the help of a recruiting budget that would have been unheard of in the Valley in recent years. Marshall went to recruit in Huntsville, Ala., on Wednesday and was home by dinner. That's because, according to Marshall, he has $80,000 a year for flights, with each roundtrip costing $3,000 to $6,000. His assistant coaches have used small private jets to see a player. That kind of access to air travel for a program like Wichita is immeasurable. "What people don't understand is how much this is a good job," Marshall said. Marshall makes an estimated $925,000 at Wichita State. That's money you can't dismiss. "You can't make mistakes," Marshall said of just bouncing around. "We've got arguably the best support: Creighton, us, Northern Iowa, Southern Illinois and Bradley, too. This league should get two bids." And that might be the only reason that drives him or someone like him in this league to leave -- NCAA tournament access. But if Marshall wins and does decide to leave then why couldn't he land a job similar to his predecessor Turgeon at a school ready-made for success? In Jacobson's case, it's not as though he isn't a potential climber in the business. He is, but he's not looking for stepping-stone jobs. He's realized, like Stevens, that you can reach heights where you're most comfortable, live life at a quality level and still get paid quite well. • Spoke with a high-level NBA personnel director who broke down the Sweet 16 prospects if they were to come out early or if they were seniors:
Cornell
:
Ryan Wittman
(second-round potential)
Kentucky
:
John Wall
(top two);
DeMarcus Cousins
(top five);
Eric Bledsoe
(early second);
Daniel Orton
(second);
Patrick Patterson
(first round).
Butler
:
Gordon Hayward
(lottery).
Syracuse
: Wesley Johnson (top five);
Andy Rautins
(second round);
Arinze Onuaku
(second-round potential).
Washington
:
Quincy Pondexter
(early second).
West Virginia
:
Da'Sean Butler
(second round);
Devin Ebanks
(15-25 first round).
Xavier
:
Jordan Crawford
(mid-to-late first round).
Kansas State
:
Denis Clemente
(second-round potential).
Purdue
:
JaJuan Johnson
(early second);
E'Twaun Moore
(second round).
Duke
:
Kyle Singler
(mid-to-late first round);
Jon Scheyer
(second-round potential).
Tennessee
:
Wayne Chism
(second round);
Scotty Hopson
(second-round potential).
Ohio State
:
Evan Turner
(top two).
Saint Mary's
:
Omar Samhan
(second-round potential).
Baylor
:
Ekpe Udoh
(mid-to-late first round);
LaceDarius Dunn
(second round).