O'Neill feels good about USC's future
May, 19, 2010
05/19/10
11:46
AM ET
LOS ANGELES -- Kevin O'Neill and the term at ease aren't an oxymoron anymore.
O'Neill, known for years to be as fiery as any coach in Division I, has settled into his gig at USC. Nearly a year after the abrupt departure of then-coach Tim Floyd (amid allegations of paying off a handler of former Trojans player O.J. Mayo prior to Mayo's arrival at the school) and in the midst of an NCAA investigation, there is a calmness that has settled over the program.
[+] Enlarge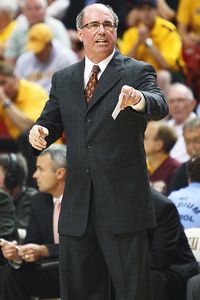 Doug James/Icon SMIDespite the possibility of more NCAA sanctions, Kevin O'Neill is at ease at USC.
And the one who has set the mood is O'Neill.
As I caught up with O'Neill by phone and again at LAX on Tuesday night, I could see how relaxed he is with his situation.
USC will find out soon from the NCAA's infractions committee what, if any, further sanctions the Trojans face in the post-Mayo affair. The Trojans met with the COI in February in Tempe, Ariz., and the usual time frame before the COI renders its findings and penalties is 6-8 weeks.
O'Neill said he has no idea when the sanctions will be handed down but can't believe the Trojans will get hit any harder than they already were by self-imposed sanctions.
"We're just sitting around waiting,'' said O'Neill, back from a respite with his wife, Roberta, from their home in upstate New York. "I can't imagine them giving us anything more, but you never know.''
USC had already imposed a postseason ban for 2010, in advance of the Pac-10 season, when the Trojans had the appearance of being a conference contender with Cal and Washington.
In addition, O'Neill said USC is allowed only two coaches on the road this July, has cut 20 days off the 130 in recruiting and took away a scholarship for 2010 and 2011.
"That's a lot,'' O'Neill said. "If they give us anymore it's unjustified, no doubt. But you never quite know what they'll do.''
USC, which had a healthy Alex Stepheson in the post and the eligibility of senior point guard Mike Gerrity, took out eventual Elite Eight team Tennessee (when the Vols were at full strength with Tyler Smith pre-Jan. 1 arrests), and it also won the Diamond Head Classic in Honolulu by beating eventual NCAA teams Saint Mary's (Sweet 16) and UNLV.
Inconsistencies and lack of depth caught up with the Trojans, and they finished 16-14 overall and 8-10 in the league, which tied for fifth.
But the Trojans didn't sit idle with the potential of even more sanctions looming. "We've been so fortunate to get the kids we have under these circumstances,'' O'Neill said. "It's really unbelievable. How this has affected us is people recruiting against us saying that we'll be on probation for 10 years and all that kind of stuff, whether it's fact or fiction it's been said. But we'll be fine.''
If the recruiting continues at this rate, they won't have an issue surviving.
The biggest get for the Trojans was Fordham transfer Jio Fontan, who left the Rams after five games when he was averaging 15 points per game. Fontan will be the starting shooting guard for the Trojans and the first game he'll be eligible, according to O'Neill, will be Dec. 18 against Kansas. That's the first of what will be a brutal road swing when the Trojans go to Kansas and Tennessee. "He's going to be great, a really good player, a big-time player,'' O'Neill said of Fontan. "We're fired up about him.''
O'Neill expects Fontan to be a great leader, and even though he struggles at the free throw line, he can penetrate and "knows how to play.''
Fontan will be joined in the backcourt by freshman Maurice Jones and fellow freshman Bryce Jones, who will be a likely starter on the perimeter as well, giving the Trojans three new faces in the backcourt by the time they hit the Pac-10 schedule.
O'Neill expects forwards Garrett Jackson and Curtis Washington to help. The Trojans are also bringing in 7-foot center DeWayne Dedmon of Antelope Valley College (Calif.) at mid-year, but the plan is to sit him so he has three seasons of eligibility beginning in 2011. Adding experience to 2011 will also be Iowa transfer forward Aaron Fuller, who will sit out next season.
The core of returnees from last season's team isn't too shabby, either.
Leading scorer Dwight Lewis and third-leading scorer Marcus Johnson were seniors, so they along with Gerrity won't be back.
But expect Stepheson (8.4 ppg, 7.2 rpg), who hadn't played the previous season after transferring from North Carolina, to be much more of an impact forward and rising star Nikola Vucevic (10.7 ppg, 9.4 rpg) to be more productive as the starting frontcourt.
Forward Leonard Washington is gone, but Marcus Simmons is back, and O'Neill plans on using him off the bench as a solid complementary player who can defend.
O'Neill had a tumultuous few seasons after he left the NBA to join Lute Olson's Arizona staff only to be the interim coach for a season during which he was named -- with a news conference -- the successor. By season's end, that deal was off and Olson was back as coach. But then he took a second leave of absence en route to retiring. O'Neill went to the NBA with Memphis for a year before he was plucked by USC athletic director Mike Garrett in a move that stunned most observers because O'Neill had been a stealth candidate once Floyd resigned.
After this stint in the NBA, O'Neill took with him a no-fear attitude of playing the best and not getting as broken up by a loss of a recruit or a game.
The nonconference schedule he wants to put together proves he isn't too fazed. "I want to play good people. I think we'll have five to six next season, and from then on I'd like to have eight to 10 top-25 teams on the schedule,'' O'Neill said. "That's the way to go.''
If the NCAA hammers USC, O'Neill might blast out a response. But even then, he's not hinting that he's about to be pushed down. He's as scrappy as he was as an assistant and head coach in the 1980s and '90s, but he's clearly matured in taking more things in stride and finding balance in his life.
It's May. The NCAA hasn't come out with its penalties. But he's not giving any indication he's sweating it one bit.