Amaker has big plans for Crimson
July, 15, 2010
07/15/10
3:06
PM ET
HAMDEN, Conn. -- Harvard coach Tommy Amaker sat in the stands at Quinnipiac University on Tuesday, watching Kenyatta Smith, a center from Flintridge Prep School in California.
Seated to his right was Vanderbilt assistant coach King Rice. Staffers from Ivy League rivals like Brown, Penn and Cornell were sprinkled throughout the arena. Stanford and Cal weren't represented, but both schools have been monitoring Smith's progress as well.
[+] Enlarge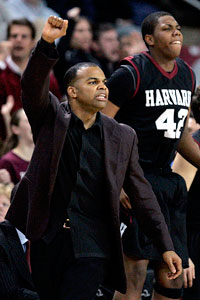 AP Photo/Michael DwyerTommy Amaker aims to bring an Ivy League title and an NCAA tourney appearance to Harvard.
Whether or not Amaker lands the 6-foot-7, 260-pound Smith, who's rated by Scouts Inc. as the 16th-best center in the Class of 2011, shouldn't be pertinent to his overall success at Harvard. He has already changed the Crimson for the foreseeable future.
Life in the post-Jeremy Lin era is still an unknown. Lin, who wasn't selected in the NBA draft but is currently playing for the Dallas Mavericks' summer league team in Las Vegas, was the face of the Harvard program.
This past year, Lin led the Crimson to their second straight upset at Boston College, tallied 30 points in a close loss at UConn and led Harvard in scoring, assists and steals. He was also the reason the Crimson got plenty of national publicity.
The Crimson won 21 games, including 10 in the Ivy League, to finish third behind Princeton and Cornell. An appearance in the College Insider Tournament, where they lost to Appalachian State in the first round, marked Harvard's first postseason showing since 1946, which was also the last year the Crimson made the NCAA tournament.
But more than anything, Amaker continues to recruit at a high level, and will enter the 2010-11 season with the core of the team -- Christian Webster, Brandyn Curry, Kyle Casey and Keith Wright (all of whom were underclassmen last year) -- gaining intriguing newcomers in shooting guard Laurent Rivard and center Ugo Okam.
At Quinnipiac, coaches hailing from the Big East and the A-10, among others, all said that the Crimson landed an impact player in Rivard, who has the capability to compete at a much higher level.
Amaker has made Harvard an attractive basketball destination for recruits. Former coach Frank Sullivan was beloved by his colleagues during his 16 years in Cambridge, Mass., and was brought on to be a basketball advisor for the America East after he was pushed out of Harvard. But the program received no national attention, even under Sullivan. Amaker has the name (he played for Duke in the mid '80s) and the tenure as a head coach (even if he was inconsistent with Seton Hall and Michigan) to raise Harvard's profile.
But landing recruits (and the rare, but not damaging, "unintentional secondary basketball violation" when assistant Kenny Blakeney had conversations with the staff prior to officially joining the school in 2007), has given the Crimson a chance to do something special.
Under former coach Steve Donahue, Cornell raised the bar for the Ivy League by earning a national ranking and winning two games in the NCAA tournament. Princeton is ripe to rise again under Sydney Johnson, while the Big Red, now under Bill Courtney, will have to maintain what Donahue left behind. Penn, meanwhile, now has a beloved alumnus in Jerome Allen to help attract recruits. But Harvard may be best-positioned to make the next move. Amaker has assured everyone of his intention to see this commitment through. He had the pedigree to get involved in other job openings this past spring, like at Boston College when it fired Al Skinner, but Amaker quickly made it known that he had no interest in leaving.
"I wanted to stay at Harvard,'' Amaker said. "We do need stability, and we've made so many inroads so far. It's a long journey, but I love this school and the track we're on.''
Plenty of schools are said to be "untapped sleepers." Rutgers gets that label, as does Central Florida. But really, is there a better name in the collegiate ranks than Harvard? In the Ivy League, there is no reason why Harvard -- at its level of prestige -- couldn't be a regular contender in men's basketball like it had been in football, hockey and women's basketball.
"We have enormous potential here with a magical name,'' Amaker said.
Even though the Crimson have lost a few players to Stanford in the past two years, getting someone like Rivard who visited a big-conference school like Georgia Tech (even if he didn't receive an offer) bolsters the school's national profile.
If Harvard lands Smith before Vandy, Stanford or Cal follow up with possible offers, it would be another major coup.
Lin was a sensational player for Harvard, but he didn't play in the NCAA tournament. Getting to March Madness would mark Amaker's greatest achievement as a coach.
"We've never won the Ivy League,'' Amaker said. "What we're embarking on now is pretty neat. It's never been like this here -- at least that's what I've been told.''
The Crimson lost to Cornell at home last season, but the atmosphere in the Lavietes Pavilion was as good as any small-college gym. Duplicating that without Lin will be tough, but the schedule has been upgraded.
The Crimson will bring in Colorado, which has two potential pros in Alec Burks and Cory Higgins, and Fordham. They'll also visit Connecticut, Boston College, George Mason, George Washington and Michigan. The Michigan-Harvard series will be the completion of a two-for-one deal. In Amaker's first season in Cambridge, Harvard beat Michigan on Dec. 1, 2007; as Michigan's coach, he guided the Wolverines to a win over Harvard in Ann Arbor on Nov. 17, 2006.
"What we've got here is exciting,'' Amaker said. "What Jeremy Lin did for us, we'll have to make up for a lot of those things. It wasn't just scoring and rebounding. But hopefully our young guys will be better. We've got a nice nucleus returning. The jury is still out on how much we have to make up … if we could take this over the top, and win our league and go to the [NCAA] tournament, that would be something special.''