Greg McDermott's new challenge
September, 2, 2010
09/02/10
12:02
PM ET
Greg McDermott went from one of the worst jobs in the Big 12 to arguably the best in the Missouri Valley Conference.
[+] Enlarge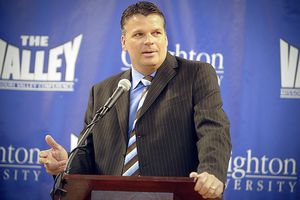 AP Photo/Dave WeaverGreg McDermott inherits a strong program at Creighton.
And he couldn't be happier.
In his four seasons at Iowa State, McDermott failed to get to the NCAA tournament; injuries, defections and a lack of overall talent all played a part. He said he had five seasons left on his contract because of an agreement he had with the school that any APR or NCAA issues attributed to the previous staff would add years to his deal. Still, Iowa State easily could have bought him out after year five if it had so desired.
McDermott got this rare lifeline for a remarkably fresh start only because former Creighton coach Dana Altman was plucked by Oregon to finally fill the Ducks' opening after the school had exhausted itself trying to land a Final Four coach.
If there was a comparable move in the last decade, it would be Steve Alford's decision to leave Iowa, one of the toughest jobs in the Big Ten, to go to New Mexico, one of the best in the Mountain West.
What is hard to comprehend if you're not in Omaha or Albuquerque is just how passionate the fans are about their home team, regardless of conference affiliation. The salary can push $1 million per year for the head coach. Both teams fill their 17,000-plus venues regularly.
Leaving Iowa for UNM was a great move for Alford as he has turned around the Lobos and made them regular NCAA tournament participants. Getting out of Ames and not taking the risk of being run out was an astute decision by McDermott, too.
If he can win at Creighton, where there will still be plenty of pressure since it is the city's version of a pro team, McDermott can have a highly rewarding and productive coaching life. Altman chose to stay multiple times at Creighton, actually taking the Arkansas job at one point and returning. He knew how good a gig Creighton was in college basketball.
"We have over 13,000 season-ticket holders and there are BCS schools that would die to have that kind of support,'' said McDermott. "We play in an arena that is as good as any. This has been one of the better jobs of this kind in the country and Coach Altman deserves [credit]. He left it in great shape and we hope to build upon what he started.''
Creighton has missed the NCAA tournament the last three years but still participated in the postseason. Altman led the Bluejays to the NCAA tournament seven times, including two second-round appearances.
McDermott said he can't say whether or not he would have been fired at Iowa State had he stayed and not made the postseason again.
"But I'm smart enough to understand that we're paid to win,'' McDermott said. "That will be one of my regrets at Iowa State, that I didn't achieve on the floor what we could. We were able to make a lot of progress and got the APR problem fixed, because when I took the job that was a problem.''
Iowa State's most significant loss was not being able to hold onto Wesley Johnson, who transferred to Syracuse and became a star for the Orange and a lottery pick. Had Johnson played at his peak with Craig Brackins, the Cyclones may have had a different outcome in the Big 12.
"I feel blessed because I landed at a great spot,'' McDermott said. "I loved my time at Iowa State and have great friends there. They're committed to winning. They've got a practice facility that will have a huge impact and give [new coach] Fred [Hoiberg] another resource. But recruiting is different at the mid-major level and I'm a better fit for this level than I was at the BCS level. I'm very comfortable with that.''
McDermott coached against Creighton at Northern Iowa in the Valley, going to the NCAA tournament three times in five seasons.
"At that point, Creighton was the benchmark for everybody in the league,'' McDermott said. "They were winning and winning consistently. That's what everybody aspires to do. Creighton has the resources and the facilities. There's no excuse not to be successful.''
Creighton, Wichita State and Southern Illinois have all upgraded coaching salaries and made it hard for coaches to leave -- as Altman, Gregg Marshall and Chris Lowery have proved the past three seasons. All three schools enjoy strong fan support. Expect Northern Iowa to join that group after upsetting Kansas in the second round of the NCAA tournament last March. UNI coach Ben Jacobson showed no desire to cash in on his success and leave the Panthers last season. He coached under McDermott and the two are close friends, so much so that Jacobson is the godfather of McDermott's daughter, Sydney, and McDermott's middle child, Doug, was granted a release from UNI to go play for his father at Creighton.
McDermott couldn't coach Doug at Iowa State. Doug wasn't talented enough to play in the Big 12 and McDermott didn't want to put his son in a precarious situation. Now, for the first time in Doug's life, he'll be coached by his father.
"It's the first shot at coaching one of my kids,'' McDermott said. "We're always gone in the spring and summer as a coach. You can't coach them and be gone one week or the next. Someone else has always done it. That's the case for most college coaches. ''
McDermott said he might redshirt Doug but will see how he develops. The Bluejays will be a factor in the MVC race behind favorite Wichita State with the return of Kenny Lawson Jr., who withdrew from the NBA draft as expected. Adding Rutgers big man Gregory Echenique is a huge plus. He was a medical redshirt due to an eye injury. He'll wear goggles but will be eligible to play in mid-December. Echenique won't be eligible for the first three marquee games -- against Iowa State in Des Moines (a game McDermott set up when he was in Ames) on Nov. 21, at Northwestern (Nov. 28) and hosting BYU (Dec. 1) in the MWC-MVC Challenge. But McDermott said he purposely scheduled three games from Dec. 18-22 (Idaho State, Western Illinois and Samford) at home to allow Echenique to play three games before the Valley season starts at Illinois State on Dec. 29.
McDermott, who made an astute hire in adding former Evansville and Hampton coach Steve Merfeld to the Creighton staff, said he hasn't signed his contract at Creighton but expects to soon.
"Had I been in my fifth year at Iowa State and not gotten the job done, then there would have been a certain level of stress, because your family is impacted,'' McDermott said. "You can lose your job and your family is impacted. But there are also expectations at a mid-major school that has BCS facilities and BCS expectations. There's still plenty of pressure to succeed. There's an excitement within me to have a fresh start and be at a place that is all about basketball. We have all the resources available to us to be successful.''