Bears are major players in recruiting
November, 10, 2010
11/10/10
12:21
PM ET
The supposed package deal of hiring John Wall's AAU coach at Baylor to lure Wall never happened.
Dwon Clifton was an assistant for the Bears while they reached the same destination (the Elight Elight) as Wall's Kentucky Wildcats last season. Clifton then left Baylor's staff to join his brother Brian in managing Wall on a day-to-day basis in connection with Wall's agent, Dan Fegan.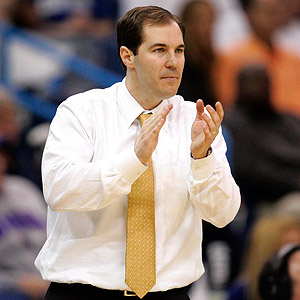 Derick E. Hingle/US PresswireTo the surprise of some, Baylor and Scott Drew are getting some of the nation's top recruits.
But the relationships formed between the Cliftons and Baylor coach Scott Drew remain strong, and that was a clear indicator during the early signing period, which began Wednesday.
Baylor will announce sometime this week the signings of Quincy Miller (the No. 2-rated power forward in the Class of 2011 by ESPN.com's recruiting analysts) and ninth-rated small forward Deuce Bello. The pair play at Westchester Country Day School (N.C.) and played for travel team D-One Sports, which is a summer-league program the Clifton brothers were heavily involved in (and for which Wall played) prior to their going with Wall professionally.
Miller and Bello are expected to sign Thursday during the weeklong period. They will be yet another pair of highly rated players who are going to Waco. It's a surprise to many that the Bears are able to land this kind of talent. Baylor already has a player on the roster, 6-foot-2 freshman Stargell Love, who played with Bello (and is from High Point, N.C.) and Miller (who is originally from North Chicago, Ill.) on the same summer traveling team.
The Cliftons and Drew scoffed two years ago when it was brought up that Dwon's employment at Baylor was only to draw Wall to the school.
"The whole speculation that John was going to be delivered to Coach Drew, that was never our arrangement, it didn't happen,'' said Brian Clifton. Clifton said that Drew is an honorable and trustworthy individual and has delivered on giving players the opportunity to shine.
"I wanted my guys to be around him, and for Dwon to be on that staff, because we thought it would be beneficial to the university and to Scott Drew and an opportunity for Dwon to get in the business of basketball,'' Clifton said. "John did visit there and he liked it there, but he thought Kentucky would be a better fit for him. Coach Drew was fine with John's decision to go to Kentucky and supported him.''
Brian Clifton said Drew and Baylor reached out to the Miller and Bello families and expressed an interest, showing them the road map to success can come through Baylor. "We did our due diligence and talked to assistant and head coaches and arrived that it made sense, and we were comfortable with it,'' Clifton said.
The relationship between Drew and the Cliftons dates back a few years ago when Drew hired Matt Driscoll (now the head coach at North Florida) to his staff. Driscoll was an assistant at Clemson when Dwon Clifton played basketball for the Tigers. Brian Clifton said he and Dwon worked the Baylor summer camp as a counselor and speaker. The Bears then recruited one of D-One Sports' players, Eric Wallace. Although he didn't attend Baylor, it continued to foster a relationship that blossomed before Dwon's hiring, the high-profile recruitment of Wall, and the landing of Miller and Mello this week.
But the Bears aren't limited to a Clifton connection. Baylor secured one of the top big men in the Class of 2010, freshman forward Perry Jones, who could end up being the Big 12 newcomer of the year. Jones is from Duncanville, Texas, which proves that Baylor has become a viable alternative versus its Big 12 rivals in the talent-rich state. The Bears have also landed Class of 2012 7-foot center Isaiah Austin of Grace Prep Academy (Texas), ranked No. 3 at his position by ESPN.com. This is another example of the Bears' recruiting reach for in-state talent and beyond.
To Baylor's credit, though, there have been some fortuitous turns, including the transfer of lottery pick Ekpe Udoh from Michigan, the development of guard Tweety Carter last season, and the expected influence of senior LaceDarius Dunn this season. That's assuming he gets cleared to play in games after being charged with assault earlier in the school year. He has been reinstated for practice and classes. The case hasn't been closed yet and school officials are waiting for that to officially happen in one form or another so they can render a decision on his playing status. Baylor also picked up players on a second chance as one-time LSU commit and UCLA player J'mison Morgan is playing this season and former BC guard Brady Heslip is on the roster, too.
Yet there are still recruiting shots taken at Drew and his staff that they have to contend with, let alone dealing with the accusation that there was a package for Wall and Dwon Clifton that never materialized. Drew also shot down the accusation that he and his staff negatively recruit against other schools.
Coaches in the Big 12 won't go on record, but they're privately (to other coaches and to the media) not fans of the Bears. There is a respect for how hard the Bears' staff works, but there are suspicions that no one ever substantiates. The NCAA is curious enough that there is a legitimate investigation going on, confirmed by a source with knowledge of the situation -- according to the original report by Foxsports.com, Baylor assistant coach Mark Morefield committed texting violations to La Lumiere High (Ind.) junior Hanner Perea during the July recruiting period.
Drew said he couldn't comment on the NCAA investigation. Whether or not this turns into a full-scale official investigation is still unknown. At this point, enforcement is gathering facts and trying to get answers.
And yet despite all of this, Baylor continues to cruise in recruiting by locking up elite talent.
Brian Clifton isn't surprised because he said the Baylor staffers are tireless workers.
Drew said it's common for questions to arise when the traditional powers don't always land the top players. He drew comparisons to when Memphis started to land elite-level players under John Calipari. "We're coming off having a No. 6 pick in the draft who had offensive freedom, and that stuff resonates with kids,'' Drew said. "Everyone wants to be LeBron or Dwyane Wade.''
Drew said it shouldn't be a shock that Steve Lavin is suddenly landing top players for St. John's, either. He's an example of a coach who works hard and who gets players who weren't going to a place previously. But it's hard to draw a comparison between playing at St. John's and Madison Square Garden in New York City and playing for Baylor in Waco. Still, the point is that programs can be cyclical.
"We put in the work,'' Drew said. "You can be out 20 days in July, and I was out for 20 days. This isn't rocket science. There are always trends. The next great point guard will probably continue to go to Kentucky now. We give our bigs freedom. That should be attractive.''
And it is. So far, all the connections, the Elite Eight, the high ranking and the Baylor name are resonating enough for the Bears to be a major player in recruiting.