Cavs suffer setback with Will Sherrill injury
December, 1, 2010
12/01/10
1:26
PM ET
Virginia landed its signature victory under Tony Bennett, but it lost one of its glue players and the heart of the team in the process.
Bennett said Wednesday that senior Will Sherrill, who hit a key 3-pointer to polish off a 12-1 run that gave Virginia a one-point lead over Minnesota on Monday night in Minneapolis, has a fractured right fibula.
[+] Enlarge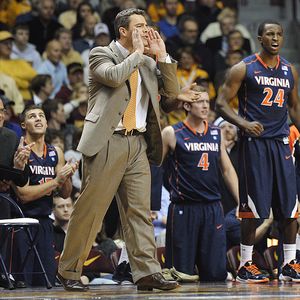 AP Photo/Tom OlmscheidLosing Will Sherrill stunts the growth process for Tony Bennett's Virginia team.
Such is life for Bennett, who is leading a rebuilding project at UVa. His team wins a monster road game, which gives it confidence going into Sunday's ACC opener at rival Virginia Tech, and that momentum has suddenly been hampered due to the injury.
"He's our captain; he was to us like a poor man's Robbie Cowgill,'' said Bennett of his former glue guy at Washington State. "I could tell he was seriously hurt. We'll just have to throw another freshman in the mix.''
Virginia had already lost badly this season against Stanford (21 points) and Washington in the first round at Maui (43 points). After beating a weak Oklahoma team (the Sooners went 0-3 in Maui, including a loss to host Chaminade), the Cavs lost by 12 to Wichita State.
No one could have projected Virginia would have one of the ACC's two wins (going into Wednesday's action) in the ACC/Big Ten Challenge after a road win at No. 17 Minnesota on Monday night. It didn't matter that the Gophers were without senior point guard Al Nolen or wing Rodney Williams.
"I wouldn't have picked us either,'' Bennett said. "The inexperience showed in [the swings of play with the Cavaliers]. We weren't able to sustain long stretches. Against Washington we were thoroughly outplayed. We were sped up and the quickness bothered us, and they shot lights-out. It was a hard game for us.''
Minnesota's vulnerability, regardless of personnel, has been its inability to defend the 3-point shot. Virginia made 10-of-13 3s and came back from a 13-point deficit. Having Mustapha Farrakhan score 23 points, Mike Scott score 17 and grab 12 boards, and Joe Harris put up 24 points gave Bennett and his team confidence that it can score. Former starter Sammy Zeglinski had left-knee scope surgery and is expected back soon. Zeglinski started 29 of 31 games and made 61 3s last season.
Bennett said Zeglinski was just cleared to practice in some form. However, losing Sherrill stunts the growth process. Bennett fully grasps that he doesn't have an NCAA tournament team. The road win over Minnesota isn't going to be a résumé builder. It's a confidence boost for a team that needed some sort of lift badly after being humbled in Maui. "What it showed is that if we compete, we give ourselves a chance,'' Bennett said. "If they play together and compete, we can play well.''
Bennett is drawing comparisons to the Washington State overhaul that he and his father, Dick, put forth in Pullman. It's a three- to four-year project to make Virginia a competitor for a top-half ACC finish. "We're in a process,'' Bennett said.
Still, it was quite impressive that the Cavaliers went from Stanford to Maui to Minnesota and ended that stretch with a win. The road continues Sunday at Virginia Tech, which played host to Purdue on Wednesday night. The Hokies lost to UNLV in the finale of the 76 Classic in Anaheim on Sunday night. Virginia Tech had already lost at Kansas State, putting even more pressure on the Hokies to beat the Boilermakers.
"We've come a long way,'' Bennett said. "When we're an unselfish group, we can compete and be successful. But we don't have a huge margin of error. I'm hoping this builds our confidence.''
As for Minnesota, the Gophers aren't reeling, but they are regrouping after the stunning loss. The momentum Minnesota built is stunted a bit. The Gophers can take solace in that they did lose without Nolen and Williams as they integrate Devoe Joseph back in the lineup. The plan going forward, according to the Gophers' staff, is to rest Nolen and his foot injury this month, and get him ready for the Big Ten schedule.
Minnesota should be able to win the next five games without Nolen: Cornell, at Saint Joseph's, Eastern Kentucky, Akron and South Dakota State. But he's an important player if the Gophers are to avoid a rocky start to the conference slate, which begins on Dec. 28 at Wisconsin. After that game, there's a trip to Michigan State on Dec. 31 followed by a home game against Indiana, a visit to Ohio State and Purdue at home.