Dragons need to stand out in balanced CAA
December, 15, 2010
12/15/10
4:42
PM ET
Drexel has been in this exact position before. Four seasons ago, it knocked off Syracuse and Villanova in consecutive games but failed to earn an NCAA tournament berth.
The Dragons won both those games on the road and followed up with a road win at Temple. The run really started with a road win against rival Saint Joseph's. Drexel went on a tear, putting together an NCAA résumé by going 12-2 overall and 4-0 in the Colonial Athletic Association a week into January.
But a 13-5 finish in the conference led to an NIT berth and a first-round loss in the postseason to NC State. That was in the 2006-07 season. Drexel coach Bruiser Flint expected that team to be a contender since it was made up of mostly juniors and seniors.
Maybe this season's team doesn't know any better. There didn't seem to be any sense of fear when the Dragons went into the KFC Yum! Center on Tuesday night and beat Louisville 52-46. It was Louisville's first loss of the season and thus the first at the new downtown arena, allowing Drexel to be a historical footnote in the annals of the proud Cardinals program.
[+] Enlarge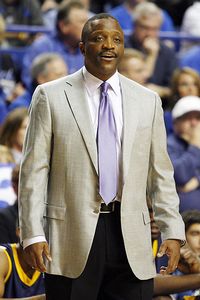 Mark Zerof/US PresswireBruiser Flint and Drexel got a big win at Louisville on Tuesday.
"We didn't turn the ball over into layups for them,'' Flint said by phone Wednesday as the Dragons made their way back home with a 7-1 record, their only loss at Rhode Island in November. Drexel already has a road CAA win at Northeastern, too. "That team [in 2006-07] was much older, a junior and senior team. This team is more freshmen and sophomores, and we've got a freshman point guard.''
That freshman -- Frantz Massenat -- is averaging 3.5 assists per game and has been the necessary distributor on a grinding team. The Dragons are led by Chris Fouch (20.9 points per game), Samme Givens (10.9) and Gerald Colds (10). Colds scored 20 in the win over the Cardinals, while Fouch finished with 10.
But the Dragons' defense is what kept them in the game and prevented the Cardinals from running and hiding like they have in previous wins. Louisville got off to a slow start against UNLV on Saturday, only to break away from the Runnin' Rebels by making 3s. The Cardinals hit only four (in 16 attempts) against Drexel.
But now the test is to ensure that wins like Tuesday's matter in March. Drexel couldn't make the upsets in 2006-07 turn into an NCAA bid. Louisville, despite being ranked No. 21, might not end up as an NCAA tournament team. If the Dragons beat Syracuse next Wednesday in the Carrier Dome, that could be a ticket-puncher for them in March. But to pull off two Big East knockouts on the road is asking a lot. Drexel will need to do something special to differentiate itself from the rest of the CAA.
"We've got the talent; I always knew we had the talent,'' Flint said. "We're physically not bad. We do give ourselves a chance to win these games. Now that we have, we'll see how it goes.''
The league is extremely balanced this season, with Old Dominion already playing a tough schedule. ODU owns wins over Xavier and Richmond, and has a close home loss to Georgetown. It is putting together an at-large résumé and can add to it when the Monarchs play Missouri at the end of the month. VCU has a win over UCLA in New York that might not mean as much in March if the Bruins continue to flounder. A road win over Wake Forest won't have legs, either, since the Demon Deacons are likely to finish near the bottom of the ACC. But the Rams might have a decent power rating due to the schedule. And they won't fade from the CAA title chase. George Mason is sure to be a contender to finish in the top four as well.
The CAA is likely to have a decent power rating as a league outside of the top eight. That also will help in any of the selection committee breakdowns. Choosing to play one-way road games -- and winning -- is always a plus. The overall strength of the CAA, though, is why Drexel's win at Louisville can carry significant weight -- maybe more so than Oakland's victory over Tennessee in Knoxville on Wednesday. The Summit League might drag the Grizzlies down. Getting multiple bids out of the CAA is much more palatable than, say, two out of the Summit if Oakland isn't able to win its conference tournament. However, the Grizz have the look of a tournament team after a one-point loss to Michigan State at the Palace in Auburn Hills, Mich., on Saturday, their impressive win over Tennessee and having a possible first-round NBA draft pick in Keith Benson.
Flint was in a no-win situation following John Calipari at UMass in 1996. The Minutemen had been to the Final Four, and there was no way the program was going to stay at a top-five level. It was a unique time that might never be revisited in western Massachusetts. But Flint worked his tail off, trying to make the Minutemen relevant. When he was forced out, he landed well, returning to his hometown, near his alma mater of Saint Joe's.
Drexel, Northeastern, Delaware and Hofstra all have been searching for an identity since making the move from the America East to the southern-based CAA. One of them needs to break through to get to the NCAAs. They have had singular stars like Hofstra has now with Charles Jenkins but have lacked the consistency to be a regular-season champ. Drexel and Northeastern have come close to capturing the conference tournament title and automatic bid but have fallen short. The conference tournament in Richmond always has been a decided advantage for the schools in Virginia (VCU, ODU and George Mason).
No one is projecting some sort of magical Drexel run. But its win Tuesday night suddenly has given the Dragons hope that an NCAA bid is attainable if they continue to play with such purpose. Givens said after the game that the Dragons matched the intensity of the Cardinals and kept the game at Drexel's pace. But he also added that the Dragons can't let a win like this "get to their heads." That means cleaning up at St. Francis (Pa.) on Saturday before visiting Syracuse. Playing well against the Orange and keeping the game competitive at the end is a must if Drexel is to be taken seriously as an at-large candidate. Win and the Dragons are on the board as a contender for a bid. Finish in the top two in the CAA and do well in the conference tournament, and the plan is put in place.
Wins during the regular season, like Tuesday's at Louisville, do matter for teams struggling to find their place. They might seem like one-hit wonders on a random winter night, but they can be relevant to a season as long as they are not wasted with losses to inferior teams.