Wolfpack await Tracy Smith's return
December, 21, 2010
12/21/10
12:24
PM ET
Judgments are often made prior to the new year on whether a team is NCAA worthy. And when that team isn't even at full strength, deciding on its success -- or failure -- is premature.
That's the case with NC State.
The Wolfpack, a trendy pick to challenge for a second-through-fifth finish in the ACC behind runaway favorite Duke, are struggling at 6-4. None of the four losses are bad, however. NC State has dropped games to three ranked teams (Georgetown in Charleston, S.C., at Wisconsin, at Syracuse) and one unranked but a potential Pac-10 title contender in Arizona at home Sunday.
Now, on the flip side, none of the Wolfpack's wins are NCAA tourney-résumé-worthy yet, either.
[+] Enlarge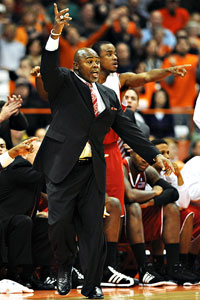 Richard Mackson/US PresswireSidney Lowe hopes the return of Tracy Smith will help NC State get on a roll.
Tracy Smith, NC State's leading returning scorer and most experienced frontcourt player, has played in only the first two games this season. Smith injured his knee in the second game, a win over East Carolina in Charleston, and had to undergo surgery. Coach Sidney Lowe said Tuesday that Smith is progressing from his injury, but he won't see action Wednesday against Delaware State. The hope is that he gets some reps in at least one of the three games -- Alabama A&M (Dec. 28), San Diego (Jan. 1) or Elon (Jan. 5) -- before the ACC opener against Wake Forest on Jan. 8.
"The guy is our returning leading scorer, an all-ACC selection and one of only two seniors that we have on our team, and our main inside player,'' Lowe said. "He means a great deal to this team. He's the one position where we couldn't have an injury, and if we did, it would hurt us more.''
This is not spin. This is reality. NC State may not have won any of the aforementioned games, but with Smith, the Wolfpack would have had a much better chance to defeat Arizona at home or compete and win at Syracuse, which turned out to be only a six-point loss.
Lowe isn't looking for any compassion here. And if the Wolfpack get Smith back for the ACC schedule and still flounder, then take the shots. NC State brought in its best recruiting class under Lowe with Lorenzo Brown, Ryan Harrow and C.J. Leslie, and the three freshmen have all had their moments. Brown had 16 points and seven boards against East Carolina, Harrow finished with 14 points in 18 minutes against Youngstown State, and Leslie pulled down 19 rebounds in that same game.
But they've also shown their inexperience. Brown shot 2-for-10 against Wisconsin, while Harrow shot 2-for-12. Leslie hit only 1-of-14 against Arizona.
Scott Wood has provided the necessary 3s (44.3 percent) but Smith's replacement inside, Richard Howell, can't stay out of foul trouble (three or more fouls in six of 10 games), and his 7.9 points per game is still below Smith's 16-point average from last season.
"We lost to three nationally ranked teams and a good Arizona team without Tracy Smith so you can see he's had a great impact on what's happened here,'' Lowe said. "This is the reality. Unfortunately a lot of people don't live in the real world and look at the situation we're in.
"I'm realistic and if we get Tracy back and finish last I would be disappointed,'' Lowe said. "Until we see where we are and get him back and see what we can do at the end [it's not fair to judge].''
NC State isn't going to finish last in the ACC. Wake Forest likely will. And the Wolfpack have more talent with Smith than Clemson, Georgia Tech and Virginia. There's no reason to believe a healthy NC State can't compete with North Carolina, Virginia Tech, Florida State, Boston College, Maryland and possibly Miami for a No. 2 through No. 5 finish in the league.
All of these teams are flawed, and none has been without issues. "Tracy could settle us down if we hit that drought,'' Lowe said. "We could go with size and get a basket with him, get a foul and sometimes that's all you need is that one play to get going again. That's especially true with young guys. There are some other teams out there that have young guys that aren't tearing it up.''
Lowe said the morale has been fine. He said the Wolfpack players aren't down, especially since they have hope that Smith will return. "We need Tracy. He gives us that inside presence,'' Lowe said. "We've got 20 games left. We have great opportunities and our goal is still in sight. We have to win games, and we feel we can and we should.''
There was more optimism about this season's team than any of the previous four. How the Wolfpack finish in the ACC and where this team ends up in March will be the true indicators of Lowe's progress. He has said he has a good working relationship with new athletic director Debbie Yow. He's a beloved former national championship guard at the school. He fully understands as a veteran of the NBA that he has to win.
He knows that the NCAA tournament selection committee takes into consideration major injuries, how a team develops and whether it wins significant games when it's whole down the stretch. Beating Duke on Jan. 19 at home could cure plenty of early-season ills. Ultimately, if the Wolfpack are in contention for a top-five finish in the ACC, then the judgment of this squad will be rendered with more praise. However, a finish in the lower tier with a healthy Smith could bring necessary and just criticism.