Nolan Smith focuses on scoring again
January, 4, 2011
01/04/11
11:43
AM ET
Duke's Nolan Smith figured that as soon as Kyrie Irving was out indefinitely, he had to be the prototypical point guard, the kind who is locked into distributing the ball at the expense of scoring.
So Smith took the assignment of being Irving's replacement at the point quite literally. He didn't really try to score much, and it showed. He played 30 minutes in a crushing win over Bradley. He took eight shots and didn't make any of them. He hit two free throws for two points, which was 22 fewer than what he scored in the previous game against Butler. He had 10 assists and just two turnovers.
[+] Enlarge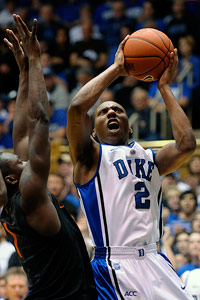 AP Photo/Sara D. DavisNolan Smith has scored at least 20 points in four straight games.
Smith obviously had taken the advice of the Duke coaching staff too seriously. "I felt like in that first game after Kyrie went down that I had to get everybody involved,'' Smith said. "I felt like I was the only guy who could penetrate and make plays for everybody else.''
That assignment lasted one game. "After the game, the coaches said 'You need to score' and make plays for myself,'' Smith said.
Duke assistant coach Chris Collins admits it was a tough adjustment to play without Irving at first.
"Initially everyone was so taken aback [by Irving's injury] since we had had two guys in Kyrie and Nolan pushing the ball and attacking and keeping the floor open, so Nolan initially was thrown into the role of thinking that he was just being a playmaker as the point guard,'' Collins said. "He was trying to run the team in that first game and get others involved. We didn't want him to change. We didn't want him to lose sight of who he was. He's done a better job of assists, but we still need him to be a scorer.''
The statistical change for the senior guard is back to his norm, as Smith has scored at least 20 points in each of the past four games and has taken no fewer than eight shots. His assists have fluctuated, ranging from four to nine in the four games, but his turnovers have been steady. He had nine assists and zero turnovers in the win over UNC Greensboro on the road on Wednesday.
"I was very comfortable learning the 1 [position] since Kyrie went down, and I thought even when I didn't score and had 10 assists that I did a good job running the team and had a fun time and dishing the ball,'' Smith said.
Smith played 40 minutes in the ACC-opening win over Miami on Sunday. Fellow senior Kyle Singler played 40 as well. You can expect that to continue in the final three nonconference games against UAB (Wednesday), St. John's and Temple in late February as well as throughout the ACC season. "We're in shape to do that,'' Smith said.
Collins said it's not about the 40 minutes during the game but rather about how the time is managed between games.
Smith has help on the perimeter from fellow starter Seth Curry and top reserve Andre Dawkins.
Duke coach Mike Krzyzewski has shortened his bench down to two now that the ACC schedule has begun, so the only guards who played against Miami were Smith, Curry and Dawkins.
Of course, Smith's minutes might change a tiny bit if Irving returns this season. He hasn't played since injuring the ligaments in his toe in the second half against Butler on Dec. 4.
Irving has been in a cast to avoid surgery and was due for another examination on Tuesday. The weekly examinations check the progress of the toe and see whether the ligaments are healing.
"The injury is somewhat unique, and there is no timetable on how it will heal,'' Collins said. "Every week to 10 days they will X-ray it and see how it's healing. There is a surgical option, but we've been advised to go through this route. He can always have the surgery.''
But if Irving opts for surgery, Collins said the point guard would be officially done for the season. At this stage, there is still a chance he could play before or during March. In eight games before getting hurt, Irving averaged 17.4 points and 5.1 assists per game while shooting 53.2 overall and 45.2 percent on 3s in 28.9 minutes per game. He scored 31 points in the ACC-Big Ten Challenge win over Michigan State on Dec. 1.
"As long as there is good progression, then they'll keep it in the cast and let it heal,'' Collins said "We're starting to settle in who we are and who we need to be without having Kyrie in there."
"The coaches have said to play as if he's not here,'' Smith said. "They've told us there's no timetable when he's coming back. What we are is way more precise on offense to ensure we get a good shot on every possession. If Kyrie does come back, then we'll adjust. We'll go back to playing fast and get the ball down the court the way Kyrie did. Right now we're playing the style of basketball for this team. I think it's been working well. We're still talented, and everybody needs to step up in order for us to win basketball games.''
Smith said the ACC opener was a different feeling for the top-ranked Blue Devils. He said they are well aware that everyone in the conference is looking to knock off Duke and get a headline victory for a possible NCAA tournament berth.
"We knew being ranked No. 1 that every team in the conference wants to beat us,'' Smith said. "This is the definitely the position that myself and Kyle wanted to be in. The target is on our back. It's a big game for everyone. We're up to the challenge. With Kyrie going down, it has made it a bigger challenge for myself having to switch to the 1. So I've got to continue attacking.
"But when he went down, none of us felt vulnerable with guys like Seth Curry and Andre Dawkins and seniors like myself and Kyle. We're fine. We adjusted in the short term. Now we're like the team last year. We don't have to push the ball 100 miles an hour for a full game. The coaches have done a great job of making changes, and we've got the senior leadership to win the big games and win games in the conference.''