UA hoops could play small part in healing
January, 13, 2011
01/13/11
3:04
PM ET
Sports has always searched for its rightful place during a tragedy.
The games might take a hiatus for a day or two, then they resume hoping to be a rallying cry for a community that is hurting, desperate for a distraction.
Arizona men's basketball coach Sean Miller is mindful of the Wildcats' place amid the aftermath of the horrific shooting Saturday that left six people dead, including a 9-year old girl, and 12 others wounded, the most serious of which was U.S. Rep. Gabrielle Giffords. Giffords is making remarkable progress after being shot point-blank in the head by the lone gunman outside a suburban Tucson supermarket that is frequented by countless local residents, including Miller.
Unaware that the shooting had occurred, Arizona was conducting its normal shootaround Saturday in preparation for hosting Stanford later that day. And then, just after it was over, Miller took a call from his athletic director, Greg Byrne. He informed Miller of what had occurred and that the game had to be postponed.
"You get that message, and you come to grips that what we're about to do is play a college basketball game," Miller said. "It's really small in the eyes of everything that is happening.
[+] Enlarge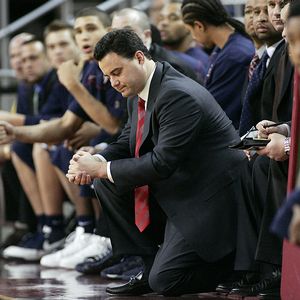 AP Photo/Danny MoloshokSean Miller and his team know their place in the Tucson community during this time of healing.
"Where this happened, it's hard to believe," he added. "It's your typical grocery store in a place that is new and safe in Tucson. It has restaurants. Everybody frequents it."
The decision to move the game to Sunday was the right choice. But no one was quite sure how the crowd would react.
"You had 14,000 people ready to come to see us play Stanford and then the tragedy strikes and so many people here are affected," Miller said. "The next day, we weren't sure what to expect. I thought it would be half full. But it wasn't. The game was an event; it allowed everyone to take their minds off this tragic event. People really enjoyed it. We had a packed house, a sellout crowd. We took the energy and brought it to McKale, and it was a reminder what college basketball can mean to the community."
Tucson has always had a small-town feel, dominated by the University of Arizona. Hall of Fame coach Lute Olson made Wildcats basketball an event, and the McKale Center was an entertainment destination. The national championship in 1997, of course, was the pinnacle. Check reports from any national media outlet and Arizona men's basketball is woven through the storylines of defining Tucson before this tragedy.
"And you see how the university is the epicenter of the city by how much the university hospital has been involved," Miller said of the hospital that has housed and tended to the wounded. "We're trying to take people's minds off this tragic event in a positive way."
And that's why it was no surprise that the McKale Center was the site Wednesday night of a memorial service attended by every notable politician in Arizona, with a keynote address by President Barack Obama. Miller, who didn't attend but did watch the service, said the president hit the right tone in his speech and helped energize the community. Obama used Arizona's locker room as the prep area before his speech.
"It just feels like the sun came up this morning," Miller said Thursday. "There is a different feeling here in Tucson."
In his short two-year tenure at Arizona, Miller had been in social circles with Giffords multiple times. He said she was at Olson's retirement ceremony, speaking to the crowd at the McKale Center.
"We've had a lot of common events together," Miller said. "She's a very active member here. She's sincere in how she delivers her message and, like everyone has commented, it's hard to believe this occurred in Tucson, Ariz. It's a reminder it could happen anywhere to someone like her, so young, vibrant and positive."
Miller is also a father, and the murder of 9-year old Christina Green was especially hard to take, as it was for every parent and nonparent alike.
"She wanted to go into politics and just wanted to meet Gabrielle Giffords," Miller said. "Just look at her picture …"
The Wildcats, who are 14-3 (3-1 Pac-10), wore a black ribbon on their uniforms in their 10-point win against Stanford on Sunday. There will continue to be a tribute somewhere on the uniforms and likely more to represent those who were murdered and those still recovering from this heinous crime.
"We will honor the community for the remainder of the year," Miller said. "We have an incredible home court and a great atmosphere. Our crowd in Tucson can be a rallying point. So many of our season-ticket holders were affected."
Sports tries to find its place amid tragedy. The games go on, the fans return, and the players and coaches attempt to find normalcy in the heat of the competition. That's what Arizona will do. It's the right thing to do. It's the only thing to do. And so far, the Wildcats have handled it all with the appropriate measure of decency.