Injuries to play role in committee decisions
March, 4, 2011
03/04/11
1:55
PM ET
BYU will be a focal point of discussion for the NCAA tournament selection committee throughout next week, according to a former committee member, after the Cougars' top rebounder,
Brandon Davies
, was dismissed from the team for an honor code violation.
[+] Enlarge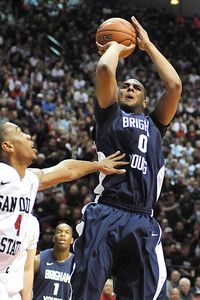 Christopher Hanewinckel/US PresswireHow will BYU be looked at by the selection committee without Brandon Davies ?
The former committee member, who wanted to remain anonymous, said BYU is "a different team without that guy, there's no question. For this to happen so late in the season, it makes it a compelling issue."
The former committee member said a good comparison for BYU would be last season's Purdue squad. When Robbie Hummel suffered a season-ending injury in a win over Minnesota on Feb. 24, the Boilermakers were 24-3, 12-3 in the Big Ten. The Boilermakers lost their next game at home against Michigan State, but then ripped off three wins in a row before losing again to Minnesota in the Big Ten tournament. So Purdue went 3-2 without Hummel before Selection Sunday and received a respectable No. 4 seed.
"Purdue dropped without Hummel, and my read after watching BYU lose to New Mexico is that BYU will drop as well," the former committee member said. "The interesting thing is, could San Diego State benefit from BYU's demise now? It's not going to be easy, but I was wondering if BYU was a No. 1 seed even before all of this. Obviously it's all open to interpretation."
BYU isn't the only team that will be thoroughly examined when it comes to seeding.
Florida State heads into Sunday's game at NC State without Chris Singleton for the fifth straight game. Singleton, the team's best all-around player, broke his right foot in a win over Virginia on Feb. 12. In his absence, the Seminoles won at Wake Forest, lost at Maryland, beat Miami and then lost to North Carolina on Wednesday on Harrison Barnes' 3-pointer. The Seminoles are confident that Singleton will be back -- soon, although he was still in a boot on the bench Wednesday.
Georgetown's Chris Wright broke his left, non-shooting hand in a loss against Cincinnati on Feb. 23. The Hoyas lost that game and then the next one against Syracuse. Wright had surgery and the Hoyas are expecting him back this season, but it's still unknown when.
"All these are legitimate issues that will be discussed by the committee and could have a bearing on actual selection into the tournament or seed," the former committee member said, "and if the question is on seed, then how far do they drop?"
The committee had to deal with this issue a year ago when Syracuse lost Arinze Onuaku, who was hurt in the Orange's Big East tournament loss to Louisville. The committee checked to see if Onuaku would return before seeding the Orange. Syracuse still received a No. 1 seed.
Syracuse had to let the committee know, according to those close to the situation, if and when Onuaku would return. The Orange may have received a No. 1 seed regardless of that information. But the committee has to evaluate what it is being told, what it knows more than what might occur.
The committee member who might have the toughest time next week is Utah State athletic director Scott Barnes. He has to recuse himself when the Aggies are discussed, whether for selection or seeding. They will be in a precarious position if they lose in the WAC tournament.
Also, the committee won't give any special attention to Alabama for winning the SEC West. There are no designations on any of the team sheets that state a team has won a conference division. The teams are presented as individual teams, not with conference affiliation.