Kentucky sets up its own draft combine
May, 2, 2011
05/02/11
1:31
PM ET
Kentucky's
Brandon Knight
,
Terrence Jones
and
DeAndre Liggins
will likely be better prepared to make their decisions Sunday as to whether they stay in the NBA draft because of the workouts in Lexington Monday and Tuesday afternoon after classes.
This is the last year underclassmen can test the NBA draft process. The NCAA legislative council and the board of directors (by doing nothing) passed a new rule that underclassmen must decide before the first day of the spring signing period. In the case of 2012, that date will be April 10.
[+] Enlarge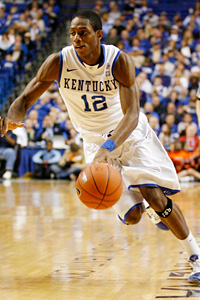 Mark Zerof/US PresswireBrandon Knight is one of four players taking part in the workouts at Kentucky.
A workout isn't something magical and won't necessarily change a player's draft position. But it doesn't hurt, either. If a number of teams do show up in Lexington and convey their opinions on where the freshmen Knight and Jones and the junior Liggins might land in the draft, it might influence them to stay or withdraw.
NCAA rules prohibit underclassmen from missing class to conduct an NBA workout. So the only way players can get workouts in this final week is to do it on campus or head to a workout this weekend. For example, the New Jersey Nets are hosting a massive workout this weekend.
But Kentucky coach John Calipari said he doesn't anticipate Jones or Knight going to Jersey -- although Liggins might. The workout in Lexington also is a chance for NBA personnel to get a look at senior Josh Harrellson. He is a marginal draft prospect, but at least in this type of workout scouts can get a closer look.
Calipari said Enes Kanter, who never played for UK once he was ruled permanently ineligible by the NCAA in the fall, will not be at the workout. Instead, he will continue to work out in Chicago, where he has been stationed recently.
Calipari said Kentucky coaches cannot participate in the workout but are allowed to watch. He said he was hoping to get friend and former NBA coach Larry Brown to help conduct the workout. Calipari added that all 30 NBA teams were invited and was hopeful that upward of 20 would attend the sessions.
"We're going to do the agility stuff, everything that they do in Chicago [at the draft camp May 19-21]," Calipari said. "We'll also give them time to do an interview for 20 minutes or so."
Calipari said there will be plenty of shooting but there won't be any 3-on-3 competition. He said there was some talk of bringing in other players but Calipari didn't want to do that to avoid any chance of the spotlight moving away from one his players.
"This is for our kids," Calipari said. "We're trying to get our kids the information they need."
For what it's worth, Calipari said he was against the decision to move the draft deadline to early May and is especially against the switch to early April.
"What was the reason? How do you make a decision and not have [the players] have a seat at the table?" Calipari said. "I want all my kids to come back. But putting the date on April 10 makes it even more difficult to make the right decision. Now the agents will be involved, not the NBA teams, since they can't talk to the players. The players need more information. There will be no contact with the NBA."
Calipari said Knight needs a little more information before he makes a decision. He said Jones needs even more and added that Liggins would need to go to New Jersey to fight his way into the draft before he makes a decision by Sunday.
"I told them all that if they all stay in we'd be the best team in the country coming back," Calipari said. "If you decide to leave, then we'll still be alright. We lost five first-round picks last year and we were alright."
Kentucky brings in the top recruiting class in the country, led by Michael Gilchrist and Anthony Davis. The Wildcats will be picked to win the SEC and will almost certainly be selected somewhere in the top three of the preseason polls.