Frank Martin: No Miami, no problem
June, 1, 2011
06/01/11
11:17
AM ET
Frank Martin didn't have a choice to make about whether to leave Kansas State for the head-coaching job at Miami.
The Hurricanes never called Martin, who grew up playing hoops across the street from the Orange Bowl.
There was a concerted effort by at least one representative of Martin's and plenty of his friends and followers in his hometown to get the Canes to hire the K-State coach as Frank Haith's replacement in Coral Gables.
The call never came. Miami made a run at Harvard's Tommy Amaker and then scooped up George Mason's Jim Larranaga in what turned out to be a surprise hire.
But Martin insists he wasn't scorned and said he's glad to still be in Manhattan, Kan., ready for another fight to prove the doubters wrong and to show that the Wildcats can sustain what he has built in the past four years, now sans his top assistant coach Dalonte Hill (who left for Maryland) and Mr. Everything Jacob Pullen.
"I'm excited for them," Martin said of the Hurricanes. "I'm not an alum but I grew up across the street, and everyone around there adopted Miami as their school.
"Only two things bothered me about the whole thing: No. 1 was that they portrayed it as a bad job, which is ridiculous. It's a great university. No. 2 was that there was so much talk about me and the job so I had to answer these questions. I was never contacted. I was never a candidate for the job. I was asked a question and I answered it. You try to be honest today, but they use it against you.''
[+] Enlarge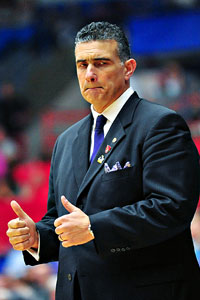 Chris Morrison/US PresswireSouth Carolina coach Frank Martin has to be excited he has landed Sindarius Thornwell, a guy he has been on since his first day in Columbia.
The quote in question was when Martin clarified his salary to AP reporter Doug Tucker, saying: "Everyone's reporting that my salary is $1.55 million. Actually my salary is $1.1 million. Now, I'm an old high school teacher who was making 32 grand when I moved to Boston and I'm extremely grateful and thankful for the salary I make right now. If I stayed the length of the [five-year] contract and I collect every bonus in the contract it will average out to $1.55. And you know what? There's a chance that the University of Miami never called because they think I make $1.5. There's a chance just because it was released at $1.55 the University of Miami said, 'We can't call him. Why waste our time? We can't pay him.'''
Martin said he was humbled and flattered by how many people follow Kansas State in Miami, enough to push him for the position.
But he was emphatic about where he calls home now: "This is my home. I'm from down there and Kansas State is my home. I'm so excited about where I'm at and what we're going to do.''
Martin said he wasn't bothered that he was never a candidate at Miami, a job that would have paid him less in a league where it's harder to ascend to the top with North Carolina and Duke locked in as the prohibitive favorites on a yearly basis.
Sure, Kansas and Texas are the standard-bearers in the Big 12. But Kansas State has found its place with Martin, reaching the Elite Eight in 2010 and still being a formidable player a year ago, despite an up-and-down season with multiple suspensions of senior Curtis Kelly, one for Pullen, and Freddy Asprilla and Wally Judge leaving the team during the season.
And when it comes to K-State and Miami, you can't even begin to compare the fan bases, the passion for the sport, the history and the home-court advantage. South Florida and Eastern Kansas are another matter, but that's not always an issue for a college coach. Martin can win at Kansas State. That matters. At Miami, the obstacles are still formidable based on the relative lack of interest and the mountain to climb within the ACC.
"We've won more games in the last four years [95] than any four-year period in Kansas State and we have a top-20 program in the history of college basketball,'' Martin said.
But Martin is faced with the first real transition period as a head coach just as the Big 12 has been reduced to 10 teams and will play a true round-robin schedule, meaning two games against Texas, Texas A&M and Baylor every season to go along with the two against Kansas and Missouri that have been on the schedule.
Pullen is gone. Hill is out.
"He's the first person to leave our staff since we got here,'' said Martin, who is still working on a replacement. "The most important thing has been stability on a staff. But the kids can trust a different voice. There will be an adjustment.''
Hill had a pipeline to the DC-Baltimore area, one he will cultivate for Mark Turgeon at Maryland. The Wildcats' most recognizable player from the area was Michael Beasley, who played for Martin in his first season when he was promoted to replace Bob Huggins once Huggins went home to his alma mater at West Virginia after one season in Manhattan.
Hill also lured DC-area players Rodney McGruder, who will be the centerpiece of next season's team, as well as returning forward Jamar Samuels and Judge, who left midway through the season and eventually transferred to Rutgers.
"We've had a transition every year,'' Martin said. "When I got the job they said it was a joke. Then Beasley left and I was going to get fired in six months without Beasley. Then we went out and won games. But then we went to the NIT and I was going to get fired because we weren't very good. And then we nearly won the whole thing and lost in the Elite Eight. But then maybe we couldn't quite get it done last year and Jacob Pullen struggled but then we turned it around, won big games and lost a heartbreaker to Wisconsin [in the NCAA tournament].''
Martin is 6-3 in three NCAA tournament appearances. Before his arrival, Kansas State hadn't been in the tournament three times in a four-year period since 1986-90. The last NCAA appearance before Martin was 10 years earlier in 1996.
"Now they say we stink and we have a bunch of nobodies,'' Martin said.
Not sure who "they" are, but Kansas State certainly will be projected in the Big 12 mix, or at least in the second tier behind Texas A&M, Baylor, Missouri, Kansas and Texas -- all of which have some questions to be answered and are hardly way ahead of KSU.
The Wildcats essentially lose Pullen and Kelly from last season's team. That hurts. But McGruder, Samuels, Will Spradling and Shane Southwell are all more than capable of being a core group that can keep this team in the running for an NCAA bid. The Cats also have a class of six newcomers.
"I'm excited about our team,'' Martin said.
During all the Miami chatter, he certainly had plenty to keep him occupied.
Martin hurt his knee in January. He couldn't sleep and knew he needed surgery after the season. He had the surgery, but soon after he found himself with intense pain in his right calf. He went to the doctor and it was discovered that he had a blood clot. He had to immediately be put on blood thinners and took medication for five days, every 12 hours. He will remain on the blood thinners for a three-month period.
Martin has had seven or maybe eight knee surgeries -- he's lost count at this point -- and this is the first time a blood clot occurred.
But the initial scare is over. And the one hometown job that may have piqued his curiosity is filled. And you know what? He's fine with that. He's ready for everyone else to doubt him again.
"I couldn't be happier where I'm at,'' Martin said. "We've done a lot of great things in four years here. I've got a great job and a great administration.''