Can MSU regain the Spartan swagger?
June, 2, 2011
06/02/11
11:06
AM ET
The Detroit Pistons are looking for a head coach.
The Michigan State Spartans will not be.
"No NBA," MSU's Tom Izzo said.
Makes for a little more relaxing early June doesn't it, Spartans fans?
At this time last year, Izzo went through an exhausting NBA flirtation before turning down a lucrative offer to coach the Cleveland Cavaliers while the team waited to see if LeBron James would return.
It was not a fun experience for Izzo. He hunkered down for several days and spent the final weekend fending off rumors and trying to isolate his family while making the toughest professional decision of his life.
In the end, he showed a commitment to Michigan State, where he's led the Spartans to six Final Fours while following in the footsteps of his beloved predecessor, Jud Heathcote.
But his reward for choosing MSU was by far one of the toughest seasons he's had to endure in his illustrious tenure in East Lansing.
In the preseason, two players were accused of sexual assault (no charges were filed). Kalin Lucas was still recovering from an Achilles injury. Chris Allen was suspended from the team and ultimately dismissed in the summer (he later transferred to Iowa State). Yet the Spartans were picked No. 2 in the country in the preseason polls.
It didn't quite work out that way. Highly touted freshman Adreian Payne wasn't able to contribute much, Delvon Roe again battled nagging injuries and inconsistent play, and Korie Lucious was dismissed 18 games in for conduct detrimental to the team (he ended up at Iowa State, too).
[+] Enlarge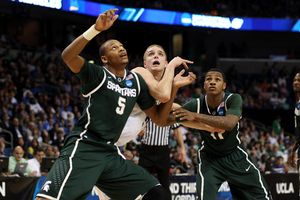 Cliff Welch/Icon SMIAdreian Payne (left) and Keith Appling (right) will be counted on to make the sophomore leap.
The preseason No. 2 simply never got it rolling, suffering through a 4-7 stretch in the Big Ten at one point and then squeaking into the tournament as a 10-seed after finishing 9-9 in the Big Ten. A loss to UCLA in the Round of 64 mercifully ended a bitterly disappointing 19-14 campaign.
So what now?
Lucas is gone. So too is Durrell Summers, who was supposed to be a star but faded throughout last season.
Ohio State is the unquestioned favorite in the Big Ten. Wisconsin, with Jordan Taylor but without Jon Leuer, is the likely second choice. Michigan, sans Darius Morris but with Tim Hardaway Jr. and everyone else back, will probably be picked third.
Michigan State will likely come next in the projections, and could even open the season outside the top 25.
And yet Izzo is facing this offseason as a relieved man.
"It has been a grind," Izzo said. "Last year was the perfect storm. As many things that could go wrong, went wrong with injuries and a tough schedule. We had a brutal schedule. But to be honest with you, I'm as proud of that season as I have been now because of the survival."
The Spartans did have some tough nonconference games last season. The schedule early didn't help with a blown game in Maui against Connecticut and then a loss at Duke and to Syracuse in New York and against Texas at home.
But falling by 20 at Iowa, getting annihilated at Wisconsin and losing twice apiece to Penn State and rival Michigan were all indicators that last season's team simply didn't have the usual Spartan swagger.
So what's changing now?
The hope is that the Spartans will actually have pickup games this summer. Izzo said they didn't a year ago with Lucas, Payne and Roe unavailable and the Allen situation in flux.
Izzo said Payne should be healthy after dealing with a shoulder injury that resulted from a high school injury. He's hoping that Derrick Nix will be in shape. He's convinced that rising sophomore Keith Appling will be a star for the USA Basketball under-19 team playing in Europe this summer. And he anticipates the talkative Draymond Green will be the leader the team lacked last season.
"We had a lot of excuses last season, but we never had our team together," Izzo said. "We just didn't have great senior leadership. We never played pickup. We never had enough guys. Appling is going to be a helluva player."
Izzo will play Appling at either the point or the 2. It will depend on how quickly freshman Travis Trice takes over the 1. Izzo said it shouldn't take long. He loves the Wayne High (Ohio) product and is extremely high on the potential of fellow freshman Branden Dawson, a McDonald's All-America small forward out of Indiana.
The offensively challenged Spartans got a lift with the addition of Valparaiso shooting guard Brandon Wood, who withdrew from the NBA draft and transferred to Michigan State. He'll be eligible immediately assuming he receives a waiver. Wood graduated from Valpo and will take a graduate level course at MSU. He led the Crusaders in scoring last season with 16.7 ppg and made 36.3 percent of his 3s.
As for Russell Byrd, there are no guarantees there. He redshirted as a freshman last season because of a foot injury that's been extremely slow to heal. Byrd underwent yet another surgery Friday and is expecting a four-month recovery.
Like with Byrd, it's hard to know quite what to expect out of this Michigan State squad in 2011-12.
"This is the first time in a long time that we won't be picked that high," Izzo said. "But Green will be better. Delvon and Nix will be better. The question will be our guards [outside of Appling]."
Yet of course Michigan State still scheduled as tough as anyone in the country. On Nov. 11, the Spartans will play preseason No. 1 North Carolina on the deck of an aircraft carrier off the coast of San Diego. Izzo said the Tar Heels, who return of Harrison Barnes, Tyler Zeller, John Henson and Kendall Marshall, may be as good as the dominant UNC team that beat MSU for the 2009 national title in Detroit.
Four days after the matchup with Carolina, the Spartans will play Duke in the Champions Classic at Madison Square Garden. Then two weeks later, MSU hosts the projected third pick in the ACC (Florida State) in the ACC/Big Ten Challenge. No ACC team plays UNC and Duke in a row away from home, let alone tossing in the Seminoles as the next big game.
Izzo said the game on the aircraft carrier had been in the works for years and he couldn't turn that down, and getting the chance to play Duke at MSG was something Michigan State has strived for. To be included in the yearly event with Duke, Kentucky and Kansas is quite an honor.
"I can't turn that down for Michigan State," Izzo said. "The toughest thing about this is doing it all before the first week of December. That's what makes it hard. But I'm looking forward to this. We'll have to earn the expectations this year. It will be nice not to have the pressure."