Tony Bennett has Virginia ready to climb
June, 16, 2011
06/16/11
10:21
AM ET
The July evaluation period hasn't even started yet and Virginia is already three-fourths of the way done with its class of 2012.
Bennett can't comment on the commitments -- frontcourt players Mike Tobey, Evan Nolte and Justin Anderson. But know this: The Cavaliers are ahead of schedule, and maybe just a point guard short of coming up with what would be a stellar class for third-year coach Tony Bennett.
[+] Enlarge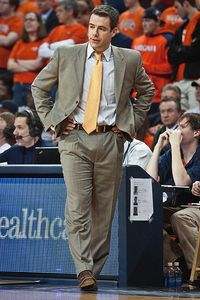 Jeff Lack/Icon SMITony Bennett is 31-31 in his first two seasons at Virginia.
If Bennett continues to pile up the players he covets -- from a specific pool of skilled players who can adapt to playing his stingy defense -- then the Cavs will fulfill his rebuilding blueprint and return to prominence in the ACC.
UVa athletic director Craig Littlepage told Bennett when he hired him that the rebuild would take three to four years once he put his system in place, and that he should expect to be an upper-division ACC team after that.
"But there is no shortcut," Bennett said. "We're trying to build it like we did at Wisconsin and Washington State. We want to get two or three good classes in a row and right now we've got a potential top 10 class [in 2012]. We don't go the JC route at Virginia. We might have the occasional transfer, but it's going to be players who grow up in this program."
The school's winning tradition under Terry Holland and at times Jeff Jones (there were some quality teams under Pete Gillen that never could advance) can certainly be cultivated again. The University of Virginia is a first-class institution with a passionate alumni base, a state-of-the-art facility, a tremendous locale in fertile recruiting ground and academics that can rival almost any university.
Bennett was able to turn around perennial Pac-10 doormat Washington State. Sticking with a class of players who were committed to rebuilding Wazzu -- at the time no-names like Derrick Low, Kyle Weaver and Robbie Cowgill -- made the Cougars winning at a high level all that much sweeter.
Virginia could do the same.
With No. 1 recruit Austin Rivers arriving at Duke, North Carolina getting Harrison Barnes, John Henson and Tyler Zeller to return to a loaded team, Florida State gaining some momentum with a Sweet 16 run and Jim Larranaga getting plenty of pub as the new coach at Miami, Virginia's potential as a real sleeper has gotten lost in the mix.
"We've got experience coming back and we will be a better team," Bennett said.
The Cavs got the expected good news that Mike Scott would be eligible for a fifth season after he was shut down on Dec. 22 due to a left ankle injury. Scott had been tearing up opponents early on, scoring 27 points and grabbing 15 boards against Oklahoma in Maui, putting up 17 points and 12 boards in a win at Minnesota and then 21 and 13 in a win at rival Virginia Tech.
Scott was unquestionably one of the best big men in the ACC prior to his injury and he'll enter this season as one of the toughest-to-stop posts in the conference.
"I was in that groove, playing with a lot of confidence," Scott said of his pre-injury play. "[But] the team learned how to play without me. They started to see a lot of success."
Virginia still finished 7-9 in the ACC (16-15 overall) without its most valuable player. Freshmen guards Joe Harris and K.T. Harrell had solid first seasons in Charlottesville, both shooting better than 41 percent on 3s and ensuring the Cavs have a stable backcourt. A healthy Scott gives the team the necessary balance to compete on a higher level.
[+] Enlarge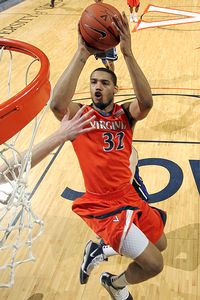 AP Photo/Andrew ShurtlefDid you forget about Mike Scott? You can bet ACC coaches haven't.
Scott was recruited by Dave Leitao and his staff, playing two years for UVa's former coach. After taking awhile to grasp the nuances of Bennett's system, Scott was really starting to take off, averaging a double-double (16 and 10) before the injury. Since he never redshirted and didn't play more than 30 percent of the team's games last season, Scott was granted an additional year of eligibility. And he plans on taking full advantage of it.
"I'm motivated to go even harder," he said. "I'm spending the summer here, getting in better shape and working out."
Scott and Sammy Zeglinski will be the leaders of this squad and three freshmen will join in the fall: Malcolm Brogdon, Paul Jesperson and Darion Atkins. How much they contribute will depend on whether or not they grasp Bennett's defensive demands.
"It was hard playing without Mike last season but our freshmen got a lot of experience," Bennett said. "These guys are talented and there will be a lot of competition for playing time. We've got [high school] players of the year from Alabama, Washington, Wisconsin and Georgia."
As far as the schedule goes, the Cavs will hit the road for games at LSU and Oregon, host Michigan in the ACC-Big Ten Challenge, will potentially get a shot against Marquette in the Paradise Jam in St. Thomas and have signed on for a home-and-home with CAA favorite George Mason.
Carolina is the consensus top pick in the conference, with Duke not far behind and Florida State the likely third pick. But after that, the rest of the ACC is wide open.
"There's not a lot of drop-off," Bennett said. "The expectation is that Carolina and Duke are on top, but there isn't a lot of separation in the ACC [in the middle of the pack]."
To be an elite program, the Cavs will need to ensure they have some pros on the roster. The recent momentum in recruiting is a start.
"I tell the guys that you've got to be good enough to get to the NBA and I'll prepare you on how to last once you're there," Bennett said. "But it's about how much you develop. We know the formula on building a program."
The Bennett family has done exactly that at Wisconsin and Washington State. Will Year 3 in Charlottesville be the turning point that brings the school back to the NCAA tournament?
"We've got all the right ingredients if everyone stays healthy to be one of the best teams in the league," Scott said. "Coach has put the defensive mindset into the program. His father [Dick] taught him and he's teaching us."