Hoops in Alabama can be a tough sell
August, 11, 2011
08/11/11
11:24
AM ET
Anthony Grant and Tony Barbee have figured out how to hunker down this time of year.
Alabama and Auburn are obsessed with football all 12 months of the year, but especially now as fall practice begins and the anticipation grows to a fever pitch for a new season to begin.
In other words, this is exactly the time when basketball at "football schools" like Bama and Auburn can go into lockdown mode in preparation for what should be critical seasons for both programs.
"This is the mecca of college football with what Coach [Nick] Saban has done here and the history of Alabama football,'' said Grant, who is entering his third season in Tuscaloosa. "But this is the time of year for our guys to get into shape, to get through preseason conditioning. To get our focus down. I know this is not our time. But what you do now can help structure your season.''
The Crimson Tide won 25 games last season but fell short of making the NCAA tournament. Ultimately, Alabama reached the NIT final, losing to Wichita State. But going 0-for-3 in the Paradise Jam in the Virgin Islands in November was a killer and a relatively weak nonconference schedule made for a disappointing Selection Sunday after going a stunning 12-4 in league play.
The Tide returns the core of that team, including big man JaMychal Green, who is expected to star for USA basketball at the World University Games, as well as wing Tony Mitchell, who may be just as gifted an offensive player.
Bama has a legitimate chance to finish in the top four in the SEC along with Kentucky, Vanderbilt and Florida, with Mississippi State quite possibly on its heels. The Tide will be projected as one of the favorites along with Purdue to win the Puerto Rico Tip Off in November. Playing at Dayton, against Kansas State in Kansas City, and against Oklahoma State in Birmingham gives the Tide winnable games against well-respected programs that will be in a bit of re-tooling mode this season.
"The postseason was good for us since our guys had never been,'' Grant said of the NIT run. "We played a good schedule last year but we didn't win any of those games -- at Purdue, at Providence, at Oklahoma State and the bad weekend in the Virgin Islands. We weren't able to make up for that week.''
Like most coaches at big-time football schools, Grant will take advantage and make sure all recruiting visits are scheduled around home Alabama football games. But that is for 2012 and beyond.
"There's no question that you have to take advantage of having 100,000 people on campus and get a feel for that atmosphere,'' said Grant, a former assistant at Florida and one-time head coach at VCU. "We took advantage of that at Florida and we're taking advantage of it here. We didn't have that at VCU.
"I go in stages and right now this is when my emphasis for our guys is to go to class, get off to a good start academically and get them through the preseason conditioning to get ready for practice in October. I try to compartmentalize since we go both semesters.''
Grant knows the Tide's place at this time of year. So, too, does Barbee, who is entering his second season at Auburn. This is still fairly new to Barbee, who he played at UMass and was an assistant at Memphis before he was head coach at UTEP. None of those places are dominated by football.
He makes sure he's at the home football games and said no one was as big a fan of the Tigers' national championship run as he was last season. But Barbee takes a bit of a different approach.
[+] Enlarge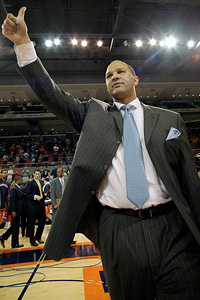 John Reed/US PresswireAuburn basketball can be a challenge to recruit for, but Tony Barbee does have a new arena to sell to recruits.
"The recruits and parents come in for those weekends and the pageantry and it's impressive," he said. "But they're not football players and they want to know what it's like for basketball and if it's over the top for every game. We have to sell them on basketball.''
And that's what he's trying to do, even in the shadows of a defending national champion.
Barbee is convinced the Tigers will be more than a pest this season in the SEC. Auburn has Texas guard Varez Ward healthy and eligible after he sat out last season. Clemson wing Noel Johnson is also eligible. And the team's top returning player -- guard Frankie Sullivan -- is healthy after an injury-riddled season limited him to only six games in 2010-11.
"We're in a good stage, similar to what occurred at UTEP where there wasn't a lot left and we've now had two good recruiting classes to set the foundation,'' Barbee said. "I think Varez Ward will be as good a point guard as anyone has in the league. Frankie Sullivan will be one of the best shooters and now we've added Noel Johnson, we've added [freshmen] Cedric McAfee and Willy Kouassi and no one is talking about us.
"And they shouldn't be. We were supposed to be the worst team in the BCS last season and yet we win four SEC games and should have won eight or nine.''
Playing its first season in the school's new $92.5 million arena, Auburn also beat Sweet 16-bound Florida State and a couple of those SEC losses were indeed decided in the final seconds.
Nevertheless, the Tigers will be picked near the bottom of the league again. But Barbee fully expects for his team to be a tough out and have a chance to finish much higher.
So here in mid-August, as the two most recent kings of college football get set for another season, not many people on either campus are buzzing much about basketball. And that's fine. It's not their time.
Most SEC basketball programs -- with the exception of Kentucky and Vanderbilt -- understand that feeling. But Barbee senses that hoops isn't the distant, mere distraction that it was for so many years.
"It seems like things are changing with what Kentucky did last year, what Florida and Georgia and Vanderbilt did,'' Barbee said. "I think this league is as tough as ever. I think you're seeing a lot more basketball talk in the SEC right now.''
No one is foolish enough to think Auburn or Alabama basketball can unseat football in popularity, now or ever. And neither coach is seeking to do so.
All they're doing is preparing their teams under the shadows of uber-elite football programs. And that's why they can't squander this time of the year when they can work in relative obscurity.