Peers want Jeff Hathaway to stick around
August, 31, 2011
08/31/11
2:28
PM ET
The NCAA is working through a number of scenarios of what to do with the tournament selection committee chairmanship of outgoing Connecticut athletic director Jeff Hathaway. The consensus among his peers? Stay on if you can.
But NCAA senior vice president Greg Shaheen said there is still no decision on the status of Hathaway, who will end his role as UConn AD in the next two weeks after reaching a settlement with the school.
According to Shaheen, the NCAA would not have to alter its legislation if Hathaway is kept on as chair, or for that matter remains on the committee, without having a job at a member institution. A provision for that circumstance is already in place.
The Big East, which doesn't control the position on the committee, wants Hathaway to stay on, even though technically he is not supposed to have any bias toward the conference.
[+] Enlarge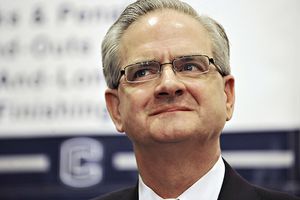 AP Photo/Jessica HillJeff Hathaway will no longer be at UConn. Will he remain on the tourney selection committee?
"It's best for college basketball and best for the committee if he stays on, if the NCAA can get that done,'' Big East associate commissioner Dan Gavitt said.
One former committee chair, who didn't want to use his name, told ESPN.com he would like to see the Big East hire Hathaway as a consultant to allow him to stay on as chair. Gavitt said he hadn't heard that was an option.
"Jeff has a wealth of knowledge of how the whole system works and there is no reason to change if they don't have to,'' the former chair said. "If you take him off the committee, then you're going to have three new members out of the 10 and it will have less experience [overall].''
UC Riverside athletic director Stan Morrison and last season's chair, Ohio State athletic director Gene Smith, come off the committee in September. They are being replaced by WCC commissioner Jamie Zaninovich and LSU athletic director Joe Alleva. The other members of the committee are: 2013 chair Mike Bobinski (Xavier AD), Dan Beebe (Big 12 commissioner), Ron Wellman (Wake Forest AD), Scott Barnes (Utah State AD), Steve Orsini (SMU AD), Lynn Hickey (Texas-San Antonio AD) and Doug Fullerton (Big Sky commissioner).
There would be a variety of options, but Bobinski would likely move up his chairmanship a year if Hathaway had to relinquish the position.
"I just think it makes sense to keep Jeff in there,'' the former chair said. "He's respected in the room and outside of the room. He's going to have a lot more free time on his hands. He's a very ethical guy and I know he'd be neutral.''
Former Big East commissioner Mike Tranghese, who was once chair of the committee, said that taking Hathaway off the committee would open the group to even more criticism because of more inexperience.
"The best interest of everyone involved is if Jeff is retained rather than three brand-new members or someone being chair that hasn't been there the full term,'' Tranghese said. "I always found the bulk of the work to be done in February rather than November and December, so Jeff's free time won't have as much of a factor. But no one questions his fairness or integrity.''
An AD has to leave the room when his or her team is discussed and can't vote his or her team into the field. A conference commissioner has to be out of the room for teams from his or her conference, too, for the same reasons. Hathaway could remain when UConn were to discussed if he were not employed, but if he were a Big East consultant, he would likely have to be out of the room for Big East teams.
During Tranghese's tenure, Carroll Williams was on the committee from 1997-2001, but during the final year of Williams' term, he was no longer Santa Clara's athletic director after he retired on July 1, 2000. The difference, though, is that Williams was still employed as a special assistant to the president in charge of athletics fundraising and alumni relations.
"It would be unprecedented if he were to stay on [without a job],'' said UCLA athletic director Dan Guerrero, who was chair of the committee for the 2010 tournament and oversaw the decision to expand the field from 65 to 68 with the creation of the First Four format.
"What would make sense if Jeff can't do it is to bring someone back who has had experience on the committee rather than bring someone new -- at least for a year,'' Guerrero said. "But this is one of the most special committees to serve on. Some people do it in the middle of their careers, some toward the end.''
Shaheen had no update on the timetable of when a decision would be made on Hathaway's status on the committee.
"Being chair is a big commitment and it requires a lot of time,'' Guerrero said. "You spend a lot of time building relationships and some don't want to do it. It's not for everyone. I'm intrigued to see if the Big East could hire him as a consultant. You want experience on the committee and it would be very difficult to not allow Jeff to fulfill his term and finish his tenure when he was selected by his peers because of the work he had done on the committee, not with anything to do with Connecticut. If the process prevents him from finishing out his term, it would be unfortunate."