Non-football leagues in wait-and-see mode
September, 8, 2011
09/08/11
3:06
PM ET
The power-six conferences have the opportunity to profit off the BCS and television contracts related to college football. The other 25 Division I conferences rely on the NCAA tournament's $14.8 billion deal with CBS/Turner and their own individual conference television deals -- some more lucrative than others.
But any attempt by the big boys to consolidate and become four 16-team super conferences has the potential to be a disaster for the rest of Division I men's basketball.
"The [deal] is symbolic for us because it grants us access to the basketball championship, and about 70 percent of our budget is funded from that basketball championship," West Coast Conference commissioner Jamie Zaninovich said. "For other folks like [Horizon League commissioner] Jon LeCrone, [Missouri Valley commissioner] Doug Elgin, Bernie [McGlade of the A-10] and Tom [Yeager of the CAA], it is our lifeblood. If we didn't have that, we'd have to completely change how we structure our conference."
Zaninovich and the rest of the commissioners outside of the six power conferences aren't directly involved in any of this chessboard maneuvering, but they will certainly be affected by it.
"No one is on the sidelines," LeCrone said. "What happens in these other conferences impacts us all."
LeCrone said the movement by the SEC, Pac-12 and possibly Big 12 and Big East has an impacts on the rest of Division I. He said it affects football-playing members, even at lower levels, within these basketball-driven conferences.
"We're in a time of fluidity," LeCrone said. "The institutions are driving this, not the conferences."
[+] Enlarge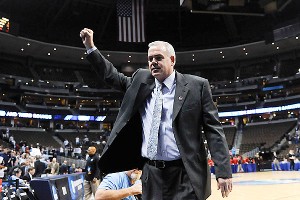 AP Photo/Jack DempseyDave Rose and BYU just joined the WCC, but could they soon be headed to the Big 12?
That's why commissioners like Zaninovich and the Big West's Dennis Farrell are open to making accommodations for football-playing schools. The WCC took BYU to house all its sports save football, which went independent this year. The Big West will add Hawaii in 2012 in everything except football, which will go to the Mountain West.
The Big East had already done this with Notre Dame for years, housing its sports save the independent football-playing Irish. Temple, which was essentially booted out of the Big East, plays football in the MAC and the rest of its sports are in the Atlantic 10.
Texas is certainly a candidate to go independent in football and put the rest of its sports in another conference. Could this be a trend?
"I wouldn't be surprised to see structures created to serve different school's needs," Zaninovich said. "More people are understanding that a split conference approach might make more sense."
Zaninovich said monitoring the moves of last year's alignment allowed the WCC to pounce on the opportunity to grab BYU. The addition of the Cougars will improve the basketball product in the conference, with the Cougars joining mid-major powers Gonzaga and Saint Mary's.
"You have to be nimble in this new environment and understand your appropriate place," Zaninovich said. "We need to monitor the landscape and seek an opportunity, and that's what we did as a non-football playing conference to improve ourselves."
That same thought process is going on at the Atlantic 10 and Colonial, where McGlade and Yeager are watching the unfolding events to see if there are opportunities for improvement. No one is advocating expansion, but in a doomsday scenario, there could be programs to pick up that would benefit from the leagues' exposure and possible revenue. No one wants to expand unless it helps the bottom line.
"We're an upwardly mobile conference, and we just have to wait our turn and see what happens," Yeager said. "We're more than comfortable with where we are, but there may be new opportunities out there."
Yeager said even if the power-six conferences were to consolidate, he doesn't think it would change the dynamic of the NCAA men's basketball tournament.
"No one knows how it will play out, but if you have a 16-team or a 20-team conference, then you're still only going to get one Big East champion and everyone fighting for at-large bids," Yeager said.
There are currently 31 automatic bids and 37 at-large berths. If there were, say, a 20-team Big East, the conference could petition for two automatic berths, but that likely would be met with resistance.
"So many leagues got away from the traditional round-robin scheduling when they went to 12, so when these leagues got bigger it changed the dynamic where you don't know which schools are always coming into your building every year," Yeager said. "The regular-season structure has changed."
He's right in that everyone essentially is fighting for at-large berths, with 30 of the 31 leagues deciding its automatic qualifier based on the conference tournament. That might not change even in a bloated power-conference model.
"It's all football right now, so for the primarily basketball conferences like us we just have to wait and see how it affects us," McGlade said. "We have to see what happens in our Big East footprint and see what the next move would be after all the pieces move."
Regardless of the shakeup, no one can imagine the current NCAA tournament television contract disappearing in some sort of new model that excludes every conference but the elite.
"It's our lifeline," McGlade said. "Our access to the NCAA basketball tournament, our automatic qualifier, our opportunity for at-large berths. We're not driven by the mega-media contracts that these leagues are driven by. [The NCAA TV deal] protects us, and it gives us a critical access to the championships."
McGlade worked in the ACC before getting the Atlantic 10 job and saw traditional rivalries fade in expansion.
"There are regional and cultural affiliations, and it won't be felt immediately, but generationally once you get four years in and a new group of students graduate and then say 12 years from now, it's going to feel completely different," he said. "You understand why the conferences wanted to get to 12, to get a championship game, but when you look at the numbers [going up to 16 or possible even 20], what else are you really looking for?"
For now, McGlade and the other basketball-centric commissioners -- like most of us -- simply wait.
"This is definitely nerve-wracking," McGlade said. "It's almost like a parent standing on the sidelines, and there's nothing you can do right now. All of these moves are driven by the football machine."