Falcons could compete in the WCC
October, 13, 2011
10/13/11
9:17
AM ET
Air Force was picked Wednesday to finish fifth in the eight-team Mountain West Conference, a league that has a chance to put two teams in the top 25 at some point in the season.
The Falcons won six conference games a year ago, the same amount as new Pac-12 member Utah. Air Force went 16-16 overall and made an appearance in the CollegeInsider.com Tournament, winning a home game against North Dakota then losing at Santa Clara.
The Falcons return three starters and are a legitimately tough test for any team in the league that comes to Clune Arena, and they're not a cakewalk on the road, either.
Yet, there is a chance that Air Force could be forced out of the MWC by its own administration as it weighs whether to pursue a possible football-only membership in the Big East.
And if the move is made, the MWC will lose a team that has been one of the tougher outs, even if the record doesn't always indicate it, in its relatively brief decade-plus history in the MWC.
Where the Falcons land is still up for debate. But the most logical choice -- after Air Force athletic director Hans Mueh told the Denver Post about the possibility of the program's departure -- isn't one of the two that are mentioned the most in earlier reports.
[+] Enlarge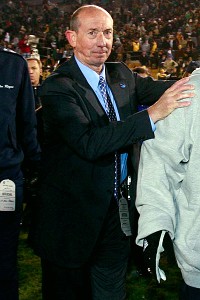 Brian Spurlock/US PresswireAD Hans Mueh is mulling Air Force's options. Could it include the WCC?
Missouri Valley Conference commissioner Doug Elgin told ESPN.com he doesn't see nor has he been told of any desire to expand his 10-team membership. And the Valley doesn't fit in the footprint of Air Force, academically or even geographically.
WAC commissioner Karl Benson, who like Elgin has had conversations with Mueh, would love to be working with Air Force as a member institution again. The WAC will add nearby Denver for the 2012-13 season. But the league lacks an identity from Seattle to Louisiana Tech with Utah State serving as the anchor in between. The Aggies would rather replace the Falcons in the MWC if the opportunity exists to do so.
If Air Force leaves, the choice should really be for one place. And that is the West Coast Conference. The WCC bumped up to nine schools with the addition of BYU for this season, as the Cougars went independent in football and placed the rest of their sports in the basketball-heavy WCC. Getting to an even 10 would be a perfect number for the WCC, which is a league of private, faith-based institutions, most of which are relatively small. "I would lean toward the WCC with Saint Mary's, Gonzaga and BYU as to where the Air Force Academy should fit,'' said former Air Force coach Jeff Bzdelik, now the head coach at Wake Forest. "The travel is realistic, and the academic piece is a good fit. It's a good basketball league.''
Putting all sports but football in one conference is catching on. Hawaii will join the MWC in football next season and place the rest of its sports in the Big West. Temple plays football in the MAC and the rest of its sports play in the A-10. UMass will do the same thing next season. Benson said the WAC compliance checked and that there is no NCAA legislation that would prevent schools from playing football in one FBS conference and other sports in another Division I league.
Notre Dame has been the model for going independent in football, while the rest of its program competes in another league (Big East). Army and Navy are independent in football, but their other teams play in the Patriot League.
Bzdelik said losing the "rivalries," or bus games, against Wyoming, Colorado State and New Mexico wouldn't be an issue. "It's no pun intended but we traveled on Mil Air, Military Air, catching rides on C130s and C5s and refueling tankers or any flying machines,'' Bzdelik said. "You can be in L.A. in less than two hours from Colorado Springs. And I think in all other sports -- women's basketball and volleyball -- I just think Air Force would be able to be a competitive player.''
WCC commissioner Jamie Zaninovich isn't saying much on the subject. He's being coy, as he was a year ago when BYU was searching for a home for its sports. But the Air Force Academy would be a fit with the recent BYU addition. Zaninovich told ESPN.com last month that he doesn't fear losing BYU to the Big 12. And with the Big 12 still waiting on Missouri to see if it needs to add one team to get to 10 (now that TCU will replace Texas A&M), there is no imminent expectation that the Cougars are gone. And multiple sources seem to be leaning East -- Louisville and/or West Virginia -- for any possible Big 12 expansion.
"Gonzaga is a class program, and we've had great games with BYU and Saint Mary's,'' Bzdelik said. "The WAC travel would be far anyway. Air Force would be a better fit with Gonzaga, Santa Clara, Pepperdine, BYU, Saint Mary's.''
Bzdelik's former assistant and his replacement, fifth-year coach Jeff Reynolds, isn't picking a favorite destination for the Falcons. But he said they aren't fleeing anything if a decision is made to put football in the Big East or potentially join Navy in a conference. (Army doesn't appear to be interested in joining the Big East.)
The Falcons have proven that they can survive in the MWC for the foreseeable future. "Our league may have two top 15 teams in the country again,'' Reynolds said of New Mexico and UNLV.
A year ago, BYU and San Diego State were in the top 10.
"Six out of nine teams last [season] made the postseason,'' Reynolds said. "That's a high percentage. We've got a lot of postseason experience here. In my six years [as an assistant and head coach], we've gone to the postseason NIT Final Four [2007] to the NCAAs [2006] and to the CIT. That should give us confidence and optimism.''
The MWC adds Boise State this season. The league loses cellar dweller TCU next and adds Fresno State and Nevada. There's no reason to think Air Force wouldn't compete again with these additions. The only difference is that the Academy does go through cycles -- in more of a traditional sense -- with its success mostly coming when it has seasoned upperclassmen.
"We can't take foreign players, we can't take JC transfers, and it's very hard to take a Division I transfer,'' Reynolds said. "We have to bring in freshmen to develop them, and in this league when we started three freshmen we took a lick three years ago. And that was happening when Mountain West basketball was getting way better.
"We've been very competitive, and now we have experience. Whether that translates into extra wins, we'll have to wait and see.''
Reynolds said Air Force recruits nationally so league affiliation won't matter as much. And travel with the Air Force Academy isn't as sticky an issue.
"The type of student-athletes we recruit don't necessarily all come from the West,'' Reynolds said. "I think the league -- the Mountain West -- has been a good fit for the Academy. I don't know if we'll change or not. If we make a move, I'll trust our administration and know that it's not just in the interest of men's basketball but for all the student athletes at the Academy.''
Former Air Force coach Reggie Minton had the Falcons as a competitor in the old WAC, but they never broke through. The shift to the Princeton-style offense began under Joe Scott and Chris Mooney and continued with Bzdelik, and now Reynolds has given the Falcons an identity and a path to the postseason.
The Academy is now facing a decision as to whether it should jump on a rocky ship called Big East football or stay firm in a Mountain West that will lack name brand football next season. Regardless of the football decision -- whether that's the MWC or the Big East or even independent -- men's basketball can have a legitimate home in the WCC, where the Falcons would be more than capable of competing. And if the choice is to stay in the MWC, the Falcons should consistently take their turn in competing for a postseason berth every three to four years when their freshmen classes mature.