ACC coaches favor 16 teams, divisions
October, 20, 2011
10/20/11
9:07
AM ET
CHARLOTTE, N.C. -- ACC men's basketball coaches want to see the league expand beyond Pitt and Syracuse. They want to increase the number of schools from 14 to 16, move to divisions and, if possible, add Notre Dame as one of the new members.
And it's not just Duke coach Mike Krzyzewski and North Carolina coach Roy Williams, whose programs won't be hurt by bringing in elite teams, that want to add two more quality teams. Pitt and Syracuse will join the ACC in 2012, 2013 or 2014 and will be two of the top four programs in the league. While that will make the rest of the conference's coaches' jobs more challenging, the consensus is to add two more elite programs.
"I'm OK going to 16 as long as we find schools that fit our profile,'' said Clemson coach Brad Brownell. "I just think we need great academic schools with places of integrity. This league is known for basketball, and we've had great success by doing things the right way. And I know the presidents will want to uphold the ACC reputation.''
Brownell said adding two of the top three programs in the Big East makes his job even more fun and including a Hall of Fame coach in Jim Boeheim and a future one, according to Brownell, in Pitt's Jamie Dixon helps solidify the ACC as one of the best leagues in the country. "I think we're going to go to 16,'' said NC State coach Mark Gottfried. "I like that our league was aggressive rather than sitting back and waiting. We want to make our league better, and I think we're heading in the direction of 16.''
[+] Enlarge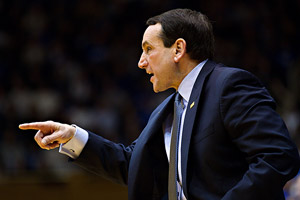 Peyton Williams/Getty ImagesDuke coach Mike Krzyzewski is open to adding Notre Dame to the ACC, but he would like to see revenue sharing as part of the deal.
The consensus among the coaches for a 15th team is Notre Dame.
"I think Notre Dame, from an athletic and academic standpoint, would be a fit in our league, and it would be great to get into that part of the country,'' Gottfried said. "I don't think this is over yet.''
Gottfried said his former conference, the SEC, did the right thing in grabbing Arkansas and South Carolina years ago to get into new markets and has done a similar move now with adding Texas A&M and potentially Missouri -- if the Tigers decide to leave the Big 12 and are accepted into the SEC.
Krzyzewski is on board with the Irish but said revenue sharing is a must.
"I just want to make sure it's the right 16 because I don't think we should get out of our time zone and stray from the geographic distribution of our teams,'' Krzyzewski said. "If we go to 16, and even if we go to 14, we should go to divisions. It's a real easy split. We didn't do a great job of branding our conference with the last expansion. We have to pay attention to that. Adding Syracuse and Pitt helps us in the North and if we're going to add people, it should be more North than South.
"Notre Dame would be a plumb for any conference,'' Krzyzewski said. "But I'm an old-timer and if you're in a conference, then you have to share everything equally and they'd have to iron out that football stuff [the Irish's NBC contract]. No one member should ever get more than another. North Carolina and Duke don't have separate TV packages for basketball. If they can iron that out and make it more equitable, then Notre Dame would be terrific for our conference.''
But ACC commissioner John Swofford is holding firm that the league doesn't need to do more, and if it held at 14 teams for the foreseeable future, the conference would be just fine.
Swofford said the ACC hasn't had any contact with Notre Dame. But that doesn't mean it won't pursue the Irish.
"I think right now we're settled [on] 14, but we'll see what else transpires on the landscape, and we'll continue to look long term and see where we are,'' Swofford said. "We can settle at 14 and we stay at 14 [because] we're a better conference with Syracuse and Pitt.''
But when will the two schools come to the ACC?
"I don't know,'' Swofford said. "We fully respect the Big East's bylaws, but we'll welcome Syracuse and Pitt whenever they come, and if it's 27 months, then that's fine. If it's sooner, then that will make us happier as well.''
Big East commissioner John Marinatto continues to insist that Pitt and Syracuse won't get out of the league early. But Swofford said the schools can come to the ACC next season -- if they can leave the Big East.
"We'll be ready for the two of them whenever they can join us,'' Swofford said.
If Notre Dame were to buck a century of independence in football and join a conference, it might only happen if the Irish find that the Big East is not an option for the rest of their sports. And there is no indication yet that that's the case. The problem for Connecticut, which hasn't hidden its desire to follow Pitt and Syracuse to the ACC, is that the Huskies don't appear to be the 15th choice for the ACC, but rather a possible 16th if the Irish come.
Basketball coaches don't have a vote and aren't consulted. But they aren't hiding their opinions. They actually want more teams to allow for a clear split and create two mini leagues within one.
Breaking the ACC into two seven-team divisions will force one school -- either Wake Forest but more likely Miami -- to have to jump up to the North with Pitt, Syracuse, Boston College, Maryland, Virginia and Virginia Tech. Expand with two teams from the North and then Miami can settle back to the natural South with Florida State, Georgia Tech, Clemson, Duke, North Carolina, NC State and Wake Forest.
"I'd love to see it increase to 16, especially with the quality of teams that could enhance the league,'' Florida State coach Leonard Hamilton said. "There's no reason that Pitt and Syracuse don't have the ingredients to be good in football. They're great academic institutions. I'm sure there are a lot of people out there that want to be in the ACC.''
Coaches have a hard enough time keeping up with Duke and North Carolina. Add Pitt and Syracuse and perhaps two more elite programs, and the other ACC teams get pushed further down the league order. But there is a flip side to this. More quality teams means more opportunities for better power ratings and impressing the selection committee with wins in conference play.
The Big East has plenty of those chances, while ACC teams, for the most part, look to Duke and North Carolina as potential wins that can catch the committee's eye.
"This is where we're headed,'' said Maryland coach Mark Turgeon. "I think 16 works better than 14 and if we can figure out how to schedule and it's fair, then everybody will be happy with it.''