Bryce Drew begins head-coaching career
November, 7, 2011
11/07/11
7:26
PM ET
VALPARAISO, Ind. -- When you spend a few days around Bryce Drew and his Valparaiso staff, it is obvious that these coaches understand what it takes to remain relevant in what has become a highly competitive Horizon League.
But it also becomes clear that Valpo is at a decided disadvantage.
The image of Bryce Drew making the iconic 3-pointer to beat Ole Miss at the buzzer in the 1998 NCAA tournament is everywhere in the building. And Homer Drew always kept the Crusaders in the mix.
But over the years, Valpo has had to take chances with international players and transfers to stay competitive with Butler, Cleveland State, Detroit, Wright State and Milwaukee. (For what it's worth, the Valparaiso staff is confident a new threat has emerged at Loyola, with its new arena alongside Lake Michigan.)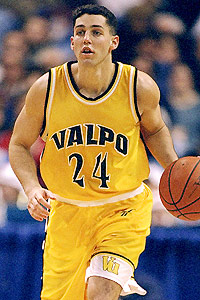 Matthew Stockman/Getty ImagesBryce Drew led Valpo to the Sweet 16 in 1998. He'll now try to do the same as head coach.
Well, the Crusaders that will be seen Monday night at Arizona in the season opener (ESPNU, 9 ET) are a shell of what Drew had originally planned.
The most talented player on the team isn't eligible. Jamaican native Vashil Fernandez stands 6-foot-10 and weighs 220. He is long and can affect the game in a major way, but no one around the program knows if and when he'll be eligible. In addition, Ben Boggs is a transfer from Virginia Tech who isn't eligible until December, and Indiana transfer Bobby Capobianco, a big body who will do well in the Horizon, isn't eligible until 2012-13.
Valpo has a rich history. At one point the Crusaders had what was dubbed the World's Tallest Team in 1944, although no one is quite sure just how tall that team was at the time. Larry Bird played in the gym when he was with Indiana State. So, too, did George Mikan.
Athletic director Mark LaBarbera was once at NC State and envisions turning the Athletics-Recreation Center into a mini-Cameron. But to accomplish that feat there needs to be influx of money and fans, particularly younger ones. A new video scoreboard was put in for this season and that's a start to upgrade the facility. But it does have the look of a glorified high school gym. In one sense that's appealing, but today's recruits are enamored by and expect modern amenities.
The staff is a tight group of young coaches who have a strong connection to the game. Bryce Drew was an NBA player. Roger Powell Jr. was on the 2005 national championship runner-up at Illinois. Jake Diebler plaed at Valpo and has basketball bloodlines with his brother Jon, who finished up his career at Ohio State. Luke Gore was a former Valpo grinder, making multiple trips to postseason tournaments. Will Phipps just arrived from Georgia Tech's staff.
The Drew family name is so strong here, and as Homer and Janet Drew battle cancer, Bryce is beginning his own new venture as head coach. He has tremendous support, but there has to be plenty of patience.
Drew wants to push the ball more often, but doesn't have the numbers or the quickness. If he gets Fernandez, he would have the post play to change up everything on offense. For now, he'll hope Ryan Broekhoff, Kevin Van Wijk and Richie Edwards find consistency and the Crusaders stay afloat.
This will be a work in progress, but there is plenty of hope if Valparaiso is willing to make the commitment. It remains to be seen whether there is overall financial support to stay in the hunt in what has suddenly become a formidable Horizon League.
Valpo's chief rival is in-state opponent Butler, but the Bulldogs are simply on another level at this point. Butler has Indianapolis, Hinkle Fieldhouse, plenty of money and a national recognition after two straight national title game appearances. No doubt, the gap has grown between the two programs.
It's up to the new staff to narrow it.