Kentucky's Darius Miller plays role perfectly
November, 18, 2011
11/18/11
5:24
PM ET
BRISTOL, Conn. -- Kentucky has oodles of talent at every position.
But would the Wildcats have a chance to win the national title without senior forward Darius Miller?
It may sound foolish to even suggest such a thing. But this UK team needs Miller as much as the 2010 Elite Eight squad had to have Patrick Patterson and last season's Final Four team needed Josh Harrellson.
They all have different personalities and came in with different degrees of hype. Patterson was an elite player, choosing Kentucky over Florida and Duke. Harrellson was an unknown who didn't appear to have pro potential. Miller was a role player with a high ceiling.
Kentucky has had a host of freshmen each of John Calipari's three seasons that have made a major impact. And in each one of those seasons the Wildcats needed to have a veteran voice. The talent of the freshmen can do only so much.
[+] Enlarge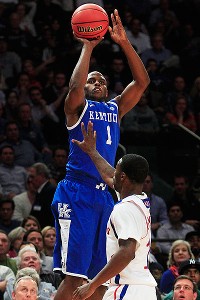 AP Photo/Frank Franklin IIDarius Miller is a prolific scorer, but he's invaluable to young UK.
Seeing the Cats in New York earlier this week and again Friday as they toured the ESPN campus prior to Saturday's game against Penn State at the nearby Mohegan Sun Casino, it was clear that Miller is a must. He is the elder statesman, a player who commands respect even if he isn't as vocal.
"He takes his role real well,'' sophomore forward Terrence Jones said. "He doesn't let anything get him upset. He doesn't have an ego. We're all on the same mindset with the urge to win. Darius knows his role real well.''
Every team needs someone like Miller to be successful. Check the Final Four rosters every season and you'll find someone like Miller on each squad.
"We've always had someone the last couple of years to look up to, to set an example,'' Miller said. "We've had that person that everyone asks questions of and gives a different perspective, not just on the court.''
Miller's stats won't wow anyone. He averaged 10.9 points a game last season. He scored eight points against Marist in the opener and tossed in five against Kansas. He can drive, pull up for the occasional 3-pointer and dish off some assists. And he has a calming presence about him that the Wildcats need to keep the personalities in check, from Jones to Marquis Teague to Michael Kidd-Gilchrist.
"It's been like this since I've been here and it doesn't bother me,'' Miller said. "I've never had a lot of hype behind me. But I've always felt a part of the team. Last year, we had some different personalities than the first year. With John [Wall] and them [fellow freshmen DeMarcus Cousins, Eric Bledsoe and Daniel Orton] in that first year, we had some big personalities and a lot of people thought we were cocky and had a certain swagger. Last year [with freshman lottery pick Brandon Knight], we were more quiet. I think this year they're talking about us having that swagger again and how entertaining we are to play.''
And that's exactly why Miller needs to be the sage one, as one of two seniors on the team (the other is Eloy Vargas, a transfer from Florida who hasn't been through everything that Miller has in Lexington).
"We're pretty good with sharing minutes,'' Miller said. "We don't have big egos. I think we all do a good job of handling all of this. We all want to win a championship.''
Calipari takes an NBA approach to the issue. He said that the locker room takes care of the roles, as players define their spot on the roster.
"I don't control it,'' Calipari said of an anointed upperclassman. "Patrick had one of the best rookie seasons in the NBA. Josh Harrellson did a fine job and got drafted when no one thought he'd get drafted. The same could happen with Darius. We don't compete with each other, we complete each other. I don't worry about who is playing. He'll be fine.''
If Miller had a me-first attitude, he might not be long for this roster. Others have transferred out who weren't as hyped and weren't playing as much. Miller has accepted his fate on this team and it's exactly what it should be with the Cats. He's a role player who can lead and commands respect from within the locker room and among the coaches.
Call him the team's glue guy if you must. Whatever you want to call him, UK needs him in order to win big.
"Everybody wants to be a star and everyone's family wants their kid to shoot all the balls,'' Calipari said. "I understand that. But [Darius] is doing everything he's supposed to be doing.''