Hawks look to be relevant again
December, 12, 2011
12/12/11
12:00
PM ET
Phil Martelli had heard the silence when it was his turn to speak on an A-10 conference call. He'd known what it meant, too.
Saint Joseph's was no longer cool. There was no reason to hype this program, and there was practically no reason to pay attention to it -- outside of the alumni and the fans around Hawk Hill.
"We didn't matter,'' Martelli said. "I didn't take it personally. But there were never any questions. I knew what it meant. It meant we didn't matter. There was no buzz at the Fieldhouse. There was no buzz on game day. I felt it.''
The Hawks, who had captured the sport for one season in 2003-04 when they made an Elite Eight run and had a player of the year in Jameer Nelson, had become irrelevant in the years since their run.
"The fall was dramatic,'' Martelli said. "The only description I could give you was it was like an avalanche. It kept hitting us.''
The Hawks followed up their Elite Eight appearance with an NIT runner-up finish in 2004-05 and finished in the second round of the NIT in 2005-06. They missed the postseason in 2006-07 before making a return to the NCAA tournament in 2007-08, losing in the first round. Then came no postseason in 2008-09 and sub .500 records in 2009-10 and 2010-11.
[+] Enlarge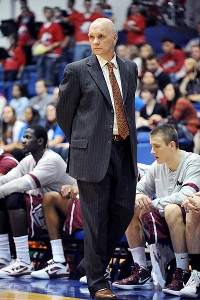 Mitchell Layton/Getty ImagesPhil Martelli is looking to make Saint Joseph's relevant again.
While Saint Joseph's struggled, Xavier and city rival Temple were atop the A-10 standings, and Richmond went through its own renaissance, reaching the NCAA tournament the past two seasons.
"I felt badly that the players weren't experiencing what Saint Joe's basketball is all about, what it was built on,'' Martelli said. "I was hurting for my players, for my assistant coaches and for my secretary and for my family. We weren't even getting a beat reporter covering our games, just a stringer.''
The season is still in its toddler stage, but the Hawks (7-3) are starting to click and return to relevance. Saint Joseph's beat No. 17 Creighton 80-71 on Saturday. But the win came at home, which prompted Martelli to downplay the victory because the Hawks are a "very good home team" in their refurbished home court. They lost to a decent Seton Hall team in Charleston, fell at Iona in double overtime and lost at American.
Now, struggling Villanova (5-4), which had easily surpassed Saint Joe's since its memorable 2004 season, will visit Hawk Hill's Hagan Arena on Saturday for the first time in Martelli's Hawks tenure.
"We had caught Villanova and Temple, and then we fell back,'' Martelli said. "Villanova was always going to be league affiliation [with the Big East]. … That was always going to be a fluid situation. so it was going to be hard to sustain that [success for Saint Joe's].''
Martelli said Jay Wright's coaching and persona at Nova and Fran Dunphy's coaching style at Temple made for some tough competition in the area. "I acknowledge that it was going to be tough in Philadelphia with those two,'' Martelli said.
Saint Joseph's, though, has to take chances with its schedule that Nova does not. For the first time in seven seasons, Martelli had confidence at the start of the season that this team could be relevant and competitive in the league. The Hawks may not be able to overtake Xavier or Saint Louis but should be in contention with Temple for a third-place finish, if the Owls are even in contention for the third spot.
"For this team, this schedule has the proper amount of challenges,'' Martelli said. "That's the one thing that had to change. Who in their right mind would go to Iona this year or go to Harvard [Dec. 31]? And the decision to bring Villanova to campus for the first time in history wasn't easy to come about.
"My word has always been that the Philly games [Big Five] should be played at the Palestra. But for this team and this program at this time, I thought we should [host]. I don't know if this is a fact or not, but we have five straight home games [wins over BU and Creighton with visits from Villanova, Coppin State and Morgan State on tap]. I don't think I ever remember a stretch like that. We spent hours and hours scheduling for this team and wanted to get these fans re-engaged.''
The Hawks have talent, not at the level of Nelson and Delonte West, but they have players more than capable of competing at a higher level in the conference. Just watch the the dunk by Ronald Roberts Jr. against Creighton. Carl Jones, Langston Galloway and C.J. Aiken can score and get this team in contention for a top-four finish in the A-10.
"I'm watching these guys have so much fun,'' Martelli said. "They're building it. They're not rebuilding. They're building their own niche and their own Saint Joe's history.''