Missouri is off to a fast, fresh start
December, 16, 2011
12/16/11
1:51
PM ET
Missouri had another smashing victory Thursday night, crushing a weaker opponent -- this time Kennesaw State -- by 37 points, shooting exceptionally well, handing out assists and looking like a contender for a No. 1 seed.
Missouri is on a roll like no other team in the country right now.
One of nine undefeated teams remaining, the Tigers have had one close game so far -- a 10-point win over Villanova at the Jimmy V Classic in New York last week. Cal was supposed to be their toughest test, but the Bears looked like cubs once the Tigers were through with them, pounding them by 39 in Kansas City, Mo.
Granted the rest of the schedule has been a bit light, but the Tigers aren't slowing down at all.
The schedule will get tougher after Sunday's home game against William & Mary. The Tigers play the annual rivalry game against Illinois, also undefeated, in St. Louis on Dec. 22. Then Missouri plays its first true road game of the season, at struggling Old Dominion on Dec. 30. The Big 12 season opens at home against Oklahoma before two dicey road games in tough places at Kansas State and Iowa State.
But there's no indication that this team will hit a significant speed bump.
[+] Enlarge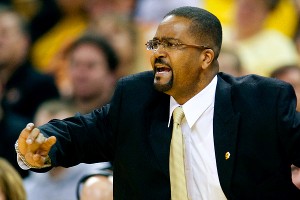 AP Photo/L.G. PattersonMissouri coach Frank Haith says his team "loves playing. And it shows."
"It's as fun a group as I've ever been around," said first-year coach Frank Haith, who had been a head coach at Miami and an assistant at stops like Texas, Wake Forest and Penn State. "The guys who know me say I'm still edgy, but this team is as good as I've been around in executing and being efficient. The senior leadership and point guard play has been great. The whole team has been unselfish."
No one saw the Tigers becoming this good, this fast, and being this dominating, certainly not Haith.
"I saw the talent, but who knew after you lose your second-leading scorer on last year's team in [Laurence] Bowers?" Haith asked. "Who knew Steve Moore would play this well? Phil Pressey didn't play this well last year. Neither did Kim English. Who knew? This group loves playing. And it shows."
How could Haith project the Tigers being an elite team? He was taking over a team from Mike Anderson that was built on speed and quickness but had lapsed defensively at times last season. The Tigers also had a complement to Ricardo Ratliffe in Bowers. But before the season began, Bowers was done for the year with an ACL injury.
Haith had to go smaller, using English at power forward even though he is just 6-foot-6. He assumed that Ratliffe would be fine in the post but had no idea that one-on-one situations would arise for him because of the attention on the perimeter.
But Marcus Denmon (20.9 ppg), Michael Dixon (10.9), Pressey (8.9) and Matt Pressey (8.0) have flourished. And Moore has been a fine third-rotation player with English and Ratliffe in the makeshift frontcourt.
Haith got this job with experienced players. There are 11 seniors or juniors. No one of note bolted on Haith, and how could they with eligibility only available for one season or needing to sit? The situation was perfect for him if he pushed the right buttons with this group.
He has. And if you're going to look at coach of the year candidates through the first two months of the season, he has to be in the top five.
"There's normally an adjustment period," Haith said of taking over a team that is stocked with the previous coach's players. "But there wasn't. These guys have had tremendous leadership. The results don't lie."
Missouri's efficiency was well-documented in this Grantland.com story. The basics are that Missouri is third in points scored (87.3), fourth in field goal percentage (51.9) and 15th in assists (17.2) a game.
"We're small but we're blocking out well," Haith said.
Haith said he watched a slew of tape on smaller teams such as VCU, Louisville and Villanova from past years.
The tweaks that were done to accommodate Bowers' absence have been smooth.
But there is still room for growth.
"We've got to be better at late-game situations," said Haith, whose team hasn't been in one of a serious nature yet this season. "We'll have to understand that really good teams are going to play sound position defense. Offensively, we're doing what we need to do to share the ball and play unselfish. This team trusts each other. We're not a finished product. Teams could still drive on us, because of some dribble penetration problems."
Missouri will have a difficult matchup against Baylor's length in the Big 12. Playing Kansas, because of the rivalry and the potential that it might be the last time the two teams play with the Tigers off to the SEC, will be as intense as ever.
Don't expect Missouri to run the table, let alone definitely beat Illinois or ODU.
But something special is happening in Columbia that no one could have predicted.
"Every day this group loves playing together," Haith said. "And it shows."