Canes look for lift from key additions
December, 21, 2011
12/21/11
1:16
PM ET
Miami coach Jim Larranaga sat in a Charlotte hotel room and found himself looking at his roster and game plans in a totally different light.
The Hurricanes face Charlotte on Thursday night and then play nonconference games against Appalachian State and UNC Greensboro before their ACC schedule begins. It gives Larranaga a chance for a fresh start in his first season in Miami.
He now has the availability of his best big man in 6-foot-10 junior Reggie Johnson and is expected to get recently eligible 6-7 senior DeQuan Jones back, too.
Larranaga won't get Julian Gamble back; he's out for the season with an ACL injury. But the additions of Johnson and Jones move the Hurricanes closer to a full roster for the rest of the season.
In an ACC so far devoid of any consistent teams outside of Duke, North Carolina and Virginia, the Canes could prove to be trouble for their opponents.
[+] Enlarge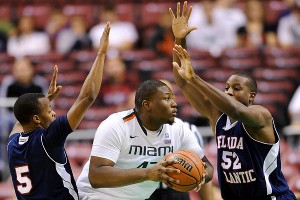 Steve Mitchell/US PresswireMiami's Reggie Johnson is playing his way back into shape.
Guards Malcolm Grant and Durand Scott are averaging in double figures, but the team had no inside presence before Johnson. He returned from an offseason leg injury to play against Florida Atlantic on Saturday, finishing with 15 points and nine boards in 36 minutes.
With the high-flying Jones, Miami has depth and options. The school initially ruled that Jones was ineligible for the season. He was being investigated for an allegation that came out of an offseason Yahoo! Sports story that former Miami booster Nevin Shapiro gave someone associated with Jones $10,000 for his commitment to Miami out of high school. It is a charge that Jones' family refuted. The school then made a sudden announcement this week that Jones was reinstated. He had been practicing with the team after averaging 4.5 points per game and 2.5 boards last season.
But in his and -- more importantly -- Johnson's absence, the Canes lost at Ole Miss in overtime (no shame), at Purdue in the ACC-Big Ten Challenge (understandable), at home by 17 to C-USA favorite Memphis (disaster) and on the road at West Virginia by 11. None of those losses are "bad" by résumé standards. But Miami doesn't have a signature win to promote heading into the holidays.
Larranaga said Jones is eligible and the school is waiting for his grades to get posted. As soon as he is cleared, he can join the Canes, possibly for the Charlotte game, although he wasn't with the team Tuesday night. Miami spokesperson Chris Freet said Wednesday that Jones is expected to join the team in time for the game.
Jones attorney Jason Setchen told the Miami Herald that Jones is "ecstatic" that this case was re-evaluated and "there is insufficient evidence to support his suspension." Setchen said in the story that he had contended Jones never "violated any team rules and was not associated with the purported activities of Nevin Shapiro. We are very pleased that DeQuan has been given the opportunity to compete this year and that the University and the NCAA have made the decision they have. We hope that somehow this helps clear the air with respect to the allegations that have been made about DeQuan."
"Adding Reggie Johnson and DeQuan Jones to our roster means we all of a sudden have the team that we anticipated," said Larranaga, who left George Mason for Miami after Frank Haith was tapped for the Missouri job.
The Canes don't have Gamble. And Garrius Adams is out until after Christmas with a leg injury. He was averaging 6.8 points in 24.9 minutes a game and missed the 93-90 win over FAU. He had scored 15 points in the loss at West Virginia. Freshman guard Bishop Daniels had not been practicing up until a week ago. He had a broken foot, but once Daniels is available, that gives the Canes another potential scorer/defender on the perimeter. "There was a time when we had eight scholarship players," Larranaga said. "That makes it very hard to prepare. Now with Reggie and DeQuan we can practice and prepare correctly. We can really prepare for opponents, and that will be a huge difference."
The schedule, though, isn't kind. If the Canes want to mount a campaign in the ACC, let alone any kind of postseason bid, they have to get through a tough opening week. Miami plays at Virginia, arguably the third-best team in the ACC, and at preseason favorite North Carolina in early January. Going 0-2 won't be a shock. But the next five ACC games are all certainly winnable -- Clemson, NC State, at Georgia Tech, at BC, Maryland -- if we're to take Miami seriously.
The problem for the Canes will be that they must knock off one of the big three -- UNC, Duke and Virginia -- to justify NCAA consideration in March. Miami plays UNC twice but Virginia and Duke just once and both are on the road.
"What we're going to do over the Christmas break is look at every decision we've made and see what worked for us and what didn't so we can shelve it," Larranaga said. "We were playing a lineup of four guards and one 6-5 forward. We no longer have to consider that as an option."
Miami is in a deep hole for an NCAA bid now. But it least has a shot to reconfigure itself going forward in the ACC. Part of that is becoming the top-five ACC team the Hurricanes were projected to be in the preseason.