LSU hopes to build on upset win
December, 22, 2011
12/22/11
11:15
AM ET
LSU should have the attention of the rest of the SEC after its home victory over Marquette.
Of course, the Tigers (8-3) could lose at North Texas on Thursday night and make everyone pause again.
But there is enough tangible evidence through the first six weeks of the season to consider LSU as a legit threat to finish in the top half of the SEC and make a push for an NCAA tournament berth.
If the Tigers do finish in the top half of the 12-team SEC, they likely would just squeeze in behind Kentucky, Florida, Mississippi State, Vanderbilt and Alabama. It might not be enough for an NCAA bid, but at least it gets LSU close to the conversation.
You can be skeptical if it doesn't seem or sound realistic, but it is.
[+] Enlarge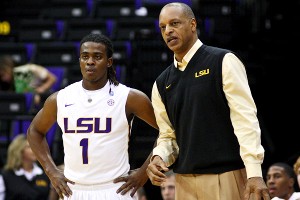 Derick E. Hingle/US PresswireCoach Trent Johnson and LSU have righted the ship after some early-season losses.
Of course, early-season losses to Coastal Carolina and South Alabama could make anyone dismiss the Tigers. But the latest victory over previously undefeated Marquette and the possibility for another win over potentially ranked Virginia at home on Jan. 2 gives LSU momentum heading into the SEC schedule.
Trent Johnson was the surprise choice to coach the Tigers once John Brady and staff exited. A native of Seattle, Johnson had a sensational run at Nevada and Stanford, but financial issues ultimately sent him to the Southeast. Stanford couldn't pay what LSU did. And there are fewer recruiting hurdles at LSU.
Johnson's first year in the program was his best since the talent was still rich. The Tigers won the SEC West title with a 13-3 record in 2009, finishing with a 27-8 overall record and a second-round NCAA tourney loss to North Carolina. But then the talent drain occurred, and the Tigers slumped to 11-20 (2-14 SEC) in Year 2 and then 11-21 (3-13 SEC) last season.
"For me, I've always said this: 'It's better to understand than to be understood,'" Johnson said as the Tigers made their way by bus to North Texas on Wednesday. "I'm competitive, so it was hard for me to see these kids go through this. There were a lot of guys on the team that had to play out of position. That was hard on me. I've been there. I know what it's like to deal with adversity. We're not there yet, but we're on our way."
The beauty of a college basketball season is that a team has plenty of time to recover. Playing at Coastal Carolina on the way to the Charleston Classic may have sounded like a good idea in the offseason. But this LSU team wasn't ready for being the big name on the schedule and lost by eight points. Coastal would later win at Clemson, too.
The Tigers then got clipped by Northwestern in the opening game of the tournament as John Shurna scored 37 points.
"We got exposed that night," Johnson said. "We don't have a guy that's a lockdown defender like [former LSU player] Garrett Temple. We don't have that guy who can guard the 3 or the 2. This team is much more conventional."
That means everyone has to help out. And the Tigers did find their purpose after the Northwestern loss, save another letdown against South Alabama -- a four-point loss in overtime.
The Tigers have taken out teams that appear to be below them (Western Kentucky and Georgia Tech in Charleston), and they won at Houston and Rutgers and beat Boise State and Irvine at home. All of that was before the Marquette win -- the game-changer for the season (so far).
The rest of those wins are NIT-worthy. But the Marquette victory is one that should be noted. Beat North Texas on the road, take out Virginia at home (and, of course, Grambling State), and suddenly the Tigers head into the SEC as a viable contender for a potential NCAA bid.
The SEC standings are no longer broken up into two divisions. Instead, it's 1-12. But the scheduling is still done on an East-West basis. That could be advantageous because the Tigers won't have to play a home-and-away series against Kentucky, Florida and Vanderbilt, but LSU surely can't take a game off and expect anything positive.
The Tigers may not have a lockdown defender, but their gang defense is working; since the loss to South Alabama, their last five opponents have each scored fewer than 60 points per game.
Andre Stringer, Justin Hamilton, Ralston Turner and Anthony Hickey, Storm Warren and Johnny O'Bryant aren't going to light up All-American lists. But they are functioning as one unit for Johnson, more effectively now than any other six-man rotation in the coach's previous two seasons.
"We are in Year 4 and we better be where we need to be by this time of the year," Johnson said. "Everywhere I've been, it takes to Year 4 or 5 to take off. We're getting the players that fit what we want to do. So far in Year 4, we're cracking the surface, but we've got to move forward."
Johnson comes across as stoic. He is intense. He's competitive. But he's never been one to self-promote or pound his chest about his team.
No one will pay much attention to this squad for the next three weeks while it competes under the shadow of the football team, which is aiming for the national championship. But by mid-January, when eyeballs turn to hoops, Johnson may have a team that is worthy of the attention in Baton Rouge, let alone every other SEC locale.
Or the Marquette win could be a blip, like so many other upsets that don't have traction for the team that pulled off the surprising result.
It's up to the Tigers in the next two weeks to decide if that win will matter in March.