Syracuse focuses on the court
December, 23, 2011
12/23/11
9:25
AM ET
Syracuse is going to take the No. 1 ranking into the New Year.
The Orange may not hold it throughout the Big East season, but they will not be going away.
This team will be in the thick of the chase for a No. 1 seed and a national championship in New Orleans.
The players, especially veterans like Scoop Jardine and Kris Joseph among others, have done a tremendous job so far of locking in on the games and practices.
[+] Enlarge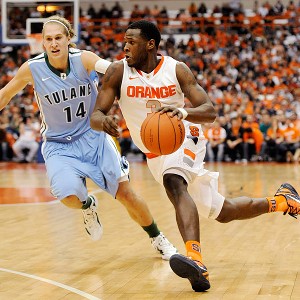 Richard Mackson/US PresswireSyracuse's Dion Waiters scored 15 points off the bench versus Tulane.
Watch Syracuse and you would never know that there was any issue involving the program. The allegations of sexual molestation against former longtime assistant Bernie Fine by two former ball boys, who are now adults, and two other men, one incarcerated and another heading for prison, have little or nothing to do with this team.
The assistants, notably head coach designate Mike Hopkins, are showing no signs of anything bothering them, either. They have focused on coaching a potential champion.
Thursday night's win over Tulane at home was yet another example of the Orange taking control of a game in the second half and pulling away.
The offense hasn't clicked this well since the Orange won the 2003 national championship. The fast break is moving at a high level. The zone is as frustrating for opponents as it has been in previous years.
The oddity of this run toward a possible Big East banner is that you won't hear much from Hall of Fame coach Jim Boeheim until after each game.
Fine has been silent since the initial allegations surfaced last month. He has not been seen on camera defending himself. The only defense was an initial denial of the allegations. His attorneys have declined to provide any other comment.
Instead, Syracuse and Boeheim have had to speak. Boeheim created his own mess with his initial defense of Fine. He lashed out at the accusers -- so much so at the outset that it ultimately brought a defamation suit against him and the university by the first two alleged victims, even after he publicly apologized for his previous inflammatory words following the Dec. 2 Florida game.
Now, with the lawsuit hanging over his head and the likely nagging nature of dealing with his own and university attorneys, Boeheim will be facing the toughest challenge of his career.
He has a team to coach, a national title contender, and is doing quite well at molding this group into a potential champion.
But you likely won't see him on any media platforms outside of a postgame news conference. Trying to control the questioning can only occur in a safe zone at a news conference, not on a telephone interview or on a satellite talkback or even in a studio setting.
Unless the storyline changes, and it doesn't appear that it will in the short term, then this could be one of the quietest top-ranked teams we will have seen.
A handful of close friends of Boeheim have told ESPN.com that they haven't talked to him by phone and had limited if any text message correspondence. He is in his own personal lock down.
It makes sense. His trusted inner circle has to be extremely tight at this point.
On the court, he is doing one of his best coaching jobs, blocking out anything extraneous and ensuring this team is focused on being precise. There have been no second-half let downs. The Orange have had a few slow starts, like against Stanford and Virginia Tech in New York, but have shown a March or even April-like finishing kick.
The players should be applauded for handling everything with maturity so far and simply taking care of their daily business.
There is no drama in the locker room. There are no issues on the court. This team has tremendous cohesiveness from Jardine, Brandon Triche, Dion Waiters and James Southerland on the perimeter to Fab Melo, C.J. Fair and Joseph in the frontcourt. Each one seems to take a turn leading on a particular night. Watching this team in person and on television, you don't see any selfish attitudes. The Orange have realized that they are a potent crew as one, rather than attempting to win as a splintered collection of individuals.
Kentucky, North Carolina, Ohio State, Duke, Louisville, Missouri, Connecticut and Baylor will all have their moments of stealing the spotlight. Expect Syracuse to be the silent partner among this elite group.
It is an odd occurrence to deal with a potential criminal matter during a season. But the team has not let it define its season, or consume or distract it one bit.