Gaels face tough road tests in WCC
January, 24, 2012
01/24/12
11:24
AM ET
Saint Mary's will become a true front-runner for the WCC title and make a strong case for a high NCAA seed over the next two weeks.
Or the Gaels will settle back into the WCC pack and have to sweat it out a bit on Selection Sunday.
They're scorching right now at 19-2 overall, including 8-0 in the WCC. Saint Mary's has already beat conference newcomer BYU and rival/favorite Gonzaga. And the Gaels did so handily, defeating the Cougars by 16 and the Zags by 21.
[+] Enlarge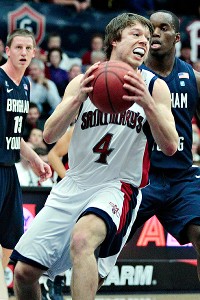 Cary Edmondson/US PresswireWill Matthew Dellavedova's Gaels be the WCC favorites or fall back to the pack? We'll find out in the next few weeks.
It wasn't close.
But the schedule was front-loaded, and Saint Mary's coach Randy Bennett was well aware that road games were coming. Those games are here.
The Gaels visit surging Loyola Marymount on Thursday. The Lions stunned BYU in Provo last week and are 2½ games behind Saint Mary's in the conference standings. Saint Mary's then plays at BYU on Saturday. Following a home game with San Diego, the Gaels go to Gonzaga on Feb. 9.
"I was surprised a little bit," Bennett said of the margins of victory over BYU and Gonzaga at home. "I think they're both very good teams. We played very well in both games. I'm very cautious going into this back side of the league. We know what we're getting into. Our guys know. It's going to be tough. We'll find out."
The Gaels have earned plenty of respect from their opponents under Bennett. Saint Mary's is no longer some niche team that suddenly blossomed onto the scene. The Gaels have consistently floated in and out of the polls over the past five seasons.
Two seasons ago, they made the Sweet 16. This team doesn't have Omar Samhan in the middle or Mickey McConnell on the perimeter. But Bennett said it is better defensively and has a higher ceiling.
Bennett shies away from pumping up his players. But he should. Point guard Matthew Dellavedova has been as good a leader as the Gaels have ever had. He's averaging a team-high 15.8 points and 6.5 assists a game.
Rob Jones is averaging a double-double (14.5 ppg, 10.7 rpg), while Stephen Holt continues to improve in his role. If Clint Steindl can get shake a nagging ankle injury, the Gaels should have one of their best shooters ready to contribute.
"We're better defensively than we've been," Bennett said. "Holt and Brad Waldow are playing bigger in the post. We've got more depth inside. We're more consistent because we have more depth and athleticism, and we're bigger on the perimeter. People don't recognize Dellavedova as a really good point guard. He plays at such a slow pace. It's almost like he's walking and a guy is on his hip. It's nothing flashy. But he's hard to guard."
Loyola Marymount lost at home to Gonzaga on Jan. 14 before winning at BYU. The Lions have had an interesting season, from winning at UCLA and beating Saint Louis to losing at Morgan State and to Columbia. But LMU is more than capable of making a three-game run in the WCC tournament.
"I think it's real important for our league to have the depth in our conference," Bennett said. "We haven't had that in a while with [Gonzaga, Saint Mary's], and now BYU and Loyola."
Saint Mary's has one more important nonconference game left on the schedule. The Gaels are in a BracketBuster matchup on Feb. 17, 18 or 19. They have played Utah State in a key game between two of the top teams in the West in need of a late RPI push. The matchups don't work for the three top teams in the event -- Saint Mary's, Nevada and Long Beach State -- to play each other because they're all on the road.
That's fine. Bennett wants a road game against one of the best teams in the field outside of the region. He wants to play Creighton, which is at home. The other option is Murray State. But the Bluejays would provide a more significant pop on the résumé.
"Part of the excitement is to play somebody out of the league," Bennett said. "I hope that's what we get, a really good team in the Midwest. That would be a great game, one we want to play. We want to get a great home-and-home RPI series for us. I'm excited for us to play in an atmosphere like that."
The BracketBuster matchups will be unveiled on ESPNU on Jan. 29 at 6:30 p.m. ET.
Saint Mary's lost to San Diego last season. This Gaels team hasn't suffered a loss to a team it should beat. Its losses were at Denver and to Baylor in Las Vegas. But the schedule doesn't even compare to what Gonzaga's faced in and out of the conference.
Still, the Gaels enter the second half of the WCC schedule as the conference's first-place team. Whether they're a front-runner or favorite will be determined in the next two weeks. "This team has a lot more room for growth," Bennett said. "I see a lot more places where we can get better."