Iona has pieces to be a tough out in March
January, 30, 2012
01/30/12
2:19
PM ET
Lamont Jones' impact on Iona will be felt throughout the remainder of the regular season and into March.
The Arizona transfer reached the Elite Eight with the Wildcats last season. If he can put that experience to use in March, he'll have delivered on the excitement and expectations that greeted his arrival from Tucson.
[+] Enlarge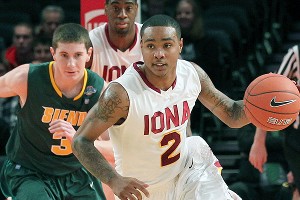 Anthony Gruppuso/US PresswireLamont "Momo" Jones is second in scoring (14.9 ppg) and assists (3.3 apg) for Iona this season.
The Gaels, who are tied atop the MAAC with Loyola (Md.) and Manhattan, are a trendy pick to win the conference tournament in Springfield, Mass., and possibly a game in the NCAA tournament.
With a collection of scrappy guards, they're a difficult matchup for opposing teams, led by arguably one of the top three point guards in the country in Scott Machado, who leads the country in assists.
Iona coach Tim Cluess, speaking after the Gaels' 71-62 win at Fairfield on Friday night, said he's starting to see the impact Jones can have on the team. His consistency has been lacking at times, but he's getting into the lane and making shots.
"He has to bring it every day," Cluess said. "That's the biggest struggle for him. It was easier at Arizona with the schools they were playing."
For his part, Jones understands what a team needs to do to win at a high level.
"Last year [at Arizona], we had a team that played together where nobody cared who scored," Jones said. "We just wanted to win. We have to get to a point where we're happy how we're playing."
The Gaels will look to push the basketball as much as possible. Machado has tremendous court vision and sets up his teammates well, in the half court and in transition.
Jones is a complement who can allow Machado to play off the ball at times. The rotation of Jermel Jenkins, Ra'Shad James, Sean Armand, Randy Dezouvre gives the Gaels plenty of options on the perimeter. Of course, if this team is going to make the NCAA tournament, Taaj Ridley has to rebound and Mike Glover has to be a consistent presence in the post and avoid foul trouble.
Strong guard play and several upperclassmen give Iona the perfect mix to be a team from outside the "power six" to make a run in the tournament.
"Guards play an important role; guards run the tournament," Jones said. "Guards do everything, and we've got to go in with a chip on our shoulder. Our backcourt has to be cohesive. We're the motor to this team."
Machado, who will soon start wearing contacts after noticing his vision wasn't clear, said he has leaned on Jones quite a bit.
"I wanted to know what it was like," Machado said of taking a team deep in the NCAAs. "We need him to come in here with his leadership to help me lead this team. What he did for that run in Arizona … I'm learning from him. And we're learning from each other.
"We have the pieces to be one helluva team."
The Gaels do have limitations, and a bigger, taller team could be a major concern. They've also had their slip-ups in the MAAC, losing at home to Manhattan and at Siena. Furthermore, Iona lost to Hofstra, one of the worst teams in the CAA this season. And none of its wins so far this season is going to wow you, even if some of the names sound good (Maryland, Richmond, LIU, Saint Joseph's).
But the Gaels have the capability to be troublemakers in March.