Charlie Spoonhour will be missed by many
February, 1, 2012
02/01/12
4:02
PM ET
College basketball lost one of its comedic old souls Wednesday when Charlie Spoonhour succumbed to a lung disease at 72.
West Virginia coach Bob Huggins lost one of his closest friends, leaving him with a stark reminder of an era long past.
"He was more than a friend; he was like the big brother I never had," Huggins said on Wednesday afternoon. "We had weeks when we would talk every day. It's been harder now since he's been in and out of the hospital. It's just a sad, sad day."
Spoonhour died at his home in Chapel Hill, N.C. Spoonhour had settled in the area as he spent time at the Duke University Medical Center, where he received a lung transplant in 2010. He had a disease called idiopathic pulmonary fibrosis, a scarring of his lungs.
[+] Enlarge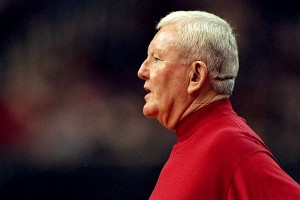 Matthew Stockman/Getty ImagesCharlie Spoonhour won 122 games in seven seasons at Saint Louis.
Huggins said he had been in contact with Spoonhour regularly but hadn't seen him since the season started.
Huggins said in his two Final Four appearances -- in 1992 at Cincinnati and in 2010 at West Virginia -- Spoonhour would be with him the night before the semifinal game.
"He just had an incredible magnetism," Huggins said. "He was so funny. He's a throwback to the old days."
Spoon, as he was affectionately called, was a jovial character. Every time I dealt with him throughout his career he was accessible, amiable and always full of life. He loved to share stories with his Arkansas-native twang. He was a hit at Southwest Missouri State (now Missouri State) from 1983 to 1992 (five NCAA bids) and transformed Saint Louis University into Spoonball from 1992 to 1999.
He then took two seasons off before trying to revive UNLV from 2001 to 2004.
"I was right in the middle of that," said Huggins of advising Spoonhour. "I don't think people realized what he did at Saint Louis. When he got there they played in the Checkerdome in front of 2,000 people and then we were playing in front of 20,000 at Kiel. It was an incredible atmosphere. He had an incredible hold on the city of Saint Louis."
Huggins was the head coach at Cincinnati when Spoonhour was at SLU. The two were rivals in the Great Midwest but were extremely tight.
"We were very, very close," Huggins said. "He was the best. We used to make up things so we could hang out together. He'd call me up to see if I could do a roast for the Southwest Missouri State baseball team. People who didn't know him missed out on a lot."
Spoonhour had an infectious smile and personality. I'm not sure I ever heard a negative word about him during his tenure in coaching.
"He had such an appreciation for the profession, and the people who worked at their craft," Huggins said. "We were all friends. It was me, KO [Kevin O'Neill at Marquette], Charlie, Gene Bartow [UAB], Larry Finch [Memphis] and Joey Meyer [DePaul]."
Now three of them have passed, all within the past year: Spoonhour, Finch and Bartow.
"It was different, it was the old days, we all hung out," Huggins said. "This business has changed so much. We used to do clinics and go in on a Friday and leave on Sunday. We broke bread together. Now we all fly in and out. With all the recruiting regulations and time periods it's not like it used to be."
No, it is not. Spoonhour was one of the game's characters. He was treasured while he was in the game. He was missed when he retired and will be now even more.