Rice down but not out after rash of transfers
September, 19, 2012
09/19/12
4:06
PM ET
Rice basketball doesn't show up on the national radar. The Owls have struggled to stay on the grid in pro-focused Houston. And the program's recent rash of transfers is likely to make its attempted climb to prominence even steeper.
Fellow Conference USA coaches contacted by ESPN.com described the Owls' recent losses as "devastating," "bad" and "unfortunate" because the perception within the league was that Rice had a bevy of young, developing talent returning from a team that produced a 19-16 record while going .500 in conference play and advancing to the CollegeInsider.com Postseason Tournament quarterfinals last season.
[+] Enlarge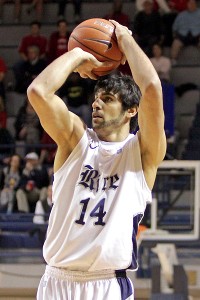 Troy Taormina/US PRESSWIREArsalan Kazemi, the first native Iranian to play Division I basketball, is seeking a larger stage to play on during his final season.
But losing senior forward
Arsalan Kazemi
-- who was
granted his release on Monday
-- on the heels of center
Omar Oraby
(USC), guard
Dylan Ennis
(Villanova), forward
Jarelle Reischel
(URI), forward
Ahmad Ibrahim
(turning pro) and forward
David Chadwick
(Valparaiso), who have all left the program this offseason, makes it seem likely that the Owls will be silenced this season.
The natural reaction is to wonder if coach Ben Braun has suddenly lost his team and his program. Earlier in the offseason he jettisoned assistant coach Marco Morcos, who was tight with Kazemi. The reason for the dismissal wasn't released.
But, diving deeper into the situation, it's clear that not all six transfers were created equal. Ibrahim chose to go overseas. Chadwick wanted more playing time -- which, ironically, he would have gotten had he stayed now that Oraby and Kazemi are out of the mix.
No question, losing the depth Kazemi, Oraby, Ennis and Reischel provided hurts the program. Kazemi -- who in 2009 became the first native Iranian to play Division I basketball -- is the biggest loss. Rice gave him a shot and sponsored him here in the U.S. Now Kazemi is searching for a larger stage on which to play during his final season. He is looking at schools, such as Oregon and possibly Washington, that operate on the quarter system and have yet to begin fall classes. The Houston Chronicle reported that Kazemi met with Oregon on Monday, and ESPN.com learned Wednesday that the discussions with Kazemi are ongoing. Kazemi -- who plans to petition the NCAA for a hardship waiver to play in 2012-13 -- is the one leading the transfer and isn't being funneled by any third party, according to a source with knowledge of the situation.
"There have been more than 450 basketball transfers -- a record high -- in collegiate athletics over the past year, and unfortunately, Rice is not immune," said Owls athletic director Rick Greenspan in a statement. Greenspan and Braun serve on an ad hoc C-USA committee that is studying the transfer trend. Sources said that Braun was particularly irritated that Rice, easily the highest-profile academic school in the league, would be hit so hard.
Rice was already one of the toughest schools in major Division I at which to achieve consistency, thanks in part to a smaller recruiting pool because of its academic standards and smaller facilities.
But one rival C-USA coach believes Braun's experience will allow him to salvage the season in spite of the exodus. "It's a big hit, but I do believe Braun will take this team and make [it] hard to play against," said the coach. "They'll play a style that will not be easy to go against. He did win nearly 600 games."
Braun -- whose teams went 10-22 and 8-23, respectively, in his first two seasons at Rice -- has increased the team's win totals the past two seasons. Braun coached the Owls to 14 wins in 2010-11 and then an 8-8 league record (equaling their best C-USA record) last season.
If nothing untoward is revealed about the reason for the transfers then it's hard to dismiss what Braun has achieved there. He has this program headed in the right direction at a time when the league is undergoing a complete makeover. Cross-city rival Houston is off to the Big East in 2013, as are in-state foe SMU, rising power Central Florida and Memphis, long C-USA's dominant program. Adding schools like Louisiana Tech and North Texas to the league shouldn't be as threatening to a program such as Rice.
If Rice and Braun can survive this attrition then they should be able to stay with C-USA holdovers Marshall, Tulsa, UAB, UTEP and Southern Miss, let alone Tulane and East Carolina.
The Owls have, however, lost significant depth and size inside this season. They have only nine scholarship players, but one of them is top returning guard Tamir Jackson and another is a rising star in sophomore Julian DeBose. All five incoming freshmen will have to play this season. The Owls fully expect 5-foot-9 freshman point guard Max Guercy to be a major contributor, and the same is being said of 6-1 guard Keith Washington.
Landing 6-11 Andrew Drone of Junction, Ill. -- who verbally committed to Rice in June -- for 2013 now looms even larger following the departures of Oraby and Kazemi. The Owls were going to need to add a big man to their stable next year anyway, but Drone's addition seems even more crucial after these departures.