Big Ten-Big East battles tell us plenty
November, 22, 2012
11/22/12
1:35
AM ET
NEW YORK -- The Big Ten's best got pushed by the Big East's sleepers.
And for two nights in the Big Apple, it was some of the most intense, competitive basketball of the early season.
Can we get a third?
Tuesday's Indiana-Georgetown overtime Legends Classic final at the Barclays Center and Wednesday's Pitt-Michigan NIT Season Tip-off semifinal at Madison Square Garden delivered big-time.
No. 1 Indiana needed to be pushed. And the Hoosiers were, trailing the Hoyas and having to scrap out the win in overtime. They took the first shot of what should be a long season of target practice on the Hoosiers. This is all new territory for them. And they passed glowingly. IU is no longer a one-man band with Cody Zeller. This team is deep, versatile, can make big shots and defend when needed most.
[+] Enlarge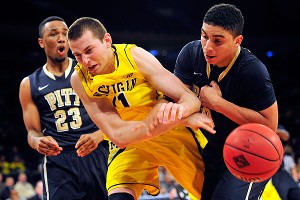 Joe Camporeale/US PresswireLike IU the night before, Michigan was put to the test against an unranked team from the Big East.
Michigan is right on Indiana's heels. The Wolverines proved Wednesday night that their ranking may be a bit high, but ultimately that may be their destination in March as one of the final eight teams remaining. But like the Hoosiers, this is new ground. Michigan and Indiana, two tradition-rich Big Ten schools, are now in familiar roles for those old enough to remember. The two schools are the teams to beat in the Big Ten and they will have to handle every team's best shot.
The Wolverines proved that they, too, have plenty of growth ahead, but also a slew of answers. Trey Burke's speed may be unmatched in the country from one end to another. Tim Hardaway Jr. doesn't shy away from taking a big shot. Glenn Robinson III is a specimen who is likely to shatter his ceiling. And the combination of Jordan Morgan and Mitch McGary, as well as the sharp-shooting Nik Stauskas, gives the Wolverines beef, boards and timely shooting from forwards.
Oh, and while the zones aren't the same at all, Indiana and Michigan showed on successive nights that they can fluster opponents with their length and athleticism on defense.
"We know we need to stay grounded, humble, stay together," Burke said after the 67-62 victory, which sent Michigan into a Friday final against Kansas State. "I think it was important for us to get physical with them down low and on the boards. I think that was the biggest thing for us. That was it for us, the physicality of the game."
Pitt can push a team into uncomfortable situations. But Michigan found a way to get the necessary second shots and ran when it needed to for decisive tempo-changing possessions.
"We're just trying to play smart each possession," Hardaway said. "We're taking each possession one at a time, listening to timeouts, trusting the offense, trusting what the game plan is. I think everybody is going to give us their best game because they know we're ranked. We have to be prepared and ready for any possibility they throw at us."
Michigan coach John Beilein said prior to the game that he loves coaching this team. You can tell. He said after the game that he doesn't get too upset at mistakes because he knows they have to work through them. He trusts this team, and the feeling is mutual. The same respect exists with Indiana. It was evident over the two days in Brooklyn. Michigan State and Ohio State have good enough personnel to unseat either Indiana or Michigan. But the two favorites in the Big Ten have handled the first of many challenges.
The past two days, the challenges came from the Big East. Next week, they'll come from two of the projected elite in the ACC this season in North Carolina (at Indiana) and NC State (at Michigan).
And while the Big Ten's best learned quite a bit here in the city, so too did a pair of Big East teams that will be factors in the race chasing league favorite Louisville. Anyone who watched Georgetown had to come away projecting Otto Porter as a possible Big East player of the year. Markel Starks has star quality and is leading the Hoyas. The length of Georgetown will fluster plenty of teams. This is a confident bunch that truly believes it can contend for the Big East title.
Pitt does too. The Panthers are still a work in progress but have an infusion of talent with James Robinson, Steven Adams and finally a healthy Tray Woodall. Trey Ziegler has been battling a hamstring injury and J.J. Moore is just scratching the surface of his overall ability. Talib Zanna and Lamar Patterson can lead this team as well and this program can become a contender again.
The Panthers didn't dominate the boards. They didn't take care of the ball in crucial situations. But they will fix the issues. And when they do, much like Georgetown, they will be in the thick of the Big East race.
Indiana and Michigan won't contest that fact now or in the dead of winter. The Big Ten elite got pushed around in the city at times, but didn't fall. Both schools needed to get checked, see how they would handle the adversity and figure out if they had the stamina to survive.
They did just that -- and gave us an indicator of what is to come this season.