Is this Gonzaga's Final Four season?
November, 26, 2012
11/26/12
12:18
PM ET
Quick hitters on a Monday:
[+] Enlarge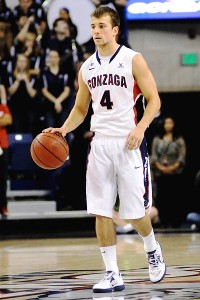 James Snook/US PresswireKevin Pangos and the Zags could be one of the nation's best teams in March.
• Gonzaga has been talked up for quite some time as a possible Final Four team. But it's hard to ignore that this really may be the season for the Bulldogs. The landscape is ripe for Gonzaga to make a run. The Zags are so deep, and Kelly Olynyk is just getting started as a productive player. Mark Few kept being coy in the preseason about how good this squad could be, but the Zags proved in the semifinals and finals in Orlando that the ceiling is high.
• If Quinn Cook can lead the Blue Devils on a consistent basis, limits turnovers and keeps pushing the tempo, then Duke can be a Final Four team. Once Marshall Plumlee returns from a foot injury, the Blue Devils will have the necessary depth up front.
• The rating was poor for the Anaheim Classic final between Cal and Pacific, but the play from Cal was not. Allen Crabbe is one of the best scorers in the country, and the Bears better be taken seriously as a Pac-12 title contender.
• Wisconsin feels like it's one player away from being a threat to finish in the top two in the Big Ten. That one player probably is out for the year in Josh Gasser.
• Few people probably saw it, but Northwestern won a gritty overtime game over Illinois State to claim the South Padre Island title. Yet again, the Wildcats have the look of a possible bubble team. But it will all come down to finally winning key Big Ten games. The conference will provide plenty of chances for the third straight season for the Wildcats as they chase that elusive first NCAA berth.
• Michigan State is playing too many close games against weaker competition, but the Spartans are still finding ways to win. Gary Harris couldn't have had better news that he's only out for a few weeks with a shoulder injury.
• Georgetown may be one of my favorite teams from the first two weeks. This squad has plenty of potential, great length, depth and the ability to defend, force turnovers and convert.
• I'll take Cincinnati, too, as another squad to ride in the Big East. The Bearcats have a toughness that can't be taught.
• I was disappointed in UNLV's shot selection and impressed by how athletic Oregon's guards are and how much the Ducks can push tempo.
[+] Enlarge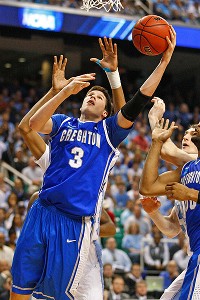 Chris Keane/Icon SMIDoug McDermott will benefit from a deeper Missouri Valley Conference.
• The best thing for Creighton and Doug McDermott is how well Wichita State and Illinois State are playing (and possibly Northern Iowa). McDermott and the Bluejays need the depth of the Valley for their overall seed and for McDermott's player of the year candidacy. I'm convinced that Jimmer Fredette was helped in his campaign by having high-level games against San Diego State, New Mexico and UNLV. McDermott needs a ranked game against Wichita State at some point during the Valley season. He can win the honor without that, but it would help.
• This is a huge perception week for North Carolina. The Tar Heels need a good showing at Indiana. Probably no one expects a win, but UNC must prove it belongs as an elite team in this game. The Tar Heels didn't show well in Maui.
• Let's remember that Pitt's Steven Adams is still a freshman playing high-level basketball for the first time in the United States. He will go through growing pains and the natural maturation as a player. We (me) probably pump up the newcomers too much. He wasn't as dominant or assertive against Michigan because of foul trouble. He'll have his moments but may take longer than hyped to emerge as a power threat.
• Baylor better learn how to defend sooner than later with tough sledding still ahead (Kentucky on Saturday). The Bears have oodles of talent but have been a disappointment so far with a loss to the College of Charleston.
• Texas Tech interim coach Chris Walker said he thought he had a team that could get out and go. He was pretty confident about this group. Well, the competition has been weak through three games but the offensive production hasn't been. The Red Raiders have scored 89, 91 and 91 points in the three wins. We'll know more about the Red Raiders after they play Arizona, Alabama and Arizona State in December.
• I wrote a glowing piece on Villanova's toughness and how the Cats may be ready to compete in the Big East ahead of schedule. That was after the Cats beat Purdue in a tough overtime game in New York. The Cats have lost three straight, including badly to Columbia and close to rival La Salle. Jinx!
• Pacific coach Bob Thomason said he had a potential Big West title team in the preseason -- his final season as head coach of his alma mater after a quarter century. The run to the title game in the Anaheim Classic should prove to the rest of the league that this could be a special season for the Tigers.
• Charlotte coach Alan Major is unassuming and doesn't draw attention to himself. Yet, he may have a team that is worth promoting. The 49ers won the Great Alaska Shootout with a win over Northeastern. The tournament was hardly loaded with NCAA-bound teams, but the 49ers finally have some momentum under Major in their final season in the A-10 before moving to Conference USA. The 6-0 start will be tested with upcoming games against Davidson and Miami.
• DePaul and Boston College can't be this far behind on their respective rebuilding projects, right? There is still time, but slow starts and losing to low-level teams at home doesn't do much to drum up enthusiasm for the long winters in Chicago and Boston.
• Bryant University knocked off BC on Sunday, giving the Bulldogs one more win (three) than they had all of last season.
• This may not move the needle, but the CAA may have one of the most competitive races in the country. Delaware is a deceiving 2-4. Northeastern and Hofstra are vastly improved. Drexel, even with Chris Fouch's injury, will improve. But George Mason may be the team to beat.
• Columbia's 18-point win over Villanova should send a signal to the rest of the Ivy that it may be Columbia's turn to take a run at winning the league. Coach Kyle Smith has quietly been building a winner in the city.
• Nothing I've seen so far deters me from my prediction that Florida can win the SEC over Kentucky, Missouri and Tennessee. Scottie Wilbekin producing next to Kenny Boynton can give the Gators a backcourt advantage going forward. Experience matters in conference play, and the Gators have it and others don't.