Boise State's statement victory
November, 30, 2012
11/30/12
3:24
PM ET
Boise State may have had one of the most significant victories of the season at Creighton this week.
For the Broncos.
For the Mountain West.
For the Big West.
For Leon Rice.
The Broncos' 13-point win, eight days after a near loss at Michigan State (won by four), wasn't as close as the score. Boise State was the dominant team in Omaha. And that alone should be shocking considering Creighton was coming off an impressive two-game sweep in Las Vegas over Wisconsin and Arizona State and had one of the top players in the country on its side in Doug McDermott.
[+] Enlarge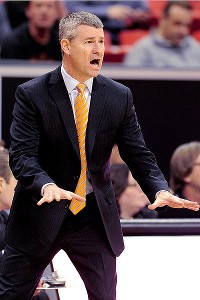 Ethan Miller/Getty ImagesThe goal now for Leon Rice's Broncos is to keep winning on the road.
Boise State has proven that it may just be relevant in men's basketball after all, not just in football. The timing could not have been better. The Mountain West is one of the top leagues in the country with depth nearly eight teams down. Yes, eight of the nine legitimately have postseason chances now that Boise State has a shelf-life win.
The victory is a boon for the rest of the league that can now pickup power-rating points when playing Boise State. The win also gave credibility to the rebuilding job done by the former Gonzaga assistant Rice, which is now well underway. If the Broncos can turn this into a postseason berth of some sort in March, then the Big West will be the recipient next season of not just one, but two teams with momentum heading into the conference (San Diego State is the other).
"There's no question it was a milestone to show we've made progress,'' said Rice. "You don't always get those. Sometimes you don't get rewarded with a win.''
The trick for Boise State will be to keep the Broncos moving forward with wins over Seattle and Utah on the road. That's not easy, but this young Boise team -- with 10 freshmen and sophomores -- is proving it can handle any environment.
"I think people realized in our league that our guys battle,'' said Rice. "We started three freshmen last year, and it paid off. We're not an experienced team. That's the level we want to play at in the Mountain West. We have three teams that can be in the top 25, maybe four with Colorado State (UNLV, San Diego State and New Mexico have all had a turn already this season). The game at Michigan State encouraged me so much. They believed in themselves that they could win. They carried that into the Creighton game.''
Derrick Marks scored 18-straight points against the Bluejays. He finished with 35.
"He's just getting better and better,'' said Rice. "He had his moments last year, but he was battling being a freshman and inconsistency. Right now these guys are playing so unselfishly. They move the ball so well. The team chemistry is amazing and it started two years ago.''
Rice may have also developed a blue print to beat Creighton. He said he wasn't going to let McDermott and Greg Echenique beat him, so he doubled on them. McDermott still had 21 and Echenique nine. Still, the Bluejays had to work for everything.
"The hardest thing in Division I is to get road wins, and we've got three in a row,'' said Rice. "Our whole thing is to be physically and mentally tough. Now we've got to do that against Seattle, too.''