Jerry Tarkanian's loyalty lasts a lifetime
September, 3, 2013
09/03/13
11:46
AM ET
Jerry Tarkanian is being inducted into the Basketball Hall of Fame for his innovative style, his transformative program at UNLV and his overall dominance for long stretches of his wildly successful career.
But it is his loyalty -- his unshakable loyalty -- that his players and coaches recall most fondly about his career and his life.
Tark, now 83 and weakened after myriad health problems, will finally get his just due Sunday in Springfield, Mass., recognized by his peers for a basketball life well lived.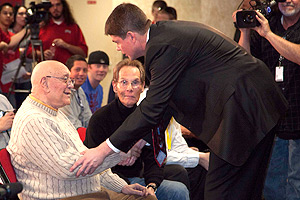 AP Photo/Julie JacobsonJerry Tarkanian was there for Dave Rice when he was introduced as UNLV's new coach in 2011.
Players from so many decades will either be there in attendance or watching on NBA TV. From each era -- the California junior college days, Long Beach State, UNLV, Fresno State -- there will be players who profess loyalty. And still do. Many of the names are familiar: Reggie Theus, Stacey Augmon, Larry Johnson, Greg Anthony, Chris Herren, etc. His former assistants like Tim Grgurich, Mark Warkentien and John Welch are also lifelong disciples.
But there is one person who stands as a prime example of Tark's loyalty to his former players: Roscoe Pondexter.
Pondexter played for Tarkanian at Long Beach State for just one season (1972-73), which was Tark's last at Long Beach before going to Vegas. Pondexter played his final season at Long Beach for Lute Olson, but it was that one year with Tark that left an indelible impression.
"I drove him to the airport [when Tark departed Long Beach for Las Vegas]. I walked him and his wife [Lois] all the way to the gate,'' said Pondexter, now 60 and working as a substitute teacher in Memphis while his son Quincy plays for the Grizzlies. "I played one year for him. But I had known him from high school and when I was in junior college. I stayed in contact with him.
"Jerry has a way of showing a kid loyalty. I'm sure if it were for four years it could have developed even more. But he still remained loyal to me all this time after one year.''
Fast-forward to Tark landing at his alma mater Fresno State in 1995. Pondexter's pro career had long been over. He was a mountain of a man and had been working as a corrections officer at Corcoran State Prison in California. There was abuse within the prison. According to the Los Angeles Times and Esquire, Pondexter gave testimony against his former co-workers in exchange for immunity from prosecution. It was the culture of the prison, he would say.
But Pondexter was out of a job. He needed help. Tark rescued him and changed his life -- and as a result Quincy's too, giving him more stability as a young lad making his way through elementary school and ultimately into the national basketball scene that would take him to the University of Washington and into the NBA.
"He invited me back [to Fresno State] to finish my education,'' said Roscoe Pondexter, who also worked as an assistant within the athletic department while finishing school. Pondexter was a de facto adviser for the Bulldogs, snuffing out problems on campus and leaning on the players to ensure they were where they were supposed to be. "This was way after my basketball days were over.
"Jerry would help athletes get jobs after they were done playing. When I think of Jerry Tarkanian, I think of loyalty and respect for his players. It was 20 years after I had finished playing basketball for him and he brought me in as part of his staff and his inner circle. My family appreciated it. He made a sacrifice for me.
"I got fired and everyone was blasting me,'' said Pondexter of the charges from the prison. "Jerry said that's not the Roscoe I know. And that was that. He refocused me on basketball again. I was in my element again. Quincy was a little kid then. He would come to school with me, see all those guys, sit on the bench with me, and it was crucial for him to see and develop that respect and admiration.''
When Tark is inducted Sunday and presented by Hall of Famer and good friend Bill Walton, his former players will be with him for everything he did for them.
[+] Enlarge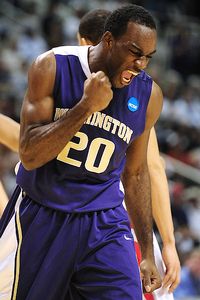 Kyle Terada/US PresswireWhile at Washington, Quincy Pondexter received a Tark pep talk at just the right time.
For all of Tark's detractors -- and there were many, mostly at the NCAA headquarters when Tark was at Long Beach, UNLV and Fresno -- none can dispute his loyalty.
"The biggest misperception about Jerry is that he only wanted these guys for basketball,'' Pondexter said. "Or that he used kids or didn't care about education or any of that stuff. That's not true at all. I'm an example of that. I was fired from a $100,000 job and had peanuts. He invited me back to work at Fresno State. Nobody else wanted to give me a chance. Jerry Tarkanian stepped up. I'll always be very thankful and blessed to play for such a loyal guy. He helped me through a very difficult period.''
Pondexter said Tark inspired his whole family. He brought up a time when Quincy was struggling at Washington and Tark came down to speak with him, to spark him. It worked.
The relationship with Tark was for life, Pondexter said.
"You could make millions and all that stuff or maybe not,'' he said. "Jerry Tarkanian helped a lot of different people from different avenues, well after basketball. A lot of what he did wasn't in the limelight.''
In 2006, a former Pondexter teammate at Long Beach State, Leonard Gray, died at age of 54. The players were gathering around at his memorial service.
"We were all sitting there, thinking about the good and the bad and then Jerry Tarkanian shows up, just by himself, no entourage, nothing,'' Pondexter said. "He could barely get out of the car before everyone ran over to him. He showed so much respect for everyone. He made the day for everybody. Everyone treated him like a father figure and he made sure everyone felt OK.''
Tark will get his due this weekend, a moment long waited for by his devoted family, friends, coaches and former players, who have always returned the loyalty and faith that he showed in them.
"Jerry comes from a different era, a different time, a different place,'' Pondexter said. "He is a guy who was true to himself and to his players. He was loyal to his players who really, really needed him outside of basketball. He gave opportunities to people that these days would never get anywhere else. He always said if you come play for me, I will be a loyal friend for life and support you. He did. He lived up to it every second.''
Editor's Note: For more reflections on Jerry Tarkanian's career, read our full coverage in the Nation blog.