From the archives:

January 2013
January, 31, 2013
01/31/13
7:10
PM ET
Indiana State has an NCAA tournament résumé -- now.
Wins over Ole Miss and Miami in the Diamond Head Classic in Honolulu have legs that will reach to March. The road win earlier this week at Wichita State keeps Indiana State within distance of the Missouri Valley title. The Sycamores are only a game out of first place with one game to go against each of the league leaders, Creighton and Wichita State.
[+] Enlarge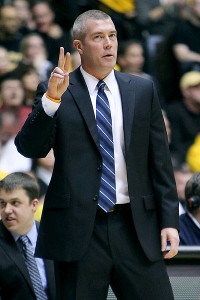 William Purnell/Icon SMIIndiana State coach Greg Lansing wants the best possible matchup for his team in the BracketBusters.
Now the trick is to get a power-rating game worthy of attention when the BracketBusters games are announced Monday at 6:30 p.m. ET on ESPNU.
The Sycamores represent the perfect candidate to benefit from this final season of the event, which was built to prop up teams outside the power six conferences. The event has wilted a bit in its importance, as higher-profile teams outside the power six have declined to participate, or in some cases, the entire conference is no longer a participant -- like the CAA this season. This may be the weakest the CAA has been in a long time, so its absence won't be as disturbing (see: no more VCU). Schools like Louisiana Tech -- leading the WAC -- fellow contender New Mexico State, Patriot League top teams Bucknell and Lehigh, and America East leader Stony Brook are all not in the event.
Indiana State (14-7, 7-3 in the Valley, power rating of 43) needs to get a quality matchup to help its cause.
The home and visiting designations are predetermined for the Feb. 22-23 event. Indiana State is a home team, which takes the Sycamores out of playing Saint Mary's, arguably the most intriguing non-Missouri Valley team in the event. The Gaels are also a home team and are almost a lock to host Creighton in the highest-profile game of the weekend.
Indiana State coach Greg Lansing said he sent a list of his requests to the conference office, which works in conjunction with ESPN programming to put together matchups. Lansing said he'd like to see the Sycamores against Detroit (78 RPI), North Dakota State (62) or South Dakota State (64), which speaks volumes about the pool this year. Lansing is also trying to manage a return game on next year's schedule.
Ohio would make a more intriguing matchup, but strictly on power rating the Bobcats at 97 don't resonate as much. But that probably shouldn't be the deciding factor since Ohio still has D.J. Cooper and the shine of a Sweet 16 appearance from a year ago. The Ohio Valley's Eastern Kentucky, which checks in at 75, might be more palatable, too. Iona wouldn't be a bad choice, but the Gaels are at an RPI of 97.
"I want to play the best team out there that we can,'' Lansing said.
Indiana State also played New Mexico at home and lost in overtime in the MWC-MVC Challenge, and pushed San Diego State in Honolulu and in the opener at UCLA before losing both.
"We wanted to be in fun tournaments that prepared us for the conference,'' Lansing said. "These teams we've played aren't any better than Creighton or Wichita State. And those two might be the two best we've played, and that includes UCLA, New Mexico, Ole Miss and Miami. Both teams are so smart, athletic and long, and switch things up. Both of those teams can make runs.''
If Creighton at Saint Mary's is the marquee game of the event, let's speculate on the other 13 TV matchups that I could see occurring:
• Detroit at Wichita State: Shockers would get a decent RPI game, but not a game changer for the tourney.

• Ohio at Indiana State: This is probably the best the Sycamores could land.

• Montana at Utah State: This makes too much sense with the Big Sky's best going against the former Grizzlies coach in Stew Morrill.

• Stephen F. Austin at Murray State: The Racers have struggled, but SFA is one of the top teams nobody is talking about but probably will in mid-March.

• Denver at Belmont: Belmont has a sensational power rating at 17, and the Pioneers are familiar to Tennessee, having just left the Sun Belt for the WAC.

• South Dakota State at Niagara: This could be a sneaky good game with Nate Wolters leading the Jackrabbits to upstate New York, where the Purple Eagles have been a MAAC surprise.

• Pacific at Valparaiso: Two private schools who play fundamentals well and could easily be in the NCAAs representing the Big West and Horizon, respectively.

• North Dakota State at Long Beach State: This could match the winner of the Summit, and the top team in the Big West.

• Iona at Akron: Both of these schools are perennial contenders in the MAAC and MAC, and with RPIs under 100 make for a solid matchup.

• Illinois State at Davidson: Jackie Carmichael has been under the radar this season, and the Wildcats are a threat to win the Southern and earn a bid.

• Canisius at College of Charleston: The Golden Griffins have been a surprise so far in the MAAC, and Charleston is always good for a decent run in the SoCon.

• Weber State at Oral Roberts: Weber is trying to catch Montana in the Big Sky, while ORU is right in line with SFA in the Southland.
January, 29, 2013
01/29/13
12:36
AM ET
Katz's Korner with Kansas coach Bill Self (a portion of this interview is in this week's edition of ESPN The Magazine):
How has redshirting helped Ben McLemore
?
"He appreciates things more. He appreciates the opportunity to play college basketball more. He didn't need to be woke up but it made him appreciate schoolwork and doing well in school when you don't focus and take it as seriously as you should. He naturally matured. I do think he took advantage of not playing and turned it into a positive.''
[+] Enlarge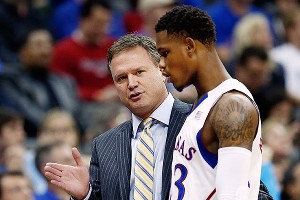 Jamie Squire/Getty ImagesBill Self, with Ben McLemore, has Kansas ranked second in the nation.
Why have you had such great success of having players pass the baton?

"The thing we try to sell is that names change but expectations don't. No matter who is out there we expect them to perform at the same level as those before them when they get their opportunity. The roles change every year with the better they get and that's why we have been able to sustain it with guys waiting in the wings. We've also recruited better than people give us credit. My staff has done a great job evaluating. We've had players who were just as great as the great ones but it took three years for them to get it done.''
Why have you been so successful with players waiting their turn?
"The first year [Jeff] Withey played he was our sixth-best big guy. The next year he was our fourth-best big guy and got a couple of minutes. And then he played a ton last year. It's amazing how those things work out. Travis Releford couldn't get in the game. But it's been fun to watch.''
What have you learned since you took over the job in 2003 about yourself and the program?
"You have to embrace the expectations. That's something I've learned. I think I've learned that the best players don't necessarily make the best teams, but you can't win the biggest games without good players. Having guys that understand their roles and buying in and understanding who the best players are on the court is a pretty fun way to play. We've had so many guys that have been great players for us that have come in and understood their role that the first-rounders need to get their touches, but they got better. When those guys left, they were ready to take over.''
What does the Big 12 regular-season title streak of eight straight mean to you?
"It's something we talk about every day. We end every huddle saying 'Big 12 champs.' It's something that we start to engrave in their mind even though some people here take it for granted. Whenever you're the best team in a really competitive league, you're going to play for the highest stakes. I've always said why be concerned about being the best team in the country if you can't be the best team within the league you're trying to win and compete for. I want to be the best. But I always think there are stages. For us to be the best in the country we have to be the best in this league.''
What makes Phog Allen the best home court in the country?
"There are other places that get amped up for a game and sell out. But the thing about here is that it doesn't make any difference if we're playing Texas, Oklahoma State, Kentucky, Ohio State, American, Belmont or Richmond. You're going to have the exact same number of people at the game. The consistency of their participation is unequal to anywhere I've seen night in and night out.''
Why doesn't Kansas play Wichita State?
"Kansas hasn't played Wichita State for years, way before I was the coach at Kansas. … Iowa plays Northern Iowa because the state legislature says you have to. If someone were to come and say something that it's law, then we would have to. But you schedule to benefit your own school, not to benefit others. You have to benefit your own school. I want to play games that benefit us, and, from a financial standpoint, it's hard to play games away from Allen Fieldhouse since that's our main source of budget every year.''
What's your reaction to Bruce Weber being at Kansas State?
"I think he's a good coach, and they're off to a great start and he's done a good job with the players and he's a good coach. It's nothing more than that. That he's coaching at a rival means nothing to me. He took over 10 years ago at Illinois, and a lot of water passed under the bridge since then. All I care about is beating his team. I could care less about any more than that."
How much are Kansas and Kentucky rivals?
"Kansas and Kentucky are the two winningest programs of all time. There is a natural mutual respect, and, also, the main orchestrator of Kentucky basketball over time was a Kansas grad in Adolph Rupp. There is unbelievable history and tradition between the two schools. I don't see them as our biggest rival, nor do they [see Kansas as their biggest rival]. But from a recruiting standpoint, we have gone head-to-head. I'll be the first to say they're hard to beat and they've got it going. We've had to recruit differently than them since they've been signing elite guy after elite guy, but at the end of the day, we go back it differently. If they're a big rival for us then that bodes well for both of us to play in big games.''
How nervous were you about Kansas being left out during the alignment craze two summers ago?
"I was never nervous we would be left out. But I was certainly nervous that it wouldn't be as good as what we have now. A lot of rumors were if Kansas were to be left out, then Kansas was going to the Big East. Well, the Big East isn't the Big East anymore. Who knows what would have happened. I was nervous. But it wasn't panic mode. I feel good about our league. We're in terrific shape. Whatever we do with expansion going forward, if we do, it will do nothing but enhance it because we have the best of both worlds in a football and basketball standpoint.''
What would be your next move and who would you lean on for advice?
"If we're ever going to move again, which I certainly don't see, want or anticipate because we love it here, I would lean on my dad and my wife. And then maybe some experts in the field. I haven't looked at another situation seriously since I've been here. A lot was made of the Oklahoma State situation five years ago, but that was one that the timing was not right and I don't see the timing being right any time in the near future.''
What about the NBA?
" I don't feel it. I can't say never because there have been a lot of people tell me that it would be an unbelievable situation to get into, and coaches yearn for that, but I think I've got a better job than a lot of guys in the league.''
What does this team need to do between now and Selection Sunday to compete for the title?
"We're going to have to stay healthy. We have to get to a point where we defend better and be sound defensively. We've got to bring our freshmen along to a point and Perry Ellis and Jamari Traylor and get us 16 points collectively, and I don't think we're that far away.
How is it coaching your son Tyler on the team this season?
"It's awesome. It's absolutely awesome. He doesn't play, but he tries hard. The players all like him. He's not a goody-too-shoes. It's perfect.''
January, 28, 2013
01/28/13
8:53
AM ET
Monday musings from a weekend that had looked like a dull slate of games only to deliver plenty of storylines and court storms:
• Dr. John Giannini has been a Division I head coach for 16 seasons, the past eight at La Salle. He didn't have a shot at an NCAA tournament berth, or at least not much of one, at Maine (still looking for its first NCAA tournament appearance). La Salle has hardly been a lock for any kind of postseason. Well, the wait may finally be over if the Explorers can capitalize on a tremendous week of knocking off the two newest A-10 teams in Butler at home (court storm) and VCU on the road.
[+] Enlarge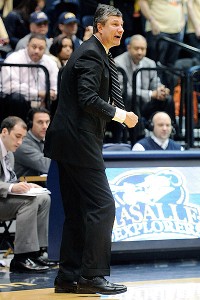 G Fiume/Getty ImagesUnder Dr. John Giannini, La Salle has followed a consistent path of progression.
Giannini says this season isn't as huge of a turnaround as it appears after the Explorers made the NIT last season with 21 wins, including nine in the A-10. But it has been a slog the past few seasons after La Salle made the mistake of trying to build its team around Aaric Murray, who subsequently transferred to West Virginia.
"This year is a natural progression,'' Giannini said. "We have had four upper-half A-10 finishes in the last seven years [third, fifth, fifth and seventh]. That's up from zero prior to us being here. So first we had to compete in the A-10. We did that. Then, last year, we took another step with the NIT. So this has been natural growth.''
But La Salle still can't find consistency, losing earlier this season to a struggling Central Connecticut State.
"Our talent was just as good a few years ago, but our chemistry was not as good,'' Giannini said. "We have great chemistry now. We also have one senior playing a lot, so the future is good, too. Rebuilding takes time. You have to recruit good players but also develop them, get experience, build a culture and recover from any mistakes in recruiting, which can happen.''
One of the biggest pluses for Giannini is that he has been given time -- eight years so far at La Salle where no one is calling for the Explorers in any kind of realignment pursuit.
"Fortunately, I'm with a great administration who has allowed us to build something,'' Giannini said.
Now the key for La Salle is to beat the teams it should in the A-10 and compete for the regular-season title to earn an NCAA berth. The Explorers are done playing Butler and VCU but still have to play at St. Bonaventure, Temple and Saint Louis, so they still have challenges ahead.
• The Catholic 7 Big East schools are trying to show television leverage. Of course, the past 10 years should be taken into consideration, but it doesn't hurt that Marquette is contending for the Big East regular-season title and Villanova, Syracuse and Georgetown beat Louisville. Oh, St. John's is above .500 and looking like a real pest in the Big East.
• Oregon's staff isn't too worried about Dominic Artis' foot injury that kept him out of the Washington game Saturday. The Ducks are expecting him to be fine but won't know more until Monday or Tuesday. The Ducks may need Artis at full speed in the backcourt to ultimately hold off Arizona, UCLA and Arizona State.
• Arizona State coach Herb Sendek has adjusted to Jahii Carson's playing style, much like he did when he had James Harden. Sendek's struggles last season had nothing to do with his coaching. He simply didn't have the talent. He does now.
[+] Enlarge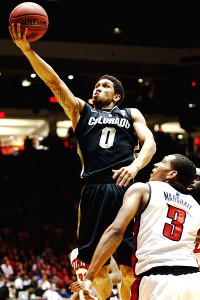 AP Photo/Matt YorkAskia Booker and Colorado can be a dangerous bunch come March.
• Don't sleep on Colorado. The Buffaloes' long, arduous climb back to respectability is at hand with Sunday's win over Cal moving them to .500 in the Pac-12. The core of this team was in the NCAA tournament last season and is starting to find its groove.
• The theme for March may just be veteran teams, in contrast with the freshmen who led Kentucky to a title last season. Kansas, Michigan, Indiana, Florida, Miami, Arizona, Louisville, Syracuse, Gonzaga and Butler are all relying on experienced core players to lead them. And it shows.
• Miami hasn't dipped and is finding ways to win after a big-time win over Duke last week. NC State now needs to beat Miami on Saturday to keep up with the Canes.
• The two best nonconference road wins might not have as much shelf life as I once thought if Illinois (win at Gonzaga) and Boise State (win at Creighton) don't rectify their conference situations very soon.
• Marshall Henderson may be the most polarizing player this season. He has been a sensational scorer for Ole Miss, but he needs to dial it back just a tad. He can be an in-your-face performer on the court, but there is no reason to incite the fans like he did at Auburn on Saturday.
• I've got Florida over the field in the SEC, Gonzaga over the field in the WCC and Kansas over the field in the Big 12. I don't think it will be close in any of the three conferences.
• Lehigh's win at Bucknell still has shelf life in the Patriot League even after reality struck the C.J. McCollum-less Mountain Hawks, who fell at home Sunday to rival Lafayette.
• Air Force was due to snip one of the perceived elites in the Mountain West with an experienced lot. The Falcons got rival Wyoming, and now the Pokes' NCAA résumé has a few holes in it.
• The scary thing about New Mexico is that when the Lobos lose, they lose. The loss at Saint Louis and this latest one at San Diego State have to be concerning.
• No team needed a win as much as the Aztecs did this past weekend.
[+] Enlarge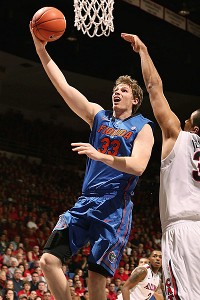 Christian Petersen/Getty ImagesErik Murhpy and the Gators are playing as well as any team in the country.
• Michigan and Kansas are playing like two of the best teams in the country and deserve to push for No. 1. But there might not be another team clicking as well as Florida.
• Florida State coach Leonard Hamilton oversold the Seminoles in the preseason. So, too, did Marshall coach Tom Herrion on the Herd.
• I'm starting to believe Iowa State's loss at Texas Tech was a blip.
• Get ready to learn the name Will Cherry of Montana in March. Cherry scored 28 points as the Grizzlies took out rival Weber State and moved to 10-0 in the Big Sky.
• Pacific coach Bob Thomason said he would have a Big West contender in his final season, and he was right. The Tigers are in a race with Long Beach State for the title.
• Southern Miss' Donnie Tyndall has fit in as well as any new coach in recent memory, as the Golden Eagles are a threat to challenge Memphis for the C-USA title.
• 8-0 Northeastern coach Bill Coen should win CAA Coach of the Year hands down.
• If you're looking for a potential sleeper NCAA team, file away Indiana State. The Sycamores beat Miami and Ole Miss at the Diamond Head Classic, two wins that are looking better with each passing day. ISU has two shots at Wichita State and one more against Creighton for high-profile Valley wins.
• Maryland will love the money in the Big Ten, but the Terps certainly will miss playing Duke. Next season will be the Terps' last playing the Blue Devils in the ACC.
• Norfolk State struggled in nonconference play after beating Missouri in the NCAA tournament last season, but a 7-0 MEAC start means the Spartans are positioning themselves for a return.
• I was way off on Stanford. I thought the Cardinal would be a Pac-12 title contender.
• The absolute lock of the weekend was Duke beating Maryland after the Blue Devils were hammered at Miami by 27.
• I think North Carolina likely will miss the NCAA tournament, but Kentucky still has a few chances left to build its case, beginning Tuesday at Ole Miss.
• Saint Mary's has a gaudy record (17-4), but it had better beat Gonzaga at home on Feb. 14, or else the Gaels might not have a win over an NCAA team.
• I have four All-Americans if the season ended today: Doug McDermott (Creighton), Trey Burke (Michigan), Ben McLemore (Kansas) and Kelly Olynyk (Gonzaga). The fifth spot is wide-open.
January, 25, 2013
01/25/13
12:58
PM ET
Every team in the A-10 needs to thank the Horizon League and the Colonial Athletic Association for their stringent rules preventing Butler and VCU from playing in the conference tournament.
That was the reason the Bulldogs and Rams bolted a year early to the A-10 once the leagues said a pending departure meant they couldn't represent the league in the conference tournament or play for the automatic berth per the bylaws.
Take those two teams out of the A-10 this season, and suddenly the league is suspect and loses the high-profile matchups that have occurred this past week and resulted in court storming.
[+] Enlarge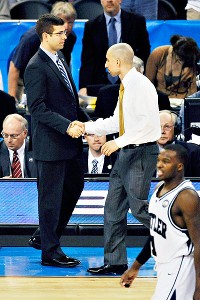 Richard Mackson/US PresswireBrad Stevens and Shaka Smart have brought a new legitimacy to the A-10.
La Salle's win over Butler helped validate the Explorers. Take Butler out of the league and suddenly La Salle doesn't have the same opportunity. Xavier is not ranked, and while the Musketeers are doing their normal thing in the A-10 and hovering atop the standings, beating X doesn't mean as much this season. The same is true of Temple.
"The win for us is a great one because we beat a top-50 team, and top-20 wins are key to getting in the NCAA tournament,'' said La Salle coach John Giannini. "It's also a great perception win for your recruits and alums because [Butler is] a recognized national program.
"From a coaching perspective, they play so hard and are so sound, they force you to be better yourself,'' said Giannini. "If you could scrimmage them every day you would become a top team, because they raise your bar so high. For the league, they give you the opportunity for a marquee win, they raise the RPI and give exposure.''
The same applies for VCU. Richmond and VCU were once in the CAA together in the late '90s. Having the two programs in the same league again for the first time since 2001 means they will play twice a season. The game created interest in the local media and will be a key rivalry going forward in the A-10. They are also guaranteed sellouts for both VCU and Richmond.
La Salle's win over Butler produced a court storming. Would La Salle storm on any other A-10 school, outside of VCU, now?
The A-10 has had a number of teams take turns at the top, with the two most consistent programs being Xavier and Temple. Temple will be gone to the Big East next season. When the A-10 secured Butler and VCU as members and then actually got them a year earlier, it turned out to be the biggest coup in all of the realignment moves.
Clearly, there have been moves made for financial and football reasons that have helped and will help some of the top conferences. But the Butler and VCU moves, while not done for money, have improved the competitive balance, national recognition and profile of the A-10 more than any other expansion moves in recent memory.
And that's why it will be imperative for the A-10 to do whatever it can to keep them from being poached by the departing Big East Catholic seven schools. If those schools take Xavier and/or Dayton, then it will be a hit for the league. Losing Butler, though, would be devastating. The Butler brand resonates with this class of students more than any other school in the A-10 because they remember the consecutive title-game appearances. Butler will likely be courted and will probably go if the offer is too good. The schools departing the Big East will likely go only with private schools, not just religiously based, which means VCU is out. But it's still a fluid situation.
No one would have noticed if La Salle was atop the standings and had beaten Xavier or Temple. But knocking off Butler and the subsequent court storm gets the league and its programs the national recognition they so desperately need.
January, 24, 2013
01/24/13
1:21
PM ET
If an independent investigation ordered by NCAA president Mark Emmert finds that the NCAA enforcement staff was complicit in authorizing the attorney of former Miami booster Nevin Shapiro to conduct an interview on its behalf, then the integrity of the NCAA's investigation has been compromised.
As a result, the NCAA will have opened itself up to a serious ethical violation in the manner in which it conducted this case. The hold on the notice of allegations for Miami won't directly affect the Miami football program yet, but it does push off any potential charge against former basketball coach Frank Haith, now at Missouri, for failing to create an atmosphere of compliance.
The revelation by Emmert on Wednesday has created doubt in the NCAA's ability to fully investigate the case. It could mean the NCAA's punishments may have to stop with the self-imposed sanctions Miami has already placed on its football program.
I spoke with an attorney Wednesday night who is familiar with these cases who said that the behavior of the enforcement staff was reprehensible and damaged the fairness of the process.
Paying the attorney of the person who is at the center of the case runs counter to the NCAA bylaw that deals with enforcement, which states there should be a fair procedure and that there has to be an equitable resolution to the investigation.
The attorney said that Shapiro's lawyer, Maria Perez, who denies any wrongdoing, is supposed to be a zealous advocate for her client's interests, not the NCAA's. The attorney said that in hiring any member of Shapiro's representation, there would be an inherent bias in the case.
The NCAA was supposed to notify those offending parties last week as to what they would be charged with, but now that the notice is on hold, it potentially jeopardizes the entire case.
The door is wide open as to what could occur, the attorney said. It's not merely a technical slip by the enforcement staff, the attorney said, but a fundamental flaw in the investigation. The action by the enforcement staffer, regardless of whether the person or persons are still employed, has poisoned the entire investigation.
The attorney, who has had experience handling coaches, said that whatever Haith may have been charged with -- unethical conduct or a failure to promote compliance -- will be hard to support under this scrutiny.
If there were a specific fact that was proved -- a receipt of a plane ticket or check granted, for example -- that would still hold. But any subjective penalties that deal with ethical conduct, when the NCAA didn't act in an ethical manner, will be easily challenged by Haith's representatives and any other coaches charged in a similar fashion.
The attorney said the subjective charges could be thrown out.
"The school, the university and the people who have been investigated have a very strong and substantial case to say this is wrong," the attorney said. "This whole thing should just go away."
Haith has a team to coach, and this investigation has nothing to do with Missouri's players or its athletic department. At this point, even if the NCAA is going to still charge Haith with anything, it might be best to wait another six weeks.
If it takes two weeks to finish the internal review, then the calendar will be into February and the Tigers will be on their stretch run toward the end of the regular season and heading into the postseason. Why would the NCAA choose to disrupt a season when it has already made a mockery of its own case?
Unless the NCAA is going to wipe away the case, finishing it up in March is probably more prudent.
The NCAA has a process for appeals, but it will also likely face a legal challenge for any subjective charges that arise as a result of this case, regardless of whoever is to blame for the unethical behavior by the enforcement staff.
January, 23, 2013
01/23/13
4:08
PM ET
If Louisville is to reach its ceiling this season, the onus will be on
Chane Behanan
and
Montrezl Harrell
to get to the gym at odd hours and practice taking -- and making -- countless free throws.
The Cardinals are coming off consecutive losses heading into Saturday's game against Georgetown, notably a court-storming setback at Villanova Tuesday night.
In that game, the Cardinals shot 12-of-24 from the free-throw line, as Behanan was 3-of-9 and Harrell was 0-for-2.
Coach Rick Pitino admits that the free-throw struggles down the stretch played a big role in the 73-64 loss to the Wildcats.
"The 4-spot is what we have to fix, both of those guys are shooting [free throws] in the 50 percentile,'' said Pitino. "We can't have them shoot 50 percent and expect to win close games.''
Behanan is shooting 54.2 percent at the charity stripe, while Harrell is at 51.5 percent.
"These two guys foul shooting, that's a major detriment,'' said Pitino. "We can't go to the foul line in late-game situations. We've got to cure that right now.''
How do you do it in late January?
"It takes a lot of work and repetition,'' said Pitino. "It's on the players; they'll have to do it on their own after we show them the technique. They'll have to get in the gym and do it themselves due to the 20-hour rule.''
The 20-hour rule limits the practice time with the coaching staff.
"Without the 20-hour rule, I'd cure it,'' said Pitino. "Because of that, they have to do it on their own.''
Of course, Behanan and Harrell weren't the sole reasons for the loss to the Wildcats or to Syracuse this past Saturday. The Cardinals turned the ball over too many times against Syracuse late, and it didn't help that there were unforced turnovers again -- not to mention a total of 17 overall -- in the loss to Villanova.
Still, Louisville has the personnel and the veteran leadership to right this issue, win the Big East and compete for a Final Four berth in Atlanta thanks to a backcourt of Peyton Siva and Russ Smith, a slashing scoring wing in Wayne Blackshear and a defensive stopper on the back line in Gorgui Dieng.
There is no need to panic. But there is work to be done.
"I always want to keep getting better going into the Big East tournament,'' said Pitino. "It's our philosophy to play your best basketball in conference tournaments so you can go right into the NCAA tournament. That's what we're trying to do.''
January, 21, 2013
01/21/13
9:39
AM ET
Monday musings on the day to celebrate Dr. Martin Luther King's life, a once-in-a-generation American and one of the most important figures in American/world history:
[+] Enlarge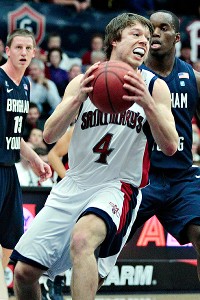 Cary Edmondson/US PresswireMatthew Dellavedova played a big role in one of the weekend's frantic finishes.
• March Madness' opening weekend has plenty of drama. But is there any way to bottle this past week, preserving and recreating it in late March?
Think about this: Ole Miss' Marshall Henderson connected on a 3-pointer at the buzzer to force overtime in a win at Vanderbilt. Saint Mary's Matthew Dellavedova hit a shot to beat BYU at the buzzer in Provo. Butler's Roosevelt Jones sank a floater off of a steal to shock Gonzaga at the horn at Hinkle. And I'll toss in Bradley's Will Lemon Jr., who beat Missouri State on a final shot, too.
Those were last shots, but there were also thrilling final moments in Syracuse's win at Louisville, Michigan State's defense of Ohio State at the end of its victory in East Lansing, and Wichita State successfully defending Creighton on two 3-point attempts to preserve a win.
• The more I watch the final possession in the Gonzaga-Butler game, the more I don't understand why David Stockton didn't throw the ball toward his own basket rather than in the middle of the court. If the ball goes to that end, and even if it gets stolen, then Butler would have had to go nearly 90 feet and someone like Jones would have had to take a 3-pointer, not a floater in the lane.
The Gonzaga meltdown on the final possession was reminiscent of the 2006 Sweet 16 loss to UCLA in Oakland. In that game, the Zags would have won if J.P. Batista hadn't been picked when he brought the ball down, allowing Jordan Farmar to steal and feed Luc Richard Mbah a Moute for a layup and a one-point lead with 8.6 seconds left. That play ultimately propelled the Bruins to the first of three consecutive Final Fours. Few can forget Adam Morrison crying in disbelief after that game.
• How did Texas A&M beat Kentucky again at Rupp? The Aggies have lost their last two games to Florida at home and at Alabama. Elston Turner, who went for 40 against Kentucky, scored four against Florida, going 1 of 10 from the floor. He scored 13 against the Tide.
• Kentucky's defense has been tighter since the loss to Texas A&M. The Wildcats gave up 65 points to Tennessee and 53 to Auburn, including shutting down the Tigers on 3s (0-for-15).
• Playing Purdue in a regional CBS game may have sounded like a good plan for West Virginia last year. But it made no sense for the Mountaineers to wedge that game in between Big 12 contests, and it looks even worse three days after losing at Iowa State. West Virginia got hammered 79-52 to fall to 8-9 overall and is currently 1-3 in the Big 12. A non-conference game in mid-January or mid-February should have purpose, especially if it's on the road.
• I was starting to be intrigued by Washington's 4-0 start to the Pac-12 (with three road wins) until the previously Pac-12-winless Utah Utes won in Seattle. Now, it appears the Huskies' wins were a product of a soft start to the conference schedule.
[+] Enlarge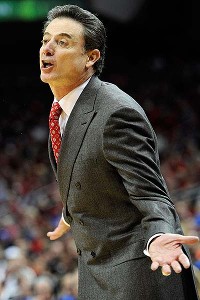 Jamie Rhodes/USA TODAY SportsRick Pitino has one more shot at Syracuse and then will have to wait until they meet in the ACC.
• The Syracuse-Louisville rivalry has been one of the better matchups in the past five years. It will take a hiatus next season when the Orange go to the ACC, only to resume in 2014-15 when the Cardinals join the league, too. When they do play in the ACC, can we call it a Big East game, because that's what it will feel like?
• When the season ends, don't be surprised if it looks like Larry Eustachy walked into the best situation of the first-year coaches. Colorado State was a ready-made conference contender and NCAA team when Eustachy took over.
• I don't understand how San Diego State scored only nine points in a half at Wyoming. I know Xavier Thames was hurt, but the Aztecs simply didn't show up.
• Wyoming gets credit for making me eat my words from our "First Take" show last Friday. The Luke Martinez brawl story and his subsequent suspension appeared to have zapped the energy out of the Cowboys in a loss at Fresno State. But Wyoming locked up on defense, stunned the Aztecs and are right back in the mix. Larry Shyatt deserves praise for getting this team refocused quickly.
• The most anticipated coaching matchup this week is in Manhattan, Kan., where Bruce Weber and Kansas State have a legitimate chance to upset Kansas and fuel the rivalry between he and Kansas coach Bill Self just a wee bit.
• North Carolina and Kentucky will make the NCAA tournament. There is too much mediocrity in the ACC and SEC, and both teams have too much talent to completely fold. We've seen flashes this past week of the potential in UNC's win over Maryland as well as Kentucky's win over Auburn. Neither team has a true leader, and both teams still make plenty of mistakes on the defensive end and, at times, in shot selection. But I'll be surprised now if either misses the field.
• I love that Harvard played Memphis close on Saturday. This was good scheduling by Memphis' Josh Pastner to give his team a challenging game in the middle of Conference USA play. The majority of teams in CUSA won't give the Tigers as many issues as Harvard did over the course of 40 minutes.
• Arizona State coach Herb Sendek wasn't a bad coach a year ago. He didn't have Jahii Carson -- he was supposed to, but Carson was ineligible. It's about players.
• Criticizing Tom Crean for the blow-by handshake with Bo Ryan was all in good fun after Indiana lost to Wisconsin last Tuesday. But Crean was classy with his Saturday tweet celebrating "College GameDay" at Butler and what it means to the state to have Indiana and Butler recognized nationally within a three-week period.
• I can't imagine how down Iowa coach Fran McCaffery would have been if his Hawkeyes had blown the Wisconsin game after failing to close out close games against Indiana and Michigan State at home.
• Louisville fans are a passionate bunch, and I love it. I had more reaction to my tweet that Michigan's guards Trey Burke and Tim Hardaway Jr., were the top backcourt by a nudge over Louisville's Russ Smith and Peyton Siva than any other I have posted in the past few weeks.
• Congrats to St. Bonaventure for winning at Temple, for the first time ever, in what is the Owls' final season in the A-10. The Bonnies get picked on for being in a remote outpost in New York. Yet, they have held their own in the conference as evident by winning the league tournament last March. Good for the Bonnies to stand up and be noticed yet again with this final sendoff to Temple.
• The most befuddling result of the weekend may have been Rhode Island winning at Saint Louis.
• Michael White was an out-of-the-box hire at Louisiana Tech. The Bulldogs are 7-0 in the WAC and appear ready to push Utah State and New Mexico State out of the favored status perch.
[+] Enlarge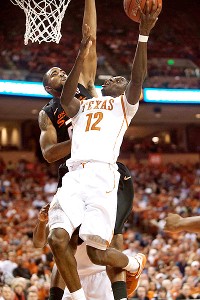 Brendan Maloney/US PresswireWhen Myck Kabongo returns, it may be too late to save Texas.
• This Texas season has been probably Rick Barnes' most frustrating in Austin. The Longhorns have had multiple chances to win marquee games and, outside of North Carolina at home, have swung and missed. The Big 12 winless 'Horns get Myck Kabongo back on Feb. 13, but it's hard to believe there will be enough time or games left for Kabongo to make enough of a difference for his team to make a tourney run.
• Put Mark Lyons in the category of most important one-year players recently after he lit up Arizona State in the rivalry game to keep Arizona on Oregon's heels.
• Xavier hasn't played Butler or VCU yet, but the Musketeers are still undefeated in the A-10 after a rocky non-conference.
• Does it seem like Marquette always plays late-possession games in the Big East?
• Wichita State coach Gregg Marshall told me having forward Carl Hall return to the team was like getting an appendage back. You could see why, as Hall was such a key piece in the Shockers' win over Creighton. His presence inside and ability to get to the line was a difference.
• Creighton forward Doug McDermott has so many ways to score that I see him successfully finding a rotation spot on an NBA roster.
• I saw Fran Fraschilla tweet this out, but he's onto something about the Sunflower State. The three atmospheres at Kansas, Kansas State and Wichita State have to rank up there with any state in the country. If they're all full -- and most of the time they are -- then each venue can rock.
• If you thought Phil Pressey was Missouri's most important player, you may have been wrong. In my opinion, it is clearly Laurence Bowers. The Tigers aren't the same team without him, losing badly at Ole Miss and Florida without his inside presence.
• Florida versus the field in the SEC for the regular-season and conference tourney titles? I'll take Florida. Propose the same scenario for Kansas in the Big 12, and I'm taking Kansas.
January, 17, 2013
01/17/13
7:04
PM ET
The Mountain West was wildly unpredictable again on Wednesday.
And next season, it should be just as promising.
Boise State, a rising program, and San Diego State, a perennial contender, are now officially back in and not leaving. Utah State, easily one of the most consistent programs in the West, is on board to join in the fall of 2013.
The league will likely have more top 30-40 teams per percentage than the Pac-12 or maybe the SEC.
The competitiveness among the 11 schools in 2013-14 should rival the balance of the nine playing next season. Consider what happened on Wednesday:
[+] Enlarge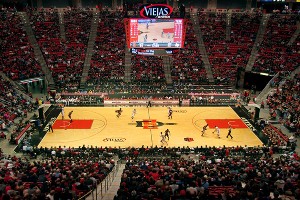 Kent C. Horner/Getty ImagesThe atmosphere at San Diego State's home, Viejas Arena, was built up for big-time games.
UNLV won at San Diego State.
New Mexico beat Boise State in overtime.
Colorado State crushed Air Force.
Fresno State upset Wyoming.
"What you've seen two weeks in is that it doesn't matter whether you're at home or away, you have to play well to win,'' said San Diego State coach Steve Fisher. "The separation is closer than ever in this league.''
Fisher should know. He is the only coach remaining from the original Mountain West in 1998-99. Fisher, along with the conference's administration led by commissioner Craig Thompson, saw the league from its inception into a basketball power in 2013.
Fisher didn't want to go to the Big West, but he went along with the San Diego State administration's desire to put the football program in the Big East. When that situation became unstable, the Aztecs looked at staying put. Boise State's decision to remain in the Mountain West was the clincher. San Diego State had to stay. It was the right call. The atmosphere at Viejas Arena was built up for big-time games, not for the Big West.
"I have great respect for how good this league is and I've seen the growth, seen the recognition slowly but surely come nationally,'' said Fisher. "We're in a league now where we're going to have be really good to win it. But if you don't win it, you can get to the tournament.''
That's a key statement. The Mountain West is now a likely lock for multiple bids on a yearly basis. Rivalries have been preserved like Wednesday's between UNLV and San Diego State.
The only issue will be, with 11 teams for basketball (Hawaii is only a football member), will the league go to a 20-game schedule for a true round-robin or stick with 18 and have a bit of an unbalanced schedule?
"There is no tougher travel league,'' said Fisher. "It's hard to get places like Wyoming, Colorado State and we're adding Utah State [and San Jose State] and I've never been there before.''
The decision to stay put may cost the school money and it will force Fisher to re-examine the schedule next season. The Aztecs originally were going to play nonconference games -- one home and one away -- against Memphis and Temple, per the Big East, as well as one against Cincinnati. Fisher said he isn't sure of the status of those games now.
Fisher said San Diego State will keep a series with Arizona, a road game at Kansas and play in the Anaheim Classic. He said he just has to decide how many tough games he wants to add now that the Aztecs are staying in the league.
What's next?
"We're at Wyoming Saturday,'' said Fisher.
Yet another difficult game, but an example of the depth of the conference on a game-by-game basis.
January, 16, 2013
01/16/13
3:31
PM ET
Wyoming coach Larry Shyatt knew
Luke Martinez
had been in some sort of melee at a bar, which resulted in a broken hand.
Shyatt was naturally upset. At 22, Martinez was of age to be in a bar. But as a senior leader, on an undefeated team that was on the verge of something special, he never should have been out that late.
Shyatt said he wanted the few players who were at the bar to spend a few hours volunteering before the team left for Dallas to play SMU.
[+] Enlarge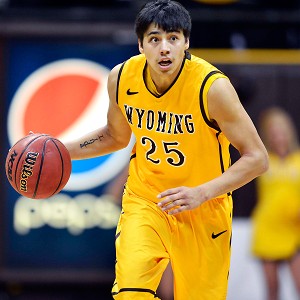 Ron Chenoy/USA TODAY SportsLuke Martinez's decision to go to a Wyoming bar late at night was a poor choice.
"When I found out, they were out,'' said Shyatt. "I made them do community service without knowing all the facts yet.''
Shyatt and assistant Scott Duncan had heard chatter that Martinez was struck first and that he was defending himself. But that was the extent of any information they received.
They both say that they knew nothing else and were told that no charges were going to be filed.
Martinez was out with the broken hand. In his absence, the team went to SMU and beat the Mustangs before losing the Mountain West opener to Boise State.
Last Saturday, Wyoming visited Reno to play Nevada, a game the Cowboys won 59-48.
They returned late at night, and Shyatt said he got a call at 2 a.m. that Martinez had been brought in for questioning.
What happened next was detailed in an affidavit that should cause serious concern for a team that still has a chance to make the NCAA tournament and finish near the top of the MWC.
According to the Casper Star-Tribune, the affidavit has three eyewitness accounts from employees at the Buckhorn Bar which details Martinez allegedly kicking a victim in the face after teammate Derek Cooke Jr. knocked the victim out with a punch. Martinez was arraigned Tuesday, with Duncan in attendance, on charges of causing serious bodily injury to the man. Junior Nathan Sobey was at the scene as well, according to the report.
The report states that Martinez said he was punched first but then stepped or stomped on the victim's head. This interview took place at 1:30 a.m. and he was arrested at 2:15 a.m.
Martinez was released on $25,000 bond, and he has to check in both with the Wyoming athletic director and defense attorney three times a week as well as stay away from drugs and alcohol.
Duncan said the first time he had heard about the extenuating charges and details of the case was while he was sitting in the court room Tuesday. Shyatt said he wasn't aware of the details, either.
Shyatt and Duncan have brought new energy and passion to this program and turned it into a winner in just two seasons.
But Martinez let his teammates, staff and the university down by going out at that hour. So, too, did the other two teammates. The bar fight reportedly turned ugly and could take away from what has been a special season so far.
He put himself in the position where something could -- and did -- happen. He may have been defending himself, but he never should have been there in the first place.
Sure, he's a college student. But there are privileges that go with playing high-level Division I basketball. Now he'll pay the consequences and so will his team.
The Cowboys went 2-1 without him, but they may have a hard time staying in the top six in one of the best conferences in the country without him over the next seven weeks.
Martinez now has to deal with the legal issue, which could be less forgiving than the shame from any university/coach/teammate.
Shyatt said Martinez is within four classes of graduating. He was a player inherited by the current staff. That staff warmed up to him and embraced him, and Shyatt said they will stick by him. But he isn't defending the actions of being out, getting into a fight and the results of that fight. He called it horrible and foolish, but he's not going to abandon him, either.
The Cowboys had to play two full games, and most of two others from Nov. 28-Dec. 18 without sophomore guard Riley Grabau after he suffered a knee injury. Grabau had started the season with 23 assists and three turnovers. Yet, they won all four of the games in which he was out, including a comeback win at Illinois State and a road game at UCSB.
Playing without another key player, "is nothing new for these guys,'' said Shyatt. "It's just one less guy.''
True. But Martinez has drawn undue attention on Wyoming when a 14-1 record should have been the only thing being discussed about these Cowboys.
For more on Andy Katz's final thoughts on Luke Martinez and Wyoming, check out Katz's Korner.
January, 15, 2013
01/15/13
1:11
AM ET
The first real domino in the 2013 coaching carousel fell Monday when USC abruptly fired Kevin O'Neill.
Texas Tech is being led by an interim coach in Chris Walker, but the Red Raiders job doesn't come close to commanding the interest the USC position does.
USC athletic director Pat Haden has two months until the end of the season, which gives him a head start on other ADs looking to make coaching changes, to find the right coach at one of Division I's hidden gems.
[+] Enlarge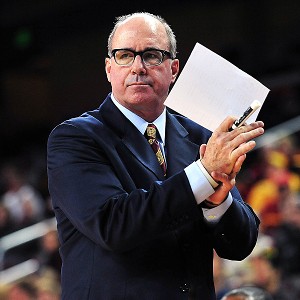 Gary A. Vasquez/USA TODAY SportsKevin O'Neill wasn't able to make USC a contender in the Pac-12.
After canvassing a few coaches with a good sense of the job late Monday night, there were a number of reasons that USC is looked at as a job that will draw plenty of interest.
1. Location: The warmth of California, the fertile recruiting ground and the "It" factor of coaching in Los Angeles all make it worth serious interest.
2. Brand name: USC has a national name. Of course, it is for football, but the Trojans brand carries weight nationally. For months, USC can be found in the headlines, with its football program seemingly always in the news.
3. Football covers for hoops: A basketball coach doesn't have to feel the pressure of being in charge of the school's most important sport. This is similar to Oklahoma, Texas, Notre Dame and countless other jobs at football-dominated schools.
4. Facilities: USC used to have one of the worst playing situations on the West Coast in the antiquated L.A. Sports Arena. But the Trojans have one of the top on-campus facilities in the Galen Center. The practice facility is in the same building, which makes everything nice and convenient.
5. The Pac-12: The league lacks a dominant, intimidating team. Arizona should be the standard going forward, with UCLA and Oregon likely to have staying power for the foreseeable future. There is room to move up in the Pac-12.
So what should USC do through back-room channels to gauge interest?
The first natural call is to make a run at Pitt's Jamie Dixon, who is from Southern California. But it's hard to see Dixon leaving Pitt, where he has raised his family and has a great relationship with the administration. His family is from Southern California and his wife from Hawaii, but his close friend is Ben Howland at rival UCLA. I would be surprised if Dixon left for USC with the Panthers making a move to the ACC next season.
USC might make a run at Gonzaga's Mark Few, but once again Few has a better situation at Gonzaga. He has had many opportunities to leave and has decided to stay. I don't see it. There's no reason USC shouldn't try to see whether there is interest from VCU's Shaka Smart, even though he turned down Illinois to stay with the Rams.
Steve Lavin was at UCLA. He's at St. John's now. Would Lavin play at USC? Of course, but would he leave the Red Storm with the project not done yet? Not sure USC makes the play or whether he would bolt yet.
I don't see USC hiring an assistant. But what could play well is if Haden goes for a coach who wants to leave before he gets fired and wouldn't mind a change of venue and a fresh four-to-five-year contract. This is the Herb Sendek and/or Oliver Purnell-type play.
That's why names to file away for later could include Washington's Lorenzo Romar, Texas' Rick Barnes and Villanova's Jay Wright. I know there will be detractors dismissing all of these candidates. But you can guarantee this job will draw plenty of interest, at the very least to play their current school against USC and work for a raise.
Haden could look to an NBA coach, of course, as well.
USC is an intriguing position. The options are endless for a position that is sure to be coveted and/or played over the next two months in public and in private.