ESPN.com Power Rankings: March 8
Updated:
March 8, 2016, 11:03 AM ET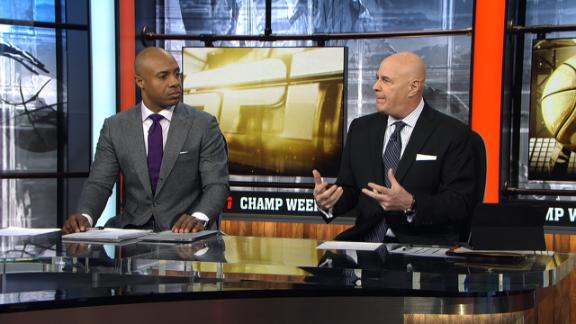 Indiana, Arizona on the rise, Iowa, Maryland falling
Jay Williams and Seth Greenberg break down why Indiana and Arizona are on the rise and the issues plaguing Iowa and Maryland.
Indiana, Arizona on the rise, Iowa, Maryland falling
Kansas sealed its 12th consecutive Big 12 title with a week to go in the regular season, but the Jayhawks didn't stop there.
They closed the season with 11 straight victories, a stretch that included a 30-point road win at then-No. 23 Texas. Can the Jayhawks carry the momentum into the postseason, where they will be the No. 1 seed in the Big 12 tournament?
Voters: Eamonn Brennan (ESPN.com), C.L. Brown (ESPN), Sean Farnham (ESPN), John Gasaway (ESPN Insider), Jeff Goodman (ESPN Insider), Seth Greenberg (ESPN analyst), Andy Katz (ESPN.com), Joe Lunardi (ESPN), Myron Medcalf (ESPN.com), Dana O'Neil (ESPN.com).
College Basketball Power Rankings - Week 18
RANK
TEAM / RECORD
TRENDING
PTS
COMMENT
1

Kansas

27-4

--




Last Week: 1

250
The Jayhawks own the nation's current longest win streak among major conference teams at 11 games. KU punctuated its Big 12 title with wins over Texas and Iowa State.
2

Michigan State

26-5

--




Last Week: 2

235
It's March. And it's Izzo. No surprise that the Spartans are peaking.
3

Villanova

27-4

--




Last Week: 3

228
The Wildcats have had a great season; now it's time to get serious. Their measure of success will come from what they do in the postseason because of previous NCAA tournament disappointments, including last year's round-of-32 exit.
4

UVA

24-6

--




Last Week: 4

225
The Cavaliers completed the season sweep of Louisville, and Malcolm Brogdon swept ACC honors as both the league's Player of the Year and Defensive POY. The Cavs will aim to punctuate their case for a No. 1 seed this week.
5

Xavier

26-4

--




Last Week: 5

198
Xavier avenged an earlier loss at Creighton with the help of 24 points from Myles Davis. The junior guard is shooting 54 percent from 3-point range over the past three games.
6

UNC

25-6

1




Last Week: 7

194
The Tar Heels' win at Duke moved them to 10-0 when they attempt more than 20 3-pointers in a game this season. Ironically, the Heels shot just 29.3 percent from behind the arc in those games.
7

Oklahoma

24-6

1




Last Week: 6

193
Wondering if the Sooners can continue making jumpers? The short answer is yes. OU shot a combined 49-of-105 in wins over Baylor and TCU, including 45 percent from 3-point range.
8

Oregon

25-6

2




Last Week: 10

172
The Ducks won their first Pac-12 regular-season title since 2002 by sweeping UCLA and USC on the road. Now Oregon will aim for its first Pac-12 tournament title since 2013.
9

Indiana

25-6

2




Last Week: 11

169
Coach Tom Crean pulled off a pretty remarkable in-season turnaround. The Hoosiers went from near pandemonium to winning the Big Ten regular-season title. As for Crean and the hot seat? It's cooled off in the process.
9

West Virginia

24-7

--




Last Week: 9

169
The Mountaineers handled Texas Tech and Baylor by a combined 33 points, which means only four of their conference wins were by single digits. Their average margin of victory in league play was 12.5 points.
11

Utah

24-7

--




Last Week: 11

150
The Utes are the hottest team entering the Pac-12 tournament, having reeled off seven straight wins to close the season. They needed every one of them to finish in second place for the second straight season.
12

Miami

24-6

4




Last Week: 8

146
The Hurricanes squandered their chance to earn a share of the ACC regular-season title with a loss at Virginia Tech. On the bright side, reserve guard Ja'Quan Newton will return to the lineup after a three-game suspension.
13

Purdue

24-7

2




Last Week: 15

113
P.J. Thompson's career-high 22 points against Wisconsin on 6-of-8 3-pointers were a good sign for the Boilermakers moving forward. If opponents can't pack the lane against their frontcourt, they're poised to do postseason damage.
14

Kentucky

23-8

3




Last Week: 17

106
The Wildcats are feeling rejuvenated heading into SEC tournament with Derek Willis back and freshman center Skal Labissiere playing to his potential with 18 points, 9 rebounds and 6 blocks against LSU.
15

Louisville

23-8

2




Last Week: 13

98
Self-imposed sanctions have the Cardinals already looking forward to next year. Before that though, the question becomes whether Rick Pitino will return to coach them.
16

Maryland

24-7

2




Last Week: 14

93
The Terps' confidence could be wavering after ending the season at Indiana with their third straight road loss. Maryland will try to use a double bye to regain its swagger in the Big Ten tournament.
17

Arizona

24-7

1




Last Week: 18

91
Guard Gabe York is playing like a senior who knows the end is near. His three 3-pointers sparked a late comeback win over California, and his career-high nine 3s and 32 points paced the win over Stanford.
18

Duke

22-9

2




Last Week: 16

88
Time off to refresh before the start of the postseason should help the short-handed Blue Devils, who showed signs of fatigue down the stretch. The announcement that injured forward Amile Jefferson will not return this season means a rotation of only seven players.
19

Texas A&M

24-7

1




Last Week: 20

78
Jalen Jones continues to lead the Aggies in scoring, but he may want to rethink his 3-point attempts. Jones has gone 0-for behind the arc in four of his past five games and shot a combined 4-of-22.
20

Iowa State

21-10

2




Last Week: 22

59
A season-ending loss to Kansas gave the Cyclones the No. 6 seed and sets up a showdown with Oklahoma in the Big 12 tournament. So much for having a game to warm up in the postseason.
21

Iowa

21-9

2




Last Week: 19

46
Maybe all the minutes just finally caught up to the Hawkeyes. Iowa is the only team among the Big Ten's top five that has five players averaging more than 30 minutes per game in conference play.
22

Baylor

21-10

2




Last Week: 20

37
Since senior forward Rico Gathers announced he'd try playing football next season, the Bears' leading rebounder has combined for just nine rebounds in three games. That's his lowest total for a three-game stretch since his freshman year.
23

Cal

22-9

--




Last Week: 23

36
Cal had its season-best seven-game win streak snapped at Arizona, but the Bears are playing as well as any team in the Pac-12 thanks to senior guard Tyrone Wallace being back in the lineup.
24

Texas

20-11

1




Last Week: 25

26
The Longhorns are preparing for a late-season addition as center Cameron Ridley could return for the Big 12 tournament. Ridley, who missed 20 games, had averaged 12.7 points and 10.0 rebounds before being sidelined with a broken foot.
25

Wisconsin

20-11

1




Last Week: 24

24
The Badgers now know that Greg Gard is the permanent coach, and they'll face the winner of Nebraska and Rutgers on Thursday.
Others receiving votes: SMU (13), Seton Hall (8), Saint Mary's (3), Dayton (2)

Find Tickets:
Season tickets or single game tickets, all the best seats are here.