ESPN.com Power Rankings: Jan. 20
Updated:
January 20, 2015, 10:42 AM ET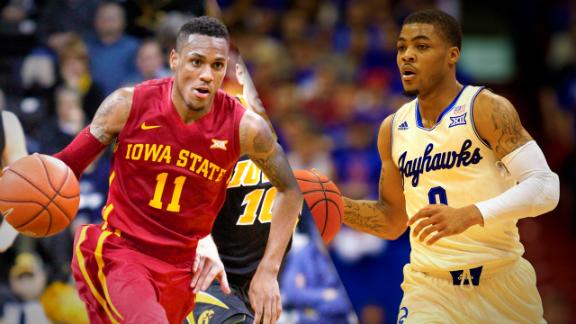 Sorting Through The Big 12 Chaos
The Big 12 has proven to be the deepest league in the nation. Seth Greenberg identifies the favorites and the sleepers to watch as March creeps closer.
Sorting Through The Big 12 Chaos
NEXT VIDEO
OK, so the top of the charts remained pretty much the same. No messing with Kentucky, Virginia and Gonzaga. That means everything is status quo, right?
Uh, no, not really. There was movement all over the place, with Wisconsin and Arizona climbing again, and Louisville, Villanova and Utah taking mini-dives.
And there's still so much more to come.
Voters: Eamonn Brennan (ESPN.com), C.L. Brown (ESPN), Sean Farnham (ESPN), John Gasaway (ESPN Insider), Jeff Goodman (ESPN Insider), Seth Greenberg (ESPN analyst), Andy Katz (ESPN.com), Joe Lunardi (ESPN), Myron Medcalf (ESPN.com), Dana O'Neil (ESPN.com).
College Basketball Power Rankings - Week 11
RANK
TEAM / RECORD
TRENDING
PTS
COMMENT
1

Kentucky

17-0

--




Last Week: 1

250
After two scares to open SEC play, the Wildcats finally flexed their muscle in blowouts against Missouri and Alabama.
2

Virginia

17-0

--




Last Week: 2

240
The Cavaliers remain unbeaten and still have two more easy ACC games before a brutal stretch at the end of the month.
3

Gonzaga

18-1

--




Last Week: 3

229
The Bulldogs are one early December overtime loss (against Arizona) from being undefeated, too. A test against Saint Mary's comes this week.
4

Duke

16-2

--




Last Week: 4

212
The two-game skid is now behind a Blue Devils team that is suddenly looking to the zone on defense to help shut down opponents.
4

Wisconsin

16-2

2




Last Week: 6

212
The Badgers are going to become very familiar with the Hawkeyes. Wisconsin plays them twice in its next three games.
6

Arizona

16-2

3




Last Week: 9

201
The Wildcats answered their stunning loss on the road at Oregon State with two wins, including a convincing one at home against Utah.
7

Iowa State

13-3

4




Last Week: 11

178
Be ready to score if you play for the Cyclones. Iowa State leads the nation in assists. It had 20 in a victory over Kansas.
8

Kansas

15-3

2




Last Week: 10

168
The Jayhawks avoided a home meltdown against Oklahoma to hold on for a win on Monday night. Are they still the Big 12's best?
9

Villanova

17-2

4




Last Week: 5

167
Things did not go well on Monday for the Wildcats, who were pummeled by Georgetown. Villanova's defense was absent; Georgetown shot 51.1 percent.
10

Notre Dame

17-2

1




Last Week: 11

154
Jerian Grant came up big in a win against pesky Miami (Fla.) with 23 points and eight assists.
11

Maryland

17-2

2




Last Week: 13

150
Facing Michigan State twice so early in the Big Ten season wasn't a problem. Behind a combined 41 points from Melo Trimble, the Terps completed the season sweep.
12

Utah

14-3

5




Last Week: 7

146
The big stage was not kind to the Utes. Utah could not match Arizona's size and lost the rebounding battle 40-19.
13

Louisville

15-3

5




Last Week: 8

142
It was a rough day at home Saturday against Duke. Will the Cardinals see more zone now that Duke showed that it works?
14

North Carolina

14-4

--




Last Week: 14

123
Those who thought Marcus Paige was back on track might have to wait. He went 3-of-10 for eight points in a win over Virginia Tech.
15

Wichita State

16-2

--




Last Week: 15

112
After a stretch of close games in December, the Shockers have won their past four by double figures.
16

VCU

15-3

--




Last Week: 16

105
The Rams had to work hard to extend their winning streak to 10, getting close victories over Rhode Island and Duquesne this past week.
17

Texas

14-4

4




Last Week: 21

82
The Longhorns allowed everyone to take a deep breath, ending their two-game losing streak with wins over West Virginia and TCU.
18

Oklahoma

12-6

--




Last Week: 18

71
The Sooners have now lost three of four in a rough stretch against ranked foes in the Big 12. Next up: No. 21 Baylor.
19

West Virginia

15-3

2




Last Week: 17

66
A stretch of ranked opponents showed some weaknesses in the Mountaineers, the most recent a 24 percent shooting night against Iowa State.
20

Northern Iowa

16-2

2




Last Week: 22

52
It's clear where the Panthers' wins are coming from: on defense. Northern Iowa is 230th in the nation in scoring.
21

Georgetown

13-5

NEW




Last Week: NR

37
Beating up on Villanova quickly made people believe in the Hoyas. Now, can Georgetown sustain that success?
22

Dayton

15-2

4




Last Week: NR

35
The Flyers have won eight straight, but a big test comes Tuesday night when Dayton faces 12-4 Davidson.
23

Baylor

13-4

--




Last Week: 23

28
The Bears scheduled a get-well game: Before facing Oklahoma on Saturday, Baylor plays Huston-Tillotson (a historically black university in Austin, Texas) on Wednesday.
24

Seton Hall

13-4

4




Last Week: 20

21
The Pirates have stumbled lately, falling at Xavier and at home against Butler in overtime. And they'll see Butler again this week.
25

Iowa

13-5

NEW




Last Week: NR

16
The Hawkeyes have played well early in the Big Ten schedule. The big test comes now with two dates against Wisconsin in an 11-day span.
Others receiving votes: Indiana (11), Kansas St (8), Butler (6), San Diego St (5), Arkansas (5), Miami (FL) (5), Providence (4), Stanford (4), SMU (2), Georgia (2), Oklahoma St (1)