ESPN.com Power Rankings: Feb. 24
Updated:
February 24, 2015, 11:23 AM ET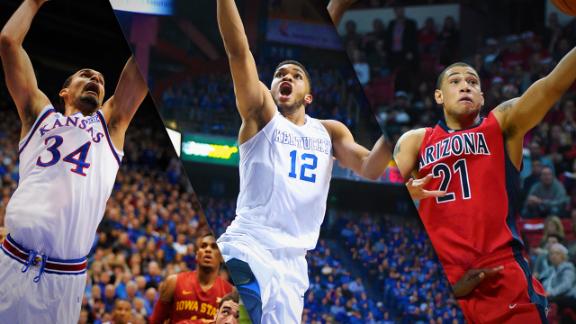 Potential Threats For Kentucky
Andy Katz and Seth Greenberg discuss which teams might be given the No. 2 seed in Kentucky's region and whether those teams could knock off the Wildcats.
Potential Threats For Kentucky
NEXT VIDEO
Kentucky is No. 1. There is no arguing that. Now, after Kentucky, that's when things get interesting. Are people still as high on Virginia, which has suffered some significant injuries?
Is Wisconsin showing its true strength and deserving of moving up the board?
Are questions starting to grow about Gonzaga's relatively weak schedule?
It must be nearly March, because the questions are starting to mount.
Voters: Eamonn Brennan (ESPN.com), C.L. Brown (ESPN), Sean Farnham (ESPN), John Gasaway (ESPN Insider), Jeff Goodman (ESPN Insider), Seth Greenberg (ESPN analyst), Andy Katz (ESPN.com), Joe Lunardi (ESPN), Myron Medcalf (ESPN.com), Dana O'Neil (ESPN.com)
College Basketball Power Rankings - Week 16
RANK
TEAM / RECORD
TRENDING
PTS
COMMENT
1

Kentucky

27-0

--




Last Week: 1

250
The Wildcats extended their school-record start to the season with blowout wins at Tennessee and vs. Auburn, scoring 110 points against the Tigers.
2

Virginia

25-1

--




Last Week: 2

233
Already without one guard in Justin Anderson, the Cavaliers got another injury blow in their win over Florida State. Point guard London Perrantes suffered an apparent broken nose and could miss time.
3

Wisconsin

25-2

1




Last Week: 4

224
The Badgers had comfortable wins at Penn State and vs. Minnesota, extending their winning streak to 10 games.
4

Gonzaga

28-1

1




Last Week: 3

221
The Bulldogs got a scare from Saint Mary's but rallied with a huge second half -- outscoring the Gaels by 21 points -- to clinch the West Coast Conference outright.
5

Duke

24-3

--




Last Week: 5

220
The Blue Devils survived an overtime thriller vs. North Carolina and then routed Clemson. Freshman star Jahlil Okafor injured his ankle against the Tar Heels and sat out the Clemson win.
6

Villanova

25-2

--




Last Week: 6

198
Led by 17 points from Darrun Hilliard III and 16 points from Ryan Arcidiacono, the Wildcats topped Marquette on the road. Nova leads the Big East by 2.5 games.
7

Arizona

24-3

--




Last Week: 7

194
Arizona won home games vs. USC and UCLA by a combined 40 points. Per ESPN Stats & Info, the Wildcats outscored the Bruins 16-0 on second-chance points.
8

Notre Dame

24-4

2




Last Week: 10

167
The Fighting Irish cruised to wins over Wake Forest and at Boston College. They shot 66 percent from the field in their 17-point victory over the Eagles.
9

Northern Iowa

26-2

2




Last Week: 11

155
The Panthers extended their winning streak to 14 games with routs of Loyola (Illinois) on the road and Bradley at home. UNI is tied with Wichita State atop the Missouri Valley conference standings.
10

Kansas

22-6

1




Last Week: 9

152
The Jayhawks had the inside track on another Big 12 title ... until an upset loss at Kansas State made the road to the championship a little more difficult.
11

Iowa State

20-6

2




Last Week: 13

147
The Cyclones picked up two huge wins at Oklahoma State and vs. Texas and now sit just one game back of Kansas in the Big 12.
12

Wichita State

25-3

2




Last Week: 14

143
The Shockers kept winning -- victories at Southern Illinois and vs. Evansville -- setting up a potential conference-deciding finale at home vs. Northern Iowa on Feb. 28.
13

Utah

21-5

5




Last Week: 8

142
The Utes won a low-scoring affair at Oregon State but then lost at on-the-bubble Oregon, falling a game behind Arizona in the Pac-12 race.
14

North Carolina

19-8

2




Last Week: 16

114
The Tar Heels lost a heartbreaker in overtime at Duke -- they led by 10 with less than four minutes left in regulation -- and then routed Georgia Tech.
15

Oklahoma

19-8

--




Last Week: 15

109
The Sooners survived two upset bids -- at home vs. Texas and at Texas Tech in overtime. They have games at Iowa State and vs. Kansas still to play.
16

Baylor

20-7

3




Last Week: 19

81
After losing two games in a row, the Bears have now won consecutive games. They beat Texas Tech on the road and Kansas State at home.
17

Louisville

22-6

5




Last Week: 12

79
The Cardinals looked to be in trouble in their first game without Chris Jones, who was kicked off the team. But Louisville stormed back to beat Georgia Tech.
18

Maryland

22-5

--




Last Week: 18

78
Led by Melo Trimble's 26 points, the Terrapins defeated Nebraska at home. Their next test? A home game against Big Ten-leading Wisconsin.
19

Arkansas

22-5

1




Last Week: 20

76
The Razorbacks just keep winning, this time vs. Missouri and at Mississippi State. Could Arkansas be the team to take down unbeaten Kentucky? Its chance comes on Feb. 28.
20

West Virginia

21-6

1




Last Week: 21

69
The Mountaineers picked up two key victories over ranked teams, winning vs. Kansas and at Oklahoma State. WVU plays those teams again to close the regular season.
21

SMU

22-5

1




Last Week: 22

53
The Mustangs snapped Temple's seven-game winning streak, beating the Owls in Dallas. SMU has won 12 of its past 13 games.
22

VCU

21-6

3




Last Week: 25

32
The Rams picked up home wins vs. Saint Louis and Massachusetts. They're tied with Rhode Island atop the Atlantic 10 conference.
23

Butler

19-8

6




Last Week: 17

31
The Bulldogs were shockingly blown out at Xavier over the weekend, shooting just 24 percent from the field in the first half (35 percent for the game).
24

San Diego State

22-6

2




Last Week: NR

23
The Aztecs added two double-digit road wins to their résumé -- New Mexico and San Jose State -- and now lead the Mountain West conference by 1.5 games.
25

Michigan State

19-8

1




Last Week: NR

21
Remember when Michigan State was counted out early in the season? Well, those days appear to be behind us.
Others receiving votes: Georgetown (16), Providence (6), Ohio State (5), Purdue (4), Murray St (3), Texas A&M (2), Oklahoma St (2)