ESPN.com Power Rankings: Feb. 9
Updated:
February 9, 2016, 12:10 PM ET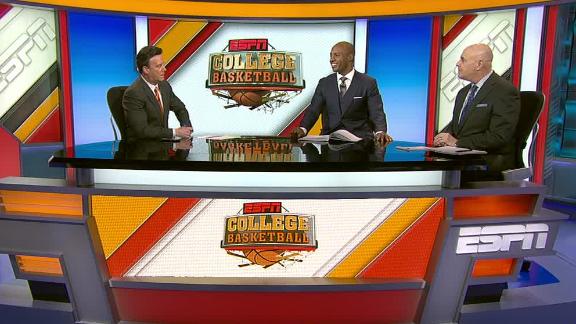 Which teams are rising up the Power Rankings?
Jay Williams and Seth Greenberg discuss their teams on the rise, with Greenberg giving Dayton a shot to make a Final Four run while Williams likes Oregon.
Which teams are rising up the Power Rankings?
NEXT VIDEO
See if this sounds familiar: There is a new No. 1!
The revolving door spun again, and this time it's Villanova standing in the lead. Was it a clear choice? No, not at all.
Oklahoma got a few first-place votes. So did Maryland. Iowa got one, too.
Will this hold for more than a week?
Voters: Eamonn Brennan (ESPN.com), C.L. Brown (ESPN), Sean Farnham (ESPN), John Gasaway (ESPN Insider), Jeff Goodman (ESPN Insider), Seth Greenberg (ESPN analyst), Andy Katz (ESPN.com), Joe Lunardi (ESPN), Myron Medcalf (ESPN.com), Dana O'Neil (ESPN.com).
College Basketball Power Rankings - Week 14
RANK
TEAM / RECORD
TRENDING
PTS
COMMENT
1

Villanova

20-3

1




Last Week: 2

244
It's the Wildcats' turn at the top. If Villanova wants to stay there, it'll be the defense that keeps doing it. The Wildcats are seventh in the nation, allowing 61.0 points per game.
2

Oklahoma

20-3

1




Last Week: 1

235
Buddy Hield rescued the Sooners on Monday night. He scored OU's final 12 points, including the deciding 3-pointer in the closing seconds to down Texas at home.
3

Maryland

21-3

1




Last Week: 4

230
The Terrapins have won four straight, but none have come easy. Three came by six or fewer points and the fourth, an 11-point win over Purdue, came after the Terps trailed with 6 minutes left.
4

Iowa

19-4

1




Last Week: 5

223
The Hawkeyes bounced back from their loss against Maryland by winning their past three games by an average of 16.7 points.
5

Xavier

21-2

1




Last Week: 6

200
James Farr's numbers this season have jumped across the board. He has improved in points (10.3 from 4.2), FG percentage (55.6 from 42.7), FT percentage (79.0 from 46.9) and rebounds (8.3 from 5.3).
6

UVA

19-4

3




Last Week: 9

198
Remember when the Cavaliers seemed somewhat lost after having dropped three of four? Well, they've won six in a row and are one game behind North Carolina in the ACC.
7

Kansas

19-4

--




Last Week: 7

182
Is this the year someone other than the Jayhawks walk away with the Big 12 title? They trail West Virginia and are among six teams within two games of the top spot.
8

Michigan State

20-4

2




Last Week: 10

179
In his past four games, Bryn Forbes is 21-for-31 from 3-point range. His three before that? He was 3-for-15.
8

UNC

19-4

5




Last Week: 3

179
The Tar Heels have lost two in a row. In their latest loss, a Saturday defeat at Notre Dame, they forced just two -- two! -- turnovers.
10

West Virginia

19-4

4




Last Week: 14

170
The Mountaineers are also in the mix in the Big 12. If they have any hopes of winning the conference, Tuesday's tilt at Kansas is a big one.
11

Oregon

20-4

4




Last Week: 15

154
The Ducks keep climbing. Six consecutive wins, four of which came by double figures, will do that.
12

Miami (FL)

18-4

4




Last Week: 16

121
Sheldon McClellan has been spot-on from the field. Over his past two games, he has missed a total of three times. Both games -- against Georgia Tech and Notre Dame -- were Miami wins.
13

Iowa State

17-6

2




Last Week: 11

119
The Cyclones will have to adjust without Jameel McKay, who was suspended by coach Steve Prohm. McKay is the team's leading rebounder.
14

Louisville

19-5

1




Last Week: 13

109
It has been a tumultuous week for Louisville, which banned itself from the postseason. The Cardinals routed Boston College after the announcement, then fell at Duke.
15

Texas A&M

18-5

7




Last Week: 8

98
After rolling through the early part of the SEC schedule, the Aggies have hit hard times, losing three of four, including a 17-point loss at Vanderbilt.
16

Dayton

19-3

8




Last Week: 24

86
The Flyers keep rattling off wins. The streak stands at seven in a row. Two of the past three have come by more than 30 points.
17

Purdue

19-5

3




Last Week: 20

76
The Boilermakers faded late against Maryland despite 18 points and 10 rebounds from A.J. Hammons. He went for 32 and 10 the game before in a win over Nebraska.
18

Arizona

19-5

5




Last Week: 23

69
The Wildcats won't go away in the Pac-12. After losing two in a row, they've rattled off three straight wins. Ryan Anderson scored 31 and 22 points in the past two.
19

SMU

20-2

2




Last Week: 21

68
How much of a mismatch was it against South Florida? Well, the Mustangs shot 60.3 percent from the field, shot 58.3 percent from 3 and had 27 assists to the Bulls' 10 in a 92-58 win.
20

Kentucky

17-6

3




Last Week: 17

46
Jamal Murray made sure the Wildcats wouldn't lose a third straight game. He scored 35 points -- he made 8 3s -- in a 19-point win over Florida.
21

Texas

16-8

4




Last Week: 25

44
The Longhorns entered Monday having won four in a row and nearly made it five by taking Oklahoma to the wire. Life in the Big 12 doesn't get easier: Iowa State, West Virginia and Baylor are next.
22

Baylor

17-6

3




Last Week: 19

37
The Bears have lost two in a row and three of five in the Big 12. Rico Gathers went 1-for-9 in the loss to West Virginia.
23

USC

18-5

3




Last Week: NR

31
The Trojans drilled UCLA, winning by 19 on Thursday. Elijah Stewart came off the bench to contribute 16 points and six rebounds.
24

Providence

18-6

12




Last Week: 12

28
The Friars have lost three of four -- granted, two of those came against Xavier and Villanova. Kris Dunn is 9-for-35 in his past two games.
24

Notre Dame

17-7

2




Last Week: NR

28
The Fighting Irish knocked off North Carolina, then followed up by dropping Clemson. Saturday they get Louisville at home, then head out for three straight road games.
Others receiving votes: Wichita St (18), Indiana (17), South Carolina (11), Seton Hall (11), Temple (9), Duke (8), San Diego State (7), LSU (6), VCU (5), Saint Mary's (3), Connecticut (1)

Find Tickets:
Season tickets or single game tickets, all the best seats are here.