ESPN.com Power Rankings: March 3
Updated:
March 3, 2015, 10:19 AM ET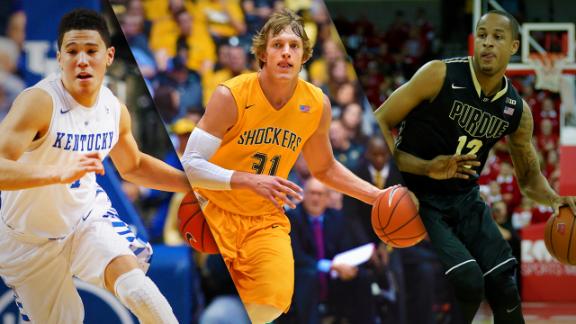 Most Improved Teams In College Hoops
Andy Katz and Seth Greenberg discuss the teams that have made the most drastic improvement this season in college basketball.
Most Improved Teams In College Hoops
NEXT VIDEO
It must be March, because there's big movement happening across college basketball.
OK, maybe not at the very top, since Kentucky and Virginia refuse to move. But look past them and see all the shuffling. Duke, Villanova and Arizona jumped up a bit, while Wisconsin and Gonzaga slipped a few notches thanks to losses.
This is the final week of the regular season in the major conferences -- and conference tournament time for some of the little guys -- so expect more drama.
Voters: Eamonn Brennan (ESPN.com), C.L. Brown (ESPN), Sean Farnham (ESPN), John Gasaway (ESPN Insider), Jeff Goodman (ESPN Insider), Seth Greenberg (ESPN analyst), Andy Katz (ESPN.com), Joe Lunardi (ESPN), Myron Medcalf (ESPN.com), Dana O'Neil (ESPN.com)
College Basketball Power Rankings - Week 17
RANK
TEAM / RECORD
TRENDING
PTS
COMMENT
1

Kentucky

29-0

--




Last Week: 1

250
The Wildcats remain undefeated after wins at Mississippi State and vs. Arkansas. Kentucky clinched the SEC title outright with its win over the Razorbacks.
2

Virginia

28-1

--




Last Week: 2

238
The Cavaliers started slowly -- very slowly -- against Syracuse before rallying for a road win Monday night at the Carrier Dome.
3

Duke

26-3

2




Last Week: 5

224
The Blue Devils survived in overtime at Virginia Tech and beat Syracuse at home, bringing their winning streak to nine games. Duke ends the regular season with a matchup at North Carolina.
4

Villanova

27-2

2




Last Week: 6

217
The Surging Wildcats blew out Providence at home and then rallied to win comfortably at Xavier, extending their winning streak to 10 games.
5

Arizona

26-3

2




Last Week: 7

213
Boosted by a balanced scoring attack, the Wildcats picked up two big road wins. Arizona routed Colorado and then topped Utah. Freshman Stanley Johnson had 12 points and 11 rebounds vs. the Utes.
6

Wisconsin

26-3

3




Last Week: 3

208
The Badgers lost at Maryland -- scoring just 20 points in the first half -- but rebounded with a home win vs. Michigan State. With the win, Wisconsin clinched a share of the Big Ten title.
7

Gonzaga

29-2

3




Last Week: 4

190
After routing San Diego, the Bulldogs were stunned at home vs. BYU, ending their 22-game winning streak. They had also won 41 straight home games.
8

Kansas

23-6

2




Last Week: 10

173
The Jayhawks have at least a piece of their 12th consecutive Big 12 title. Now, can Kansas get its hands on the title outright?
9

Wichita State

27-3

3




Last Week: 12

162
The Shockers defeated Indiana State and then downed Northern Iowa, clinching the Missouri Valley Conference regular-season title for the second consecutive season.
10

Maryland

24-5

8




Last Week: 18

142
Dez Wells scored 26 points as the Terrapins upset Wisconsin at home. Maryland also dropped Michigan, bringing its winning streak to five games.
10

Utah

22-6

3




Last Week: 13

142
The Utes rolled Arizona State -- by 42 points -- at home but lost their showdown vs. Arizona, which could have tied them atop the Pac-12 with the Wildcats.
12

Northern Iowa

27-3

3




Last Week: 9

129
The Panthers beat Evansville at home then lost their showdown at Wichita State, which allowed the Shockers to win the Missouri Valley Conference regular-season title.
12

Iowa State

21-8

1




Last Week: 11

129
Oh, that Hilton magic. Iowa State was in big trouble against Oklahoma -- down 20 in the second half -- but the Cyclones stormed back for a huge win.
14

Notre Dame

24-5

6




Last Week: 8

128
Despite 13 points and 15 rebounds from Pat Connaughton, the Fighting Irish lost at home to Syracuse. Because of UNC's loss to NC State, Notre Dame clinched a double bye in the ACC tournament.
15

Oklahoma

20-9

--




Last Week: 15

113
Oklahoma entered its game with Iowa State still holding hopes for an outright Big 12 title. The Sooners looked good with a big lead in the second half -- then collapsed.
16

Baylor

22-8

--




Last Week: 16

103
Baylor had a chance for a road win against Texas, but the Bears couldn't finish and suffered a tough loss.
17

Louisville

23-6

--




Last Week: 17

100
After losing three of four, the Cardinals have now won three straight. Louisville dominated Florida State on the road, winning by 22 points.
18

North Carolina

20-9

4




Last Week: 14

75
The inconsistent Tar Heels scored just 46 points in a home loss to NC State. UNC rebounded with a win at on-the-bubble Miami (Fla.) in which Brice Johnson scored 22 points.
19

West Virginia

22-7

1




Last Week: 20

66
The Mountaineers went 1-1 last week, beating fading Texas at home and losing to surging Baylor on the road. Freshman Jevon Carter scored 25 points in the loss at Baylor.
20

Arkansas

23-6

1




Last Week: 19

61
The Razorbacks' seven-game winning streak came to an end with a loss at top-ranked Kentucky. Arkansas shot just 37.5 percent from the field vs. the Wildcats.
21

Butler

21-8

2




Last Week: 23

57
The Bulldogs had double-digit wins vs. Marquette and at DePaul. Kellen Dunham averaged 23 points in the two victories.
22

SMU

23-6

1




Last Week: 21

31
The Mustangs won at Memphis but lost at Connecticut, surrendering the lead in the American to Tulsa. With a home game vs. the Golden Hurricane remaining, SMU could still win the regular-season crown.
23

Ohio State

21-8

3




Last Week: NR

26
The Buckeyes won two home games last week, routing Nebraska and topping Purdue. Freshman D'Angelo Russell had 28 points vs. the Boilermakers.
24

Providence

20-9

2




Last Week: NR

23
Despite 18 points from Tyler Harris, the Friars were blown out by Villanova on the road. Providence rebounded by winning at home vs. Marquette.
25

Boise State

22-7

NEW




Last Week: NR

11
The Broncos have responded from January's four-game losing streak to win 12 of 13.
25

Georgetown

18-9

1




Last Week: NR

11
The Hoyas stumbled against St. John's but have a chance to rebound against ranked Butler on Tuesday night.
Others receiving votes: Dayton (10), Murray St (8), Virginia Commonwealth (7), BYU (1), Davidson (1), St. John's (1)