ESPN.com Power Rankings: Jan. 26
Updated:
January 26, 2016, 10:44 AM ET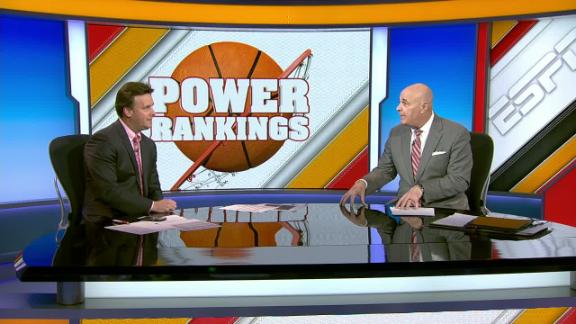 Indiana, Providence moving up the power rankings
Seth Greenberg explains why Indiana and Providence are on the rise in college basketball and why USC is on the decline.
Indiana, Providence moving up the power rankings
Our voters had a few decisions to make. They weren't easy.
Penalize Oklahoma for losing at Iowa State or reward it for winning at Baylor and keep the Sooners as the No. 1 team? It wasn't like there wasn't an adequate alternative; North Carolina, after all, has won 11 in a row and stands undefeated in the ACC.
But Oklahoma plays in the rough-and-tumble Big 12, and that loss at Iowa State -- yes, that Hilton Magic -- was only by two points. Did the Sooners really deserve to be held out of the top spot for that?
It was close. Really close. But Oklahoma rides another week.
Voters: Eamonn Brennan (ESPN.com), C.L. Brown (ESPN), Sean Farnham (ESPN), John Gasaway (ESPN Insider), Jeff Goodman (ESPN Insider), Seth Greenberg (ESPN analyst), Andy Katz (ESPN.com), Joe Lunardi (ESPN), Myron Medcalf (ESPN.com), Dana O'Neil (ESPN.com).
College Basketball Power Rankings - Week 12
RANK
TEAM / RECORD
TRENDING
PTS
COMMENT
1

Oklahoma

16-2

2




Last Week: 3

247
Sure, the Sooners lost. But it was at Iowa State, and Oklahoma isn't the first -- and won't be the last -- to fall there. Ask Kansas. Plus, Oklahoma bounced back by beating Baylor on the road.
2

UNC

18-2

1




Last Week: 1

243
The Tar Heels haven't lost since Dec. 12. Brice Johnson has been tough to stop. In North Carolina's victory over Virginia Tech, Johnson had 19 points and 17 rebounds.
3

Iowa

16-3

5




Last Week: 8

228
The Hawkeyes keep climbing. Nine consecutive wins will do that. But a showdown at Maryland looms Thursday night.
4

Texas A&M

17-2

6




Last Week: 10

211
An SEC team in the top five? Has to be Kentucky, right? Nope. Try an Aggies team that has won 10 straight and ranks fifth in the nation in assists.
5

Villanova

17-3

1




Last Week: 4

210
The Wildcats finally stumbled in the Big East, losing over the weekend against Providence. Still, Villanova is a game clear of the field.
6

Xavier

17-2

1




Last Week: 5

188
The Musketeers bounced back from their loss against Georgetown by getting 24 points and 15 rebounds from James Farr against Seton Hall. Farr hadn't scored 20 all season.
7

Maryland

17-3

--




Last Week: 7

186
The Terrapins had issues at Michigan State, losing mostly because they were outrebounded 46-36 by the Spartans.
8

Kansas

16-4

6




Last Week: 2

164
The Jayhawks played sloppy against Iowa State and were outscored 49-29 in the second half.
9

West Virginia

16-3

3




Last Week: 6

162
After rattling off eight consecutive wins, the Mountaineers dropped two straight -- at Oklahoma and versus Texas -- before dropping Texas Tech.
10

Providence

17-3

8




Last Week: 18

152
How good was Ben Bentil in Providence's victory over Villanova? He went for 31 points and 13 rebounds.
11

Iowa State

16-4

1




Last Week: 12

149
The Cyclones knocked off the No. 1 team (Oklahoma) and the No. 4 team (Kansas) in a seven-day stretch.
12

Miami (FL)

16-3

3




Last Week: 15

146
Miami stymied Duke, notching the Hurricanes' third win over a ranked team this season.
13

Michigan State

17-4

2




Last Week: 11

141
The Spartans stopped their three-game slide by beating Maryland. Bryn Forbes stole the show with 25 points.
14

UVA

15-4

3




Last Week: 17

132
After four losses in five games, the Cavaliers seem to have settled down with back-to-back wins over Clemson and Syracuse.
15

Louisville

16-3

1




Last Week: 14

115
The Cardinals needed help to sneak past Georgia Tech, and they got it from Anas Mahmoud, who came off the bench to score 15 points -- the first time he's been in double figures all season.
16

SMU

18-1

7




Last Week: 9

102
The chase for the perfect season is over. The Mustangs stumbled at Temple after having to wait an extra day to play thanks to the East Coast weather.
17

Baylor

15-4

4




Last Week: 13

84
The Bears limited Oklahoma to just 19 rebounds but were undone by the 16 3s they afforded the Sooners.
18

Indiana

17-3

4




Last Week: 22

78
The Hoosiers' resurgence continues. Left for dead in December, Indiana has strung 12 consecutive wins together.
19

Kentucky

15-4

6




Last Week: 25

58
This will be an interesting week for the Wildcats, who face Missouri on Wednesday before venturing out of conference for a Big 12/SEC Challenge showdown at Kansas on Saturday.
20

Oregon

16-4

6




Last Week: NR

48
The Ducks are tied atop the Pac-12 along with Washington. This week presents the Arizona swing, with games against Arizona and Arizona State.
21

Wichita State

14-5

5




Last Week: NR

45
The Shockers have won nine in a row, and the past five weren't even close. They won those five by an average of 20.8 points.
22

Purdue

17-4

3




Last Week: 19

42
The Boilermakers suffered a second loss this season against Iowa, this time giving up 50 points in the second half in a 12-point loss.
22

Arizona

16-4

6




Last Week: 16

42
The Wildcats will try again for coach Sean Miller's 300th career win after failing against Cal. The Bears got a season-high 28 off the bench from Jordan Mathews.
24

Notre Dame

14-5

NEW




Last Week: NR

18
The Irish are within shouting distance in the ACC thanks to four consecutive wins. But Notre Dame will be without leading scorer Demetrius Jackson this week against Syracuse because of an injured right hamstring.
25

Saint Mary's

17-2

1




Last Week: NR

13
Could the Gaels be the team that dethrones Gonzaga in the WCC? At 7-1 in the league, Saint Mary's has a good chance.
Others receiving votes: Dayton (11), USC (7), Utah (6), Butler (6), Texas (4), South Carolina (3), Michigan (3), Pittsburgh (2), VCU (2), Duke (1), California (1)

Find Tickets:
Season tickets or single game tickets, all the best seats are here.