ESPN.com Power Rankings: Jan. 12
Updated:
January 12, 2016, 10:52 AM ET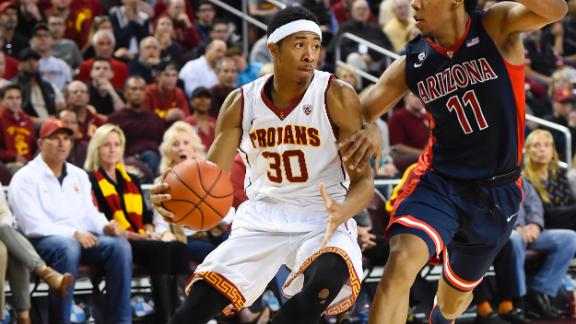 USC, South Carolina trending up in power rankings
Andy Katz and Seth Greenberg take a look at the rising stock of USC and South Carolina.
USC, South Carolina trending up in power rankings
SMU can't play in the postseason. The Mustangs are banned from their conference tournament and the NCAA tournament. So it's OK to ignore them, right?
Not when they are 15-0. Not when they take care of Cincinnati to keep that record unblemished. Not when you look at the schedule and wonder when (or if) that loss will come.
The Mustangs moved up in the rankings. And they aren't done yet, even if their season will be done earlier than they'd like.
Voters: Eamonn Brennan (ESPN.com), C.L. Brown (ESPN), Sean Farnham (ESPN), John Gasaway (ESPN Insider), Jeff Goodman (ESPN Insider), Seth Greenberg (ESPN analyst), Andy Katz (ESPN.com), Joe Lunardi (ESPN), Myron Medcalf (ESPN.com), Dana O'Neil (ESPN.com).
College Basketball Power Rankings - Week 10
RANK
TEAM / RECORD
TRENDING
PTS
COMMENT
1

Kansas

14-1

--




Last Week: 1

250
After winning a thriller over Oklahoma and getting past Texas Tech, a road test against West Virginia comes Tuesday. No rest in the Big 12.
2

Oklahoma

13-1

--




Last Week: 2

240
Buddy Hield's past four games: 34, 22, 46 and 31 points. Not a bad run for the senior.
3

Maryland

15-1

--




Last Week: 3

227
The Terrapins nearly squandered a late lead against Wisconsin, but Melo Trimble's deep 3 lifted Maryland to a road win.
4

Michigan State

16-1

--




Last Week: 4

221
The Spartans survived not having Denzel Valentine, losing just once. Now their star is back.
5

UNC

15-2

--




Last Week: 5

211
The Tar Heels look more and more comfortable, having won eight in a row, the last against Syracuse in Jim Boeheim's return to the sideline.
6

Villanova

14-2

2




Last Week: 8

197
The Wildcats already have wins against two of the upper-crust teams in the Big East; they've already beaten Xavier and Butler. The showdown with Providence comes Jan. 23.
7

Xavier

14-1

2




Last Week: 9

184
After losing its Big East opener, the Musketeers came back with a pair of wins against Butler and at St. John's.
7

Miami (FL)

13-1

4




Last Week: 11

184
Miami opened its ACC schedule with a pair of wins, though both came at home. A road test comes Tuesday night against Virginia.
9

Duke

14-2

5




Last Week: 14

163
It's hard to slow down Duke on offense. The Blue Devils are putting up 88.1 points per game, good for fourth in the nation.
10

SMU

15-0

5




Last Week: 15

160
The uncomfortable situation continues. SMU is banned from the postseason, but the Mustangs remain unbeaten. Who can stop them? Will anyone?
11

West Virginia

14-1

6




Last Week: 17

146
The Mountaineers' lone loss was an early one against Virginia. Now comes a chance for a statement win, with top-ranked Kansas coming to town.
12

Providence

14-2

5




Last Week: 7

133
The Friars' defense disappeared against Marquette, allowing the Golden Eagles to shoot 51.2 percent in a 65-64 loss.
13

Iowa

12-3

5




Last Week: 18

116
Iowa has already beaten Michigan State once. Can the Hawkeyes do it again? A little more than two weeks after the first one, Iowa will try again Thursday.
14

Texas A&M

13-2

7




Last Week: 21

112
The Aggies, along with South Carolina, sit unbeaten in the SEC. And they've won some close ones to do it -- the past two wins are by a combined five points.
15

Kentucky

12-3

5




Last Week: 10

106
The Wildcats have some flaws, which were on display in an ugly road loss against LSU. Skal Labissiere has scored more than 3 points once in the past six games.
15

UVA

12-3

3




Last Week: 12

106
The Cavaliers have stumbled out of the ACC gate, losing two straight to fall to 1-2 in the conference. Now comes a big home game against Miami.
17

Iowa State

12-3

4




Last Week: 13

92
The Cyclones have lost two of three and three of six. Iowa State is 229th in the nation in scoring defense, allowing 73.7 points per game.
18

South Carolina

15-0

4




Last Week: 22

81
An unlikely unbeaten, the Gamecocks go on the road to face Missouri. Sindarius Thornwell is averaging 19.7 points over his past three games.
19

Pitt

14-1

5




Last Week: 24

70
The Panthers are 10th in the nation in scoring, thanks mainly to the fact that they are fourth in the nation in assists.
20

Baylor

12-3

NEW




Last Week: NR

54
After being drilled by Kansas in their Big 12 opener, Baylor rebounded with wins over Oklahoma State and at Iowa State.
21

Arizona

13-3

15




Last Week: 6

44
Arizona has fallen on hard times after an eight-game winning streak. The Wildcats have lost back-to-back games, at UCLA and a four-overtime heartbreaker at USC.
22

Louisville

13-3

6




Last Week: 16

39
The Cardinals owned Clemson on the glass (53-31) but still lost the game on Sunday for the first ACC loss.
23

Butler

12-4

4




Last Week: 19

31
Butler has lost three of four, but keep this in mind: The three losses came against Providence, Xavier and Villanova, all ranked in the top 12 at the times the Bulldogs faced them.
24

Purdue

14-3

4




Last Week: 20

29
The losses against Iowa and Butler are understandable. The one over the weekend against 9-8 Illinois is not.
25

USC

14-3

1




Last Week: NR

18
It might be time to take notice of Andy Enfield's team. The Trojans are 3-1 in the Pac-12 after that four-OT thriller against Arizona.
Others receiving votes: Connecticut (8), Indiana (6), UCLA (5), Gonzaga (4), Oregon (3), Oregon State (3), Clemson (3), Houston (2), Michigan (1), Dayton (1)

Find Tickets:
Season tickets or single game tickets, all the best seats are here.