ESPN.com Power Rankings: Jan. 19
Updated:
January 19, 2016, 11:49 PM ET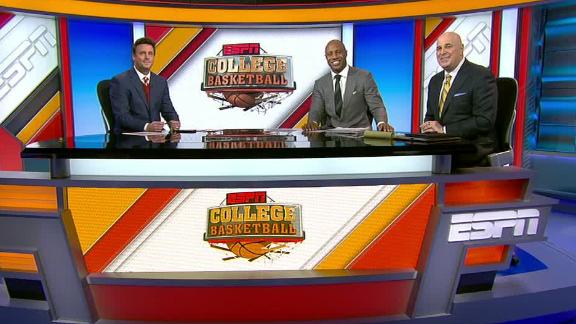 West Virginia, Iowa rise up power rankings
Karl Ravech, Jay Williams and Seth Greenberg discuss why West Virginia and Iowa are rising and why Providence and Virginia are trending down in their power rankings.
West Virginia, Iowa rise up power rankings
Something seems off about this installment of Power Rankings. Could it be that there's a new No. 1? Nope. That isn't anything new in this wild and wacky season. It's your turn, North Carolina.
Could it be that Kentucky is all the way down at No. 25? Well, that does seem odd, but that's not it, either.
Hang on ... where's Duke? Yes, that's it. The Blue Devils, off three consecutive losses, are gone. And they didn't just miss. It wasn't like they were next in the voting. That was Clemson. And then Wichita State. And then Duke.
Voters: Eamonn Brennan (ESPN.com), C.L. Brown (ESPN), Sean Farnham (ESPN), John Gasaway (ESPN Insider), Jeff Goodman (ESPN Insider), Seth Greenberg (ESPN analyst), Andy Katz (ESPN.com), Joe Lunardi (ESPN), Myron Medcalf (ESPN.com), Dana O'Neil (ESPN.com).
College Basketball Power Rankings - Week 11
RANK
TEAM / RECORD
TRENDING
PTS
COMMENT
1

UNC

16-2

4




Last Week: 5

243
The Tar Heels have rattled off nine straight wins. Can North Carolina survive the week and remain No. 1? It's been a hard task.
2

Kansas

15-2

1




Last Week: 1

235
The Jayhawks were the last No. 1 (before Oklahoma) to fall. Despite holding West Virginia to 33 percent shooting, the Jayhawks still lost.
3

Oklahoma

15-2

1




Last Week: 2

231
The Sooners learned that being No. 1 isn't all that it's cracked up to be. Hours after moving to the top of the AP poll, the Sooners lost at Iowa State.
4

Villanova

16-2

2




Last Week: 6

228
As others in the Big East have cracked (Providence, Butler), the Wildcats have stayed solid, standing 6-0 in the league.
5

Xavier

16-1

2




Last Week: 7

199
The Musketeers are the one team keeping Villanova in sight. Xavier is the only Big East team with one league loss. That, of course, came against Villanova.
6

West Virginia

15-2

5




Last Week: 11

198
The Mountaineers nearly pulled the double. First, they beat No. 1 Kansas, then nearly dropped No. 2 Oklahoma four days later.
7

Maryland

16-2

4




Last Week: 3

192
The Terrapins followed a road loss against unranked Michigan by dropping 100 points on Ohio State in a 35-point win.
8

Iowa

14-3

5




Last Week: 13

184
The Hawkeyes completed the season sweep of Michigan State on Thursday, then dropped Michigan to run their winning streak to seven games.
9

SMU

17-0

1




Last Week: 10

172
The Mustangs are the nation's lone unbeaten team. Houston and Temple get their shot this week to hand SMU its first loss.
10

Texas A&M

15-2

4




Last Week: 14

162
The lone unbeaten in SEC play? Kentucky? Nope. Ben Simmons and LSU? Nope. Florida or South Carolina? Nope. It's the Aggies.
11

Michigan State

16-3

7




Last Week: 4

142
The Spartans are coming off consecutive losses, getting drubbed at home by Iowa and then losing a nail-biter at Wisconsin.
12

Iowa State

14-4

5




Last Week: 17

117
The Cyclones needed a big win. And did they ever get one, beating No. 1 Oklahoma at home behind 22 from Georges Niang.
13

Baylor

14-3

7




Last Week: 20

113
The Bears aren't afraid to pass things around. Baylor leads the nation in assists, averaging 21.0 per game.
14

Louisville

14-3

8




Last Week: 22

110
The Cardinals locked in against Pittsburgh, limiting the Panthers to 41 points on 28.6 percent shooting.
15

Miami (FL)

13-3

8




Last Week: 7

106
The Hurricanes are struggling, having lost two in a row. Could their next outing be a get-well game? On deck is Boston College, which has lost four in a row.
16

Arizona

15-3

5




Last Week: 21

101
The Wildcats followed up back-to-back losses by beating Washington and Washington State by an average of 28 points.
17

UVA

13-4

2




Last Week: 15

83
The Cavaliers appear lost, having dropped three of four. All three losses came on the road: at Virginia Tech, Georgia Tech and Florida State.
18

Providence

15-3

6




Last Week: 12

82
The loss at Marquette was understandable; Henry Ellenson and Co. are going to cause a lot of teams trouble. The one against Seton Hall? Not as easily explained.
19

Purdue

16-3

5




Last Week: 24

63
If the Boilermakers needed a feel-good game, they got it against Rutgers. Purdue won by 50. Yes, 50.
20

USC

15-3

5




Last Week: 25

58
The Trojans have opened the Pac-12 season by going 4-1 and stand tied with Washington in first place.
21

Butler

13-4

2




Last Week: 23

40
The Bulldogs, once considered among the elite in the Big East, are now seventh. The upside? There's still plenty of time left.
22

Indiana

15-3

4




Last Week: NR

39
Since losing by 20 against Duke on Dec. 2, the Hoosiers have strung together 10 consceutive wins. Along with Iowa they are the Big Ten's only unbeatens.
23

Pitt

15-2

4




Last Week: 19

36
The Panthers are averaging 82.6 points per game, which makes the 41 they scored against Louisville stand out so much more.
24

South Carolina

16-1

6




Last Week: 18

34
The Gamecocks finally fell, with their season-opening winning streak stopping at 15 with a 23-point loss at Alabama.
25

Kentucky

13-4

10




Last Week: 15

25
The Wildcats' issues continue. So, too, do the struggles of freshman Skal Labissiere. He hasn't scored in double figures since Dec. 9.
Others receiving votes: Clemson (20), Wichita St (16), Duke (12), Oregon (4), LSU (3), Valparaiso (1), Saint Mary's (1)

Find Tickets:
Season tickets or single game tickets, all the best seats are here.