UK: Steve Masiello didn't graduate
Manhattan coach Steve Masiello never graduated from the University of Kentucky, as is indicated on his résumé, and his providing the false information eliminated him from getting the South Florida job.
[+] Enlarge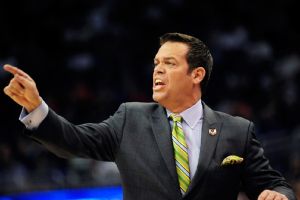 David Manning/USA TODAY SportsSources say USF rescinded a five-year offer to Manhattan's Steve Masiello after learning the coach lied on his résumé about graduating from Kentucky.
"During the search for a new men's basketball coach, an agreement in principle was reached by USF and candidate Steve Masiello," USF said in a statement released Wednesday. "The agreement was pending a verification of credentials. Through the verification process it was determined the candidate's credentials could not be substantiated and therefore he did not meet the requirements for the position."
On the Manhattan and Louisville official websites (Masiello was an assistant at Louisville from 2005 to 2011 before becoming coach at Manhattan in 2011), it is indicated that he was a 2000 graduate of Kentucky with a degree in communications.
However, Masiello did not graduate, Kentucky spokeswoman Ashley Crossen told ESPN. Masiello attended UK from the fall of 1996 to the summer of 2000 but didn't earn a degree, Crossen said.
Crossen said Masiello contacted Kentucky's registrar's office Tuesday but said that conversation was confidential.
"

If it's accurate, I'm shocked by it. I had no idea. ... He was on track to graduate.

"

-- Louisville coach Rick Pitino, on
Steve Masiello not graduating from UK
Jason Charney, Masiello's agent, declined comment Wednesday. Numerous attempts to reach Masiello have been unsuccessful.
According to the job description posted by USF, the head coaching job "requires a Master's degree in an appropriate area of specialization and six years of coaching experience at the high school level or above; or a bachelor's degree in an appropriate area of specialization and eight years experience at the high school level or above."
Rick Pitino, who coached Masiello as a freshman at Kentucky in 1997 and had him on staff at Louisville, said he was stunned by the news.
"If it's accurate, I'm shocked by it," said Pitino, whose team beat Manhattan in the second round of the NCAA tournament last week. "I had no idea. I left the previous year, and he was on track to graduate."
Louisville athletic director Tom Jurich told ESPN.com he was unaware that Masiello had not graduated from Kentucky.
"I knew Rick was comfortable with him," Jurich said. "He played for Rick, and Rick knew all about his background."
SportsNation: Masiello offer rescinded

Did USF make the right decision rescinding its offer to Steve Masiello? Have you ever lied on a resume? Vote! »
Louisville spokesman Kenny Klein told ESPN.com that when Masiello was hired in 2005, the school conducted criminal background checks, but he wasn't aware if the school verified college degrees. Since 2010, however, Klein said Louisville began more extensive background checks on new hires, which included verifying academic credentials.
Klein said Masiello "would have had opportunity to review the media guide each year and tell us it was wrong." His official bio, which also was posted on the school's website, indicated he graduated from Kentucky.
On Tuesday morning, ESPN's Jeff Goodman reported that Masiello had been offered and verbally accepted a five-year deal worth more than $1 million a year to become USF's coach. However, late Tuesday night, the Tampa Tribune reported USF was forced to kill the deal with Masiello because of a previously undetected discrepancy in his background check.
South Florida also talked to Mercer coach Bob Hoffman before offering the job to Masiello, according to a source. USF said Wednesday that it would continue its national search for a coach.
It isn't clear whether Masiello is eligible to return to Manhattan in the wake of the USF deal falling through. He has a 60-39 record in three seasons with the Jaspers.
ESPN.com's Jeff Goodman contributed to this report.
College football reporter
College football reporter for ESPN
Nominated for Pulitzer Prize in 2010
Graduate of Oklahoma State University
SPONSORED HEADLINES
MORE MEN'S COLLEGE BASKETBALL HEADLINES
MOST SENT STORIES ON ESPN.COM
2014 NCAA TOURNAMENT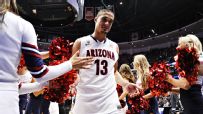 Of the 68 teams that started the Big Dance, 16 remain. Which will end up in Arlington, Texas?
COMMENTARY
WHAT'S NEXT
VIDEO
EDITORS' PICKS
Virginia's tough stretch starts with Duke.
Weekend Homework »

North Carolina, Louisville can't afford another ACC loss.
Medcalf »

Bruce Pearl's return to Tennessee should be a surreal event.
Low »