Commentary
What's hot (and not) for 2011-12
Originally Published:
November 7, 2011
By
Dana O'Neil
| ESPN.com
The conferences, if not the stars, have realigned.
Players have left (Kemba and Jimmer) and players have stayed (Harrison and Jared).
We have debated and dissected the teams and the players and the coaches.
Fortunately -- mercifully -- it is actually time to play basketball.
But before we do, here is one last list to ponder: What's hot and what's not for the 2011-12 season?
| HOT | NOT |
| --- | --- |
| Economics: In the spirit of educating the student-athlete, these are some fine times to learn Economics 101. And here is the basic tenet: He with the biggest pocketbook wins. Colleges and universities are chasing the almighty dollar with more gusto than contestants in "The Amazing Race," scrambling over and around one another, leaving acrimony and vitriol in their wake -- all to make sure they are aligned with the proper (read: richest) conference they can find. Out of the grab bag of money, athletes have managed to corral a whopping $2,000 cost of attendance stipend. Funny math lives. | Geography: Now that the astronomy textbooks have been rewritten, erasing Pluto as a planet, time to attack those geography books. The East now stretches to Texas, where the Big East will take its conference in the near future, and the South now stretches Midwest, with the Southeastern Conference aiming for Missouri. Colorado is aligned with the Pacific Ocean and West Virginia somehow has relocated near Lubbock. Or something like that. |
| Big East: The league that brought you 11 NCAA tournament participants last season debuts in 2011-12 with six teams in the Top 25. Even more impressive -- three are in the top 10. When Selection Sunday rolls around, fewer teams may earn a spot in the bracket, but the quality of those awarded will be considerably higher thanks to some programs like Georgetown, Villanova and West Virginia going through some rebuilding. | Big East: The poster child for the flailing farce of conference realignment, the league has been pillaged and become the pillager. The conference will continue, but with every passing reconfiguration, it resembles Conference USA more and more. Not exactly an upwardly mobile development for what is considered the best basketball conference in the country. |
| College basketball: Unlike the throw-a-dart-at-a-dartboard chaos of last season, the game is overloaded with talent. There are great teams, very good teams and good teams, a legit largesse of talent that should make this an incredible season to watch. Even more, there's no NBA (for now) to clog our viewing. College hoops is the only game in town. | NCAA: Now, if only the people who govern the sport could get it together. This, more than any year, has been open season on the governing body in Indianapolis. Attacking the NCAA might seem like shooting fish in a barrel, but the stabs are coming from more than just jaded journalists. Athletes have banded together to demand a slice of the pie, and there is serious discussion about whether amateurism is as antiquated as the two-handed set shot. |
| Old guys: Is this the year of the senior citizen? Jim Calhoun is 69. Roy Williams is 61. Jim Boeheim is 67. Together they account for three of the top five teams in the country. Mix in Mike Krzyzewski (64) and Rick Pitino (59) and you have a nice little AARP meeting in the top 10. Josh Pastner will not be invited. | Hospital visits: This offseason has been marked by some frightening health scares. Steve Lavin is recuperating from prostate cancer surgery, Mike Montgomery revealed recently he had bladder cancer and Billy Kennedy has been diagnosed with Parkinson's disease. Here's wishing them all good health. |
| Sophomores: Second-year players are sort of like half-off iPads -- in other words, impossible to find. Yet in a departure from the typical one-and-done script, players returned to the college game in earnest this season. Four of the five preseason All-Americans were second-year players: Jared Sullinger, Terrence Jones, Harrison Barnes and Jeremy Lamb. Mix in Perry Jones III, Joe Jackson and Will Barton and you have a veritable sophomore smorgasbord. | Seniors: Jordan Taylor, take a bow. You are a collector's item, a guy who has stayed in college for four years and still managed to infiltrate the preseason All-American rankings. This season isn't entirely bereft of seniors. There are some critical upper-most-classmen scattered throughout the top five (Tyler Zeller, Darius Miller, Scoop Jardine and Kris Joseph), but they are becoming harder and harder to find. |
| The Left Coast: That's right. The long-suffering West Coast actually has reason to be optimistic this season. Cal, UCLA and Gonzaga deservedly start the season in the Top 25 and by season's end, Washington and Saint Mary's could elbow their way in, too. Mix in a potential sleeper team at Long Beach State, and East Coasters have plenty of reason to stay up for those late-night tilts. | C-USA: Along with another likely pillaging from the Big East, Conference USA looks very much like a one-bid league. Marshall has the potential to make things interesting but really, this could be little more than a Memphis march to March. |
| Comebacks: Robbie Hummel and Brandon Davies both return to the floor this season, albeit sidelined for completely different reasons. And the game is better for it. Hummel, who endured two ACL tears in 2010 alone, remains one of the classiest players in the game, and although this Purdue team isn't as loaded as the one he should have played on a season ago, Hummel's presence alone ought to elevate Matt Painter's squad. Davies was suspended for a violation of BYU's honor code, a dismissal that was dissected and discussed for weeks but one that Davies accepted and the school stood firm on. Agree or disagree, hard to condemn a university for having principles, especially these days. Davies, like Hummel, doesn't have the same roster he did a year ago -- a guy by the name of Jimmer is gone, for example -- but he will be as critical to the Cougars as Hummel is to the Boilermakers. | Injuries: There is nothing quite so cruel as an injury before the season even has a chance to tip off, and there has been a run of them. From Louisville's Wayne Blackshear (torn labrum) to Vanderbilt's Festus Ezeli (knee), critical players will be starting or spending the season on the sidelines. Perhaps the cruelest twist (pardon the awful pun) goes to Virginia Tech's J.T. Thompson. The fifth-year senior missed all of last year after tearing his left ACL in September during a pickup game, and just last week tore the ACL in his right knee. |
| New faces: Once the proudest basketball league in the land, the ACC had become "Two and a Half Men," with Duke and North Carolina running roughshod over the conference. But in the past two seasons the better part of the league has turned over its coaching staffs, each hoping that new blood will invite new results. There are signs it could be working -- Tony Bennett could be sitting on an NCAA tournament team at Virginia, Brad Brownell has Clemson already above respectable, and Mark Gottfried has recruited talent not seen in ages to NC State. | Old gyms: Nostalgia is out, refurbishing is in. It's an understandable trend. There is money to be made in suites and more concessions, and fans like the shiny and new. Consequently, even The Pit is less of a Pit these days, courtesy of a $60 million renovation, and UCLA will be Pauley-less this year. John Wooden's home is getting a facelift, forcing the Bruins to play most of their games at the old Los Angeles Sports Arena, adjacent to the (gasp!) USC campus. |
| Mid-major conferences: There will be some fierce battles for league supremacy outside of the Big Six, where some stacked teams will try to make a case for two conference bids instead of one. In the Missouri Valley, Creighton, Wichita State and Indiana State are the front-runners, but Kyle Weems at Missouri State makes the Bears relevant too. In the MAAC, a loaded Fairfield team -- with new coach Sydney Johnson -- takes on a talented Iona roster, with Michael Glover and MoMo Jones. And in the Colonial Athletic Association, Final Four darling VCU will have to contend with George Mason and Drexel. And never count out Old Dominion. | Bid hogging: Here's hoping that, come Selection Sunday, some of the aforementioned mid-major conferences will get their due. If the last few seasons have taught us anything, a top-tier mid-major team is more deserving of a spot in the NCAA tournament than a run-of-the-mill BCS winner. The CAA, for example, got three bids a season ago. One lost on a buzzer-beater to Butler, one beat Villanova and one went to the Final Four. The Big East sent 11 teams to the NCAA tournament. Nine were gone by the first weekend. |
| New Orleans: Were I named NCAA tournament czarina, the Final Four would rotate between San Antonio, Indianapolis and New Orleans. And while Bourbon Street will be slightly overserved from March 31 to April 2, it will be stuffed with fans, creating the verve, energy and atmosphere that an event like this deserves. Oh, and there's really good food. Everywhere. | New Orleans: When was the last time the city was relevant in basketball? Tulane hasn't had a winning record in three seasons or been to the NCAA tournament since 1995. The University of New Orleans, done in by Hurricane Katrina, had to shutter its Division I doors. And the city known for its jazz doesn't even have the Jazz. |
Dana O'Neil covers college basketball for ESPN.com and can be reached at espnoneil@live.com. Follow Dana on Twitter: @dgoneil1.
College Basketball
College basketball reporter.
Joined ESPN in 2007.
Graduate of Penn State University.
SPONSORED HEADLINES
MORE MEN'S COLLEGE BASKETBALL HEADLINES
MOST SENT STORIES ON ESPN.COM
COLLEGE BASKETBALL PREVIEW WEEK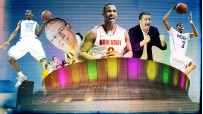 Each day this week, ESPN.com will be providing all the preview material you need to get ready for the new college basketball season. Preview
CONTENT