For some, home really is sweet
Originally Published:
April 25, 2012
By
Jason King
| ESPN.com
When they began their search for a new head basketball coach, administrators at SMU figured the position would be attractive for a handful of reasons.
[+] Enlarge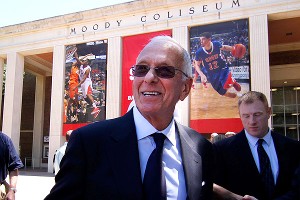 Ray Carlin/Icon SMIAfter several coaches spurned its advances, SMU filled its vacancy with 71-year old Larry Brown.
1. The school's campus is located in the heart of Dallas, and the Dallas-Forth Worth Metroplex is arguably one of the top areas in the country for producing Division I prospects.
2. The Mustangs will leave Conference USA in 2013 and join the Big East.
3. Major facility upgrades have been planned at Moody Coliseum.
4. For the right person, the university was willing to pay more than $2 million.

SMU may not have much tradition in basketball, but the pieces certainly seemed to be in place for success. Still, after spending more than a month interviewing candidates, something became obvious about the Mustangs' vacant head-coaching position.
No one wanted the job.
Not Marquette's Buzz Williams, a Texas native who would've been a perfect fit. Not Long Beach State's Dan Monson or Saint Louis' Rick Majerus, both of whom opted to remain where they were instead of coaching in the Big East. Even Harvard's Tommy Amaker indicated he'd rather stay in the Ivy League instead of taking over in Dallas.
It wasn't until Monday -- when 71-year old Larry Brown came out of retirement to take his first college job in more than 20 years -- that the Mustangs had their man.
"I don't care if I was the second, third or fourth choice," Brown said. "I couldn't be in a better spot in this time in my life than right here.
"Walking around this campus, if we can get a kid to visit here, I can't imagine him going anywhere else."
Indeed, the fact that the Mustangs had to resort to their fifth or sixth option -- sources said parties representing the school also contacted Memphis coach Josh Pastner and recently hired South Carolina coach Frank Martin -- isn't necessarily a negative reflection of the program.
Instead, it's yet another illustration of a growing trend among college coaches, who are showing more reluctance than ever when deciding whether to move from one school to another.
"Guys you'd think would be candidates … you can't even get them to listen to you," said one athletic director recently involved in a coaching search. "So many coaches these days are already well-paid, and prestige and status aren't as big of a deal to them.
"People are just happy where they are. They don't want to leave."
SMU is hardly alone on a list of schools that have had trouble hiring coaches in recent years. Virginia Commonwealth coach Shaka Smart and Butler's Brad Stevens both turned down a $2.6 million offer last month to coach Illinois, which eventually hired Ohio's John Groce.
[+] Enlarge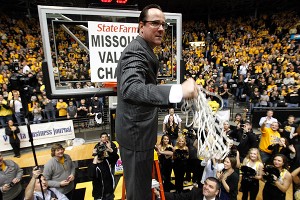 AP Photo/Jeff TuttleGregg Marshall doesn't necessarily believe the grass is greener away from Wichita State.
Valparaiso's Bryce Drew spurned an opportunity to coach at Mississippi State, and Wichita State's Gregg Marshall said "no thanks" when Nebraska showed interest.
Oregon's big bucks and ties to Nike weren't enough to lure Missouri's Mike Anderson or Minnesota's Tubby Smith to Eugene in 2010, so the school went with Creighton's Dana Altman.
And three years before that, it was Altman who left Arkansas after just one day on the job to return to Creighton.
While jumping to a bigger school in a bigger conference once seemed like an easy choice five or six years ago, staying put has now become en vogue.
Marshall, the Wichita State coach, likes to use the phrase "You can't buy happy."
"Every year," Marshall said, "I've got friends who say, 'You're going to get a big job this year. You've got to take the next big job. You can't stay there. You've got to go.' I'm thinking, 'Maybe you would. But I don't know why I would do that.'
"I've got to have some concrete, standout reasons to take another job. In order to even consider it, it's got to be something far better than what I've got here. And even then, I've got to be less content than what I am now."
It's certainly not difficult to understand why Marshall is thrilled about his situation at Wichita State, where he led his team to the Missouri Valley Conference title last spring. According to a list of coaching salaries that appeared in USA Today last month, Marshall makes just under $1.5 million per year to coach the Shockers.
Koch Arena in Wichita, Kan., is filled to capacity for every single game, which creates one of the top home-court advantages in all of college basketball. And instead of flying commercial, Marshall has the use of a charter plane for recruiting trips and other job-related matters.

I could retire here and meet all of my financial and personal goals. There are other people that think, 'OK, in order to have value as a college basketball coach, I've got to coach in a Final Four.' I don't feel that way at all. It's all relative.
-- Wichita State coach Gregg Marshall
"I've got a recruit on campus right now," Marshall said. "I told him, 'I've got a BCS job without a BCS football team.'
"I could retire here and meet all of my financial and personal goals. There are other people that think, 'OK, in order to have value as a college basketball coach, I've got to coach in a Final Four.' I don't feel that way at all. It's all relative."
That's not to say that Marshall -- who has a seven-year rollover contract -- doesn't recognize the importance of the NCAA tournament. He realizes schools from BCS leagues have a much better chance of earning a berth than does a team from a non-power conference.
The Big East, for example, received nine bids in 2012 and 11 one year earlier. The Missouri Valley Conference got two teams in this year and only one the season before.
On the flip side, Marshall feels mid-major schools stand just as good a chance of going on a postseason run and reaching the Final Four as does, say, the sixth-place team from a major conference such as the Big 12 or Big Ten.
Butler and VCU are proof.
The Bulldogs reached the NCAA title game in 2010 and '11. And VCU made the Final Four in 2011.
Because of that, it's no surprise that VCU's Smart and Butler's Stevens are among the first names that pop up whenever a job becomes available in a top-six conference. Both have been content to stay put.
[+] Enlarge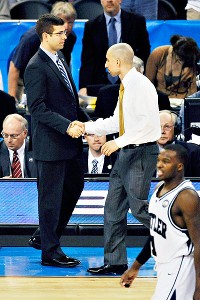 Richard Mackson/US PresswireRecent Final Four appearances have made Butler's Brad Stevens, left, and VCU's Shaka Smart hot commodities on the coaching market.
Smart made just under $1.3 million at VCU last season. His contract runs through 2019. Stevens has a 12-year contract worth more than $1 million.
"The media has a tendency to simplify things," Smart said. "They try to put everyone into boxes, when the reality is that every situation is different.
"There's this conventional wisdom that you're supposed to go to the biggest job out there, but some of those jobs aren't always that good. My mentor has always taught me to look at a basketball program and evaluate it relative to the rest of the league. That's who you're competing against to win a conference championship. That's who you're competing against to earn an automatic bid."
Smart, a former assistant at Clemson and Florida, has won 84 games during his three seasons at VCU.
"I don't care what level you're coaching at," Smart said. "When you're winning, it's fun. And on the flip side, it sucks to lose.
"It's amazing how many times I've been asked 'Why didn't you go here? Why didn't you go there?' I wish they would just look at it the other way around and say 'Why not stay?'"
Stevens has faced those same kinds of questions ever since leading Butler to a near-upset of Duke in the 2010 NCAA title game -- and they only intensified one year later, when the Bulldogs reached the championship once again.
"What everyone might consider to be a great job on the outside … it may not be looked at that way among coaches," Stevens said. "To each his own. What's important to one person may not be important to another."
Illinois has hardly been the only suitor for Stevens, who doesn't seem to have intentions of leaving Butler.
At least not in the immediate future.

The coaching carousel is a lot of fun to talk about and form opinions on and speculate about -- until it hits your family. Then it's not fun. It's not fun to think about the impact it has on your family. No decision is made, no move is made until you examine the impact it has on your family.
-- Butler coach Brad Stevens
Stevens, who is married with two young children, said it's difficult to imagine uprooting his wife and two young children and moving to a different city or state. Stevens grew up in Indiana and began his coaching career as an assistant at Butler in 2001.
"The coaching carousel is a lot of fun to talk about and form opinions on and speculate about -- until it hits your family," Stevens said. "Then it's not fun. It's not fun to think about the impact it has on your family. No decision is made, no move is made until you examine the impact it has on your family.
"My mom lives here, my dad lives here. I know people all over town. It's a great job. A great life. I don't know if it'd be like that everywhere else. But I know it's like that here."
Most coaches at non-BCS schools aren't compensated as well as Stevens, Smart and Marshall. But even the chance to earn twice as much money isn't appealing enough for some to leave a successful program to take over one that is in bad shape.
Before he got to Long Beach State, Monson was fired at Minnesota. So it's understandable that winning and personal happiness may be more important to him than working in a BCS conference.
The same situation applies to Harvard's Amaker, who turned down Miami last season before spurning interest from SMU earlier this month. After operating in the spotlight at Seton Hall and Michigan, it's likely refreshing for Amaker to coach in the Ivy League, where he led Harvard to its first NCAA tournament since 1946.
Another factor that can make non-BCS coaches think twice before jumping to power conferences is recruiting. Bigger schools often pursue higher-caliber players, which sometimes means dealing with the underbelly of college basketball.
"Recruiting at the high-major level is extremely complicated and, in many cases, corrupt," said one coach from a mid-major school. "If I was to take a high-major job, I could be entering myself in all sorts of scenarios that I can usually avoid where I am now. That's a factor for certain people.
"If you go to that level and you go about it the 'right way,' the deck could be stacked against you."
It's a scenario coaches like Marshall, Smart and Stevens likely won't have to deal with any time soon.
If ever.
"I never even dreamed I'd be the coach at Butler," Stevens said. "I sure as heck never had a goal -- and still don't -- to have a BCS job. I don't have any goals written on a napkin. In a lot of ways, this has already been a fairy tale."
College basketball writer for ESPN.com
Longtime writer at the Kansas City Star
Author of two books
EDITORS' PICKS
Iowa and Indiana could strengthen their résumés.
Bubble Watch »

There's some movement happening as the regular season winds down.
Power Rankings »

Georgia gets Kentucky at home. Can the Bulldogs pull it off?
Daily Word »
MORE MEN'S COLLEGE BASKETBALL HEADLINES
Nike Men's Butler Bulldogs Black #3 Replica Basketball Jersey Shop »

MOST SENT STORIES ON ESPN.COM